The perils of over speeding could not be stressed enough. Here is one such example to remind you why driving according to the speed limit is the smart way to go.
Adding to the list of over speeding crash incidents is this Maruti Swift, which, unfortunately, led to fatal consequences. We have urged all our readers to always follow traffic rules and avoid reckless driving on the roads. This has lethal consequences not only for you but also for fellow drivers on the roads. One such incident has surfaced involving a Maruti Swift and a 22-year-old youngster. Swift is also not regarded as a very safe car. Its crash-test results are not impressive and the build quality is lacking, to say the least. Therefore, if you find yourself pushing your luck in a Swift, chances are you won't face happy results. That is exactly what happened with this youngster as well. Here are the details of the entire incident.
Also read: Is Maruti Swift Cross Perfect Replacement For Ford Freestyle?
Over Speeding Crash – Maruti Swift
The video clip has been uploaded on Nikhil Rana's YouTube channel who continues to post such incidents to raise awareness about the consequences of reckless behaviour on the road. According to the details, this crash took place somewhere in Punjab. The driver of the Swift is reported to be a 22-year-old who is driving quite violently as seen in the video. He is seen hitting insane speeds of 140 km/h on a double lane road which is beyond dangerous. On top of that, it is nighttime when the visibility is not ideal anyway. After a few seconds, the Swift crashes into a tree and splits into two parts. By witnessing the visuals, it becomes clear that the chances of anyone surviving such an impact are negligible. Due to this reckless driving, the youngster lost his life.
Also read: Mahindra Scorpio Tests Build Quality of Maruti Swift – Regrets!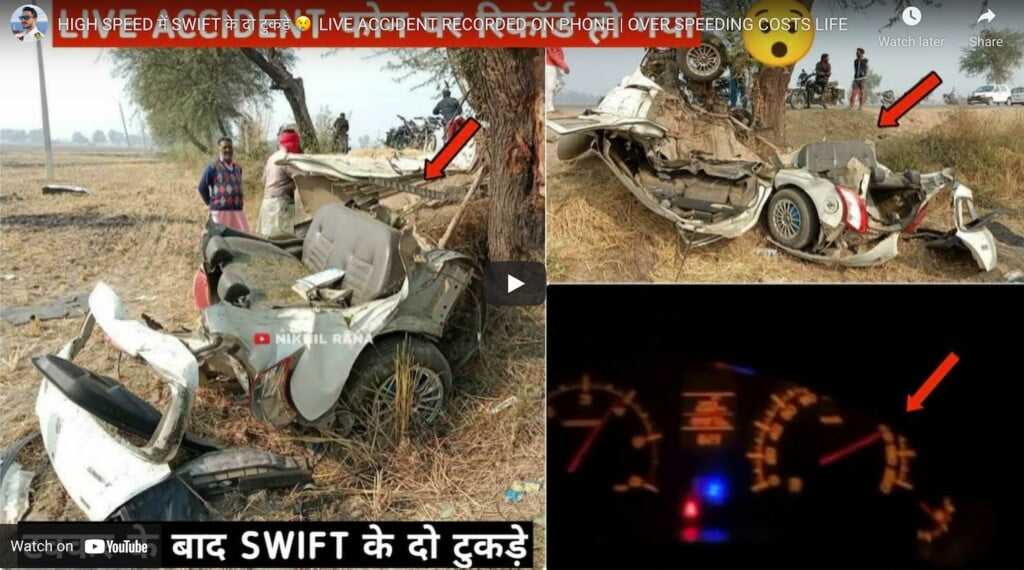 Maruti Swift
The Swift recently received a 0-star safety rating at the Latin NCAP and has only a 2-star rating at the Global NCAP. This points to a poor safety equipment list along with build quality. That is another reason why people are investing their money in safer cars with more safety equipment and safety rating. These are primary factors that could save lives in case of unfortunate incidents. The main point still remains your own driving mannerisms. We hope that this serves as a reminder that your life is precious and could be gone in a matter of seconds if you are not careful.
Also read: Maruti Swift LXi Converted To ZXi+ in Rs 50,000
Join our official telegram channel for free latest updates and follow us on Google News here.