Honda is soon to enter the compact sedan segment of India with its latest model– Honda Amaze. The sedan is being widely anticipated in India form a long time and is being said to be ahead of all its rivals in terms of several features and aspects. The car is the first entry from Honda in the C segment. Tata, the biggest passenger car maker of India, had too early submitted its entry in this segment through compact version of its sedan Indigo. And the news is in the air that a facelift version of Indigo eCS is on its way. There is no doubt that this version is being brought-in to rival against Honda Amaze. But in this article the present version of Tata Indigo eCS is being mainly compared to Honda Amaze. So let's have a look at it.
Also read- Honda Amaze VS Maruti Swift Dzire Comparison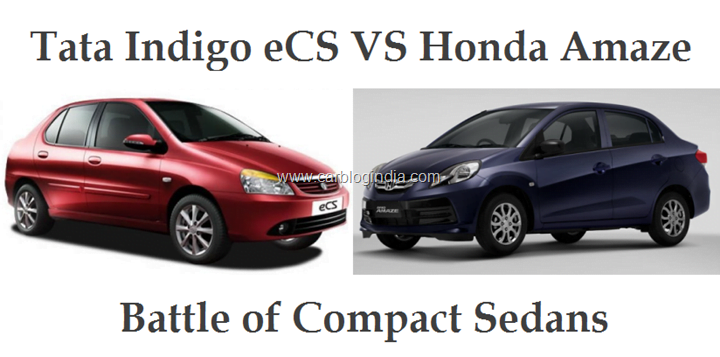 Shape and Design
The latest version of Tata Indigo eCS bears pretty good looks and style. The first look of the car gives an impression of contemporary style and design. The chrome has been used for garnishing several highlighting features of the sedan like its grille that has been bracketed by style studded headlights in which turn indicators have been integrated. The rear end too has been given a clean finish and the styling is fit to suit various tastes.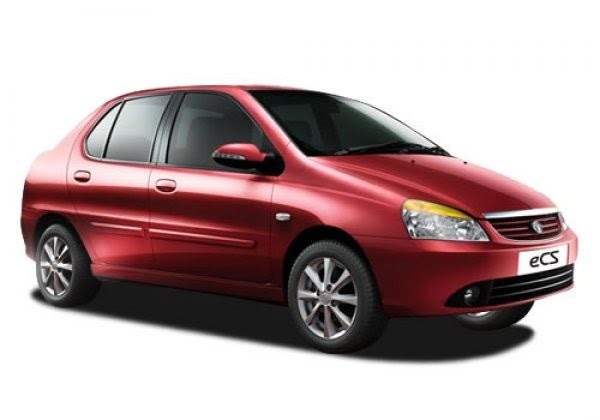 Honda Amaze too brings in a contemporary shade of styling that very well adapts with tastes of common mass. The body toned bumpers and chromed grille adds to the alluring looks of the car. The chrome striped rear end too fits in right proportion with the front end. The alloy wheels adds to the aggressive and sporty style of Honda Amaze. The built is pretty good along with good quality features.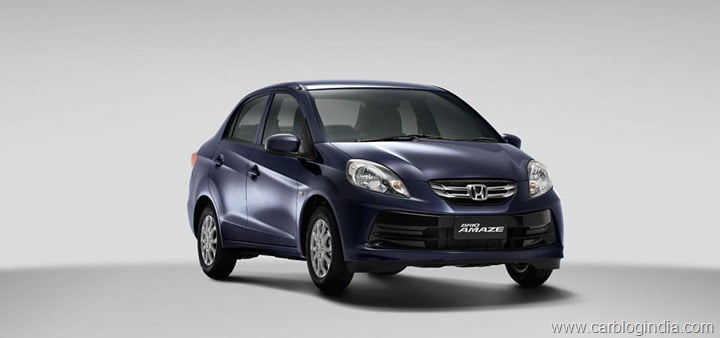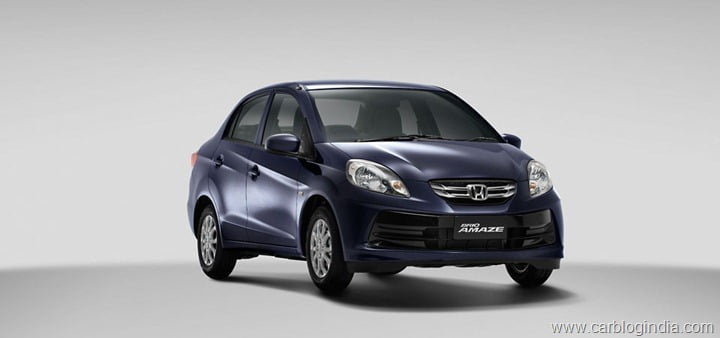 Interiors and Space
The dual toned interiors of Tata Indigo eCS perfectly combine with the good quality fabric seats that have been designed to provide ultimate comfort and correct body posture to its accommodators. The cabin offers plenty of space along with sufficient leg and head room. Other standard features included are power windows. MP3 audio system, a newly designed instrument panel along with center console, air conditioner, power adjustable OVRMs, and a boot space of 380 liters.
Honda Amaze too has something similar to offer but with its own style and statement. The cabin is spacious and offer ample of space for leg, head, shoulder, and arm movement. The boot space exceeds Tata Indigo eCS by 20 liters. Other major features incorporated are bottle holders, cup holders, MP3 music system, glove box, adjustable driver seat, and cubby holes.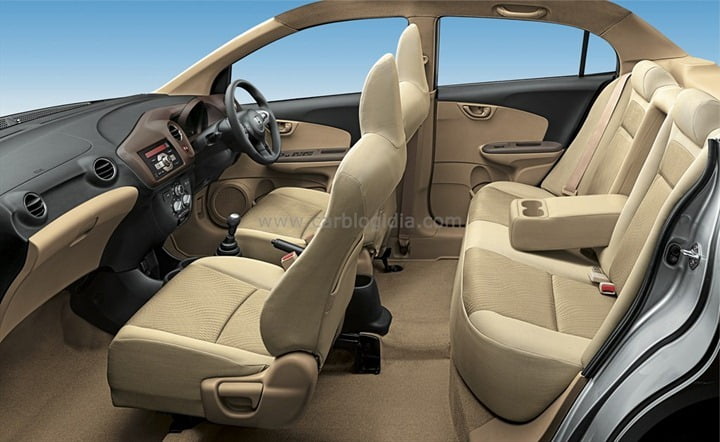 In this aspect both Indigo eCS and Amaze earn equal scores.
Power and Performance
Tata Indigo eCS has been installed with a power packed engine that can displace 1.4 liters and carries a capacity to deliver power worth 70 PS at 4000 RPM against a peak torque of 140 Nm at 1800-3000 RPM. The engine has received good ratings form ARAI and gives a fuel efficacy of 25 KMPL. This makes it one of the most fuel efficient cars of its respective segment.
Honda Amaze in this segment scores a little more than Indigo eCS as its maker has bestowed it with an amazingly good engine. The power mill of Honda Amaze is a power packed 1.5 Liter i-DTEC power mill that generates power worth 100 PS against a peak torque of 200 Nm. The ARAI has rated it for delivering a mileage of 25.8 KMPL which makes it one of the most fuel efficient sedans of its respective segment.
Suspension – Comfort, Driving and Handling
Tata Indigo eCS has pretty good suspension system that helps it in delivering a comfortable and smooth driving experience to its driver. Although on much uneven roads the car gets a bit restless but keeps its accommodators from any major discomfort. Steering is smooth and very light to handle. The ABS installed in the car enhances its braking system and ensures safety of its passengers.
Honda Amaze on the other hand showcases better driving dynamics. The suspension system of this model is well tuned and offers a hassle free ride even on rough roads by absorbing bumps and undulations. The well balanced steering ensures good handling and control over the car. The ABS installed in the car that car can smoothly glide from high to low speed without much exertion.
Value for Money
The showroom price of base model of Tata Indigo eCS is Rs. 5.61 Lakhs, while the other two models LX and VX have been priced at Rs.5.84 lakhs and Rs.6.14 lakhs. The features offered along with all the comfort and convenience ensure a fair return for the price paid.
Honda Amaze has been priced between Rs. 4.99 lakhs– Rs. 7.6 lakhs. Detailed price list and video review of Honda Amaze here. The sedan offers an excellent driving experience along with A-class features. But it will be its pricing that will ultimately decide how fairly the car can return for the amount paid for it.
Conclusion– Honda Amaze VS Tata Indigo eCS
Tata Indigo eCS in itself is a complete package. The sedan has everything to offer along with a fair price. Honda Amaze on the other hand is a global level car and all features offered along with it have a world class reputation with a much powerful engine and much smarter design. Honda Amaze seems be ahead in this race as per our opinion.