Honda SIEL will bring Honda Brio Diesel Small car in India as early as the end of 2012 to tap the tremendous small diesel engined cars demand in India. The information has been revealed by a Honda Spokesperson in an email response. Honda had earlier also mentioned that they are working on small displacement diesel engines development which will power their small cars. Also there has been an expected launch of Diesel cars from Honda SIEL in year 2013, but as per the latest information, the small car Honda Brio may become the first Diesel engine car from Honda SIEL India.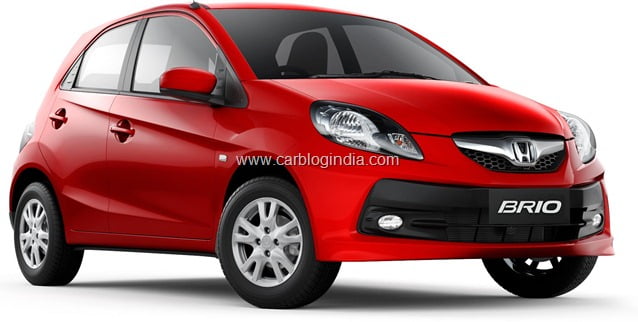 image – Honda Brio Small Car India
The reason why Honda has decided to go first with Brio Diesel is that there is a high demand for small diesel cars in India post the petrol prices have reached close to Rs. 70 per litre while the Diesel still remains close to Rs. 40 per litre. (also read – Why Petrol Prices Are So High Compared To Diesel Prices In India).
The Diesel engine to be used in the Brio maybe a 1.2 litre unit which will be a new CRDI Diesel engine by Honda which will be different from the existing 1.6 Litre i-DTEC Engines used by Honda in some European countries. A small displacement Diesel engine can easily deliver a mileage of 20 + KMPL for a small car like Brio which will make it close to Rs. 2 per litre running cost which is a very lucrative option. With the pricing of Honda Brio between Rs. 3.95 to Rs. 5.1 Lakhs, we can safely assume the diesel to be priced approx. between Rs. 4.6 Lakhs to Rs. 6 Lakhs which is an attractive price tag for a Honda car with such low running cost. But the possible decision by Indian Govt. to implement additional duties on small Diesel cars may bump up the price by another Rs. 80000 (click to read details) which may be a real deal-breaker for Brio Diesel. We have kept our fingers crossed on the Indian Union Budget 2012 and will hope that it does not kill the small Diesel cars altogether! We will keep you updates on the latest happenings, you can stay tuned to us by liking our official Facebook Page and sign up for our free email newsletter for free updates.
via – ET
Updated on 20 June 2012
Honda Brio Diesel Caught Testing On Video – Details
Join us for FREE NEWS Updates on our Whatsapp Community or our official telegram channel.