Honda SIEL India has set a record of its highest ever car sales in India in one month by selling over 11,000 cars in March 2012. Honda Brio, the small car from Honda India has proved to be a trump card for Honda SIEL India with huge demand because of its low price, starting just under Rs. 4 Lakhs and great performance as well as fuel efficiency coupled with quality of Honda cars. Honda SIEL India sold 11,016 car units in March 2012 which is its highest ever sales in one month in India and it is 208% growth compared to the previous year's sales of 3576 cars sold in March 2011. The front-runners on the sales chart were Honda Brio small car and Honda City 2012 new model which together constituted over 93% of the total sales. Talking in details on sales numbers, the Honda Brio sold 6355 units in March 2012 which is about 58% of the total Honda cars sold in India while the Honda City sold 3920 units which is about 36% of the total sales of Honda SIEL in March 2012.
While the other models like Honda Jazz sold 535 units, which is because of the lower production of Jazz in India as of now, this is expected to get better gradually. The Honda Civic sedan sold about 104 units, Honda Accord sold 101 units and Honda CR-V sold just one unit in March 2012.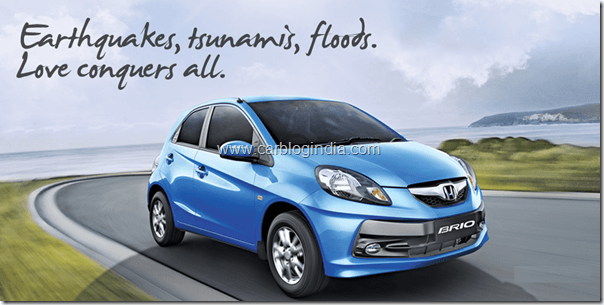 image – Honda Brio Small Car India
Expressing delight over the company's performance Mr Jnaneswar Sen, Sr. Vice President – Sales & Marketing, Honda Siel Cars India said":
"Our sales performance in the month of March has been very impressive and is a testimony to our customer's trust and confidence in our product and services. Brio has emerged as an exemplary performer and this steady increase in the sales signifies the success of our models launched recently. This month, our focus was on production of Brio so as to maximize delivery of Brio to all our waiting customers. We are confident that we would continue this performance in the new financial year and Brio and new City will propel growth for Honda in the near future."
The cumulative sales of the company during the Financial Year period April'11 – Mar' 12 was 54,427 units as against 59,463 units sold in Apr'10 – Mar '11. Owing to the Tsunami in Japan and floods in Thailand, Honda Siel Cars India was going through production cut at its Greater Noida plant during the year 2011. Honda Siel Cars India Ltd. expanded its sales and distribution network across the country during the fiscal year 2011–12 to 135 facilities in 83 cities.
check out more-