Check out the pillar strength of Maruti Vitara Brezza as it withstands the impact from a truck fallen over it in this accident.
Maruti Vitara Brezza is the safest car to come from the Gurgaon-based manufacturer. While other Maruti cars have received low safety rating, Brezza receives a 4-star rating. There are many examples of the SUV being in an accident but saving lives due to its strong build quality. Here is another example of it showcasing the pillar strength.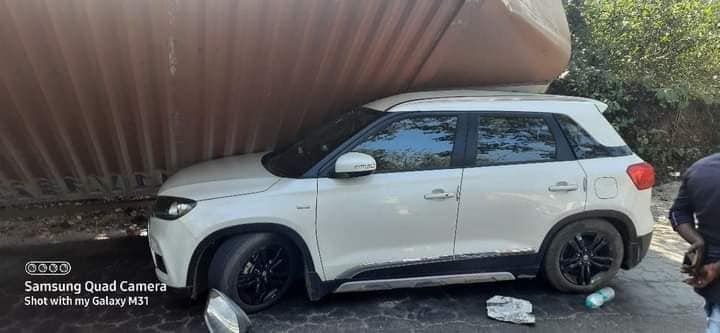 As you can see here, this is a very serious accident as there are high chances of the car involved being crushed. As per the owner, he was driving the car and travelling with his wife and two children. Suddenly, this trailer got imbalanced and it fell directly on the Brezza. Looks like the Brezza was trying to overtake when this accident happened.
Also Read: Maruti Vitara Brezza Falls 100 Feet Into A Cliff – Keeps All 7 Passengers Safe
However, if you see all the four pillars are in proper shape and completely intact. Only damage seen is the roof dented on the driver side that too just on the front portion. The roofline and doorline has slightly come down, however, the doors were properly opened once the trailer was removed. Other than that, the windscreen on the driver side has been shattered.
This shows the fairly decent pillar strength of Maruti Vitara Brezza as it kept the passengers completely safe, without any injuries. The repairs will not cost the owner an exorbitant amount and he will mainly get it back in the original condition. If the pillars would have been damaged, then there would be some serious repairing costs involved.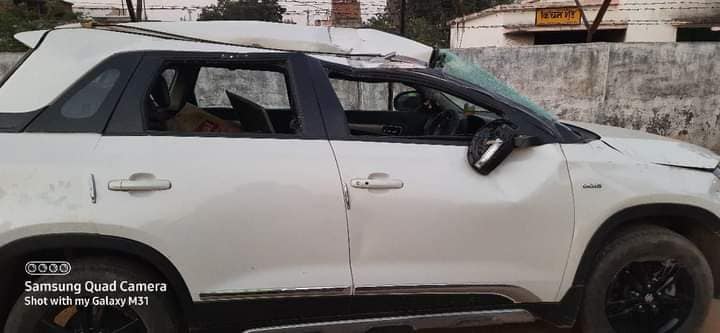 Maruti Vitara Brezza is now a petrol-only SUV, equipped with a 1.5 Litre four-cylinder petrol engine. The motor is capable of producing 105 PS and 138 Nm of peak torque, paired with a 5-speed manual stick and a 4-speed torque converter unit. Prices start at Rs 7.34 Lakhs up to Rs 11.40 Lakhs (ex-showroom), making it among the most affordable SUVs in this class.
Join our official telegram channel for free latest updates and follow us on Google News here.