Aftermarket bike modifications are getting increasingly popular and this is the latest example of that.
This has to be the world's first homemade hub-less Bajaj Pulsar. Innovation and creativity have reached incredible levels, especially in India. The idea of 'jugaad' embodies the spirit of the nation, where people ingeniously make the most of available resources and ideas to address problems without significant expenses. Consequently, local solutions emerge for various challenges. However, at times, these ingenious ideas are purely for entertainment. Now, let's delve into the specifics of this latest instance.
You may also like: 2023 Bajaj Pulsar N150 Leaked Fully Ahead of Launch
Homemade Hub-Less Bajaj Pulsar
This image comes from mrjana_01 on Instagram. It captures a rather unique sight. A man has developed an interesting-looking version of the Bajaj Pulsar. Unfortunately, there are not many details about this. However, the visuals are self-explanatory. The front and rear tyres of the Pulsar have been installed with an electric motor. Essentially, this has to be an electric version of the motorcycle. Generally, there are hub motors which attach to the wheel assembly of bikes. But this looks like a creative version of the electric motor arrangement. Somehow, the man has been able to install the electric motor on this new wheel design which has no hub.
You may also like: Bajaj Pulsar 220 Rider Performs Strange Stunts, Fails Miserably
Converting the existing motorcycles into electric bikes is becoming a common practice among the two-wheeler community in the country. There are affordable solutions and assemblies available in the aftermarket. One could simply bolt these on or even visit a professional and expert mechanic. The overall cost of running a motorbike comes down drastically. Moreover, the emissions are controlled. Finally, these are cheaper alternatives to a brand-new electric bike. Moreover, there are not too many options available if one is looking for an electric bike in the market.
You may also like: Bajaj Pulsar RS200 vs Yamaha R15 M Long Drag Race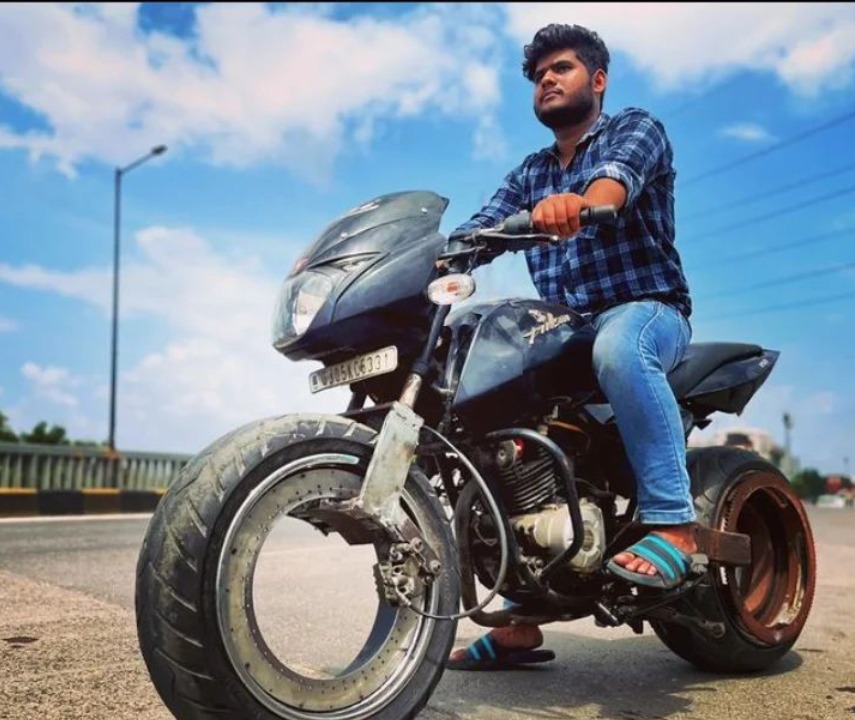 You may also like: Bajaj Pulsar N250 Gifted to Home Minister
What We Think
We appreciate the ingenuity of this motorcycle. There are numerous aftermarket car houses which are performing all sorts of customizations to popular bikes. Bajaj Pulsar is the most modified bike in the country. The reason is simple. There are just so many models of the Pulsar moniker sold in the country in the most popular segments. Hence, people use it as a blank canvas to display their creativity and imagination. However, we must warn our readers that most automobile modifications are illegal in the country. Therefore, such customizations are great for passion projects. But you can't do this and ride on the roads. You are bound to get challaned.
Join us for FREE NEWS Updates on our Whatsapp Community or our official telegram channel.