The Hyundai Creta's main rivals include the Renault Duster, Nissan Terrano and the Maruti S-Cross. However, the price band in which the SUV retails is so wide that it will end up competing with the likes of the Mahindra Scorpio and even the base Mahindra XUV500. Read our Hyundai Creta vs Mahindra XUV500 comparison to find out how which of these two SUVs makes more sense.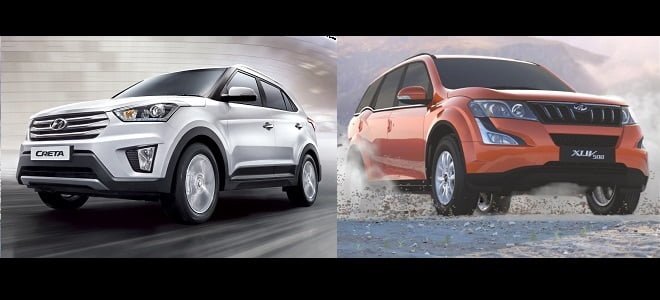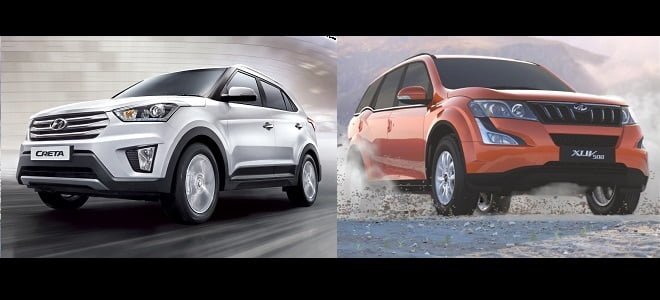 Also See – Hyundai Creta Launch Report
Hyundai Creta vs Mahindra XUV500- Price Comparison
Hyundai Creta
Mahindra XUV500
 
1.6 L Petrol
1.4 L Diesel
1.6 L Diesel
 
2.2 L Diesel
Base
INR 8.59 lacs
INR 9.46 lacs
–
W4
INR 11.29 lacs
S
INR 9.57 lacs
INR 10.42 lacs
–
W6
INR 12.57 lacs
S+
–
INR 11.45 lacs
–
W8
INR 14.31 lacs
SX
–
–
INR 11.59 lacs
W8 AWD
INR 15.12 lacs
SX+
INR 11.19 lacs
–
INR 12.67 lacs
W10
INR 15.19 lacs
SX(O)
–
–
INR 13.60 lacs
W10 AWD
INR 16.20 lacs
SX+ AT
–
–
INR 13.57 lacs
all price ex-showroom, New Delhi
When we compare similarly specced variants of the Hyundai Creta and the Mahindra XUV500, the latter appears to be a slightly more value for money proposition as it offers a long list of features, and seven seats as well. The higher spec trims of the Hyundai Creta are a little overpriced, especially when seen in relative terms.
Hyundai Creta vs Mahindra XUV500- Design
The plastic cladding all around coupled with a SUV-like profile works really well for the Creta. The sharp headlamps with LED DRLs make the front the most attractive bit. The grille gets a generous helping of chrome. The design gets tad bit fussy by the towards the rear of the Creta. Overall, the Creta looks very attractive from most angles. The Mahindra XUV500 recently got a facelift which makes the SUV appear slightly better than before. The front is a bit more flashy than the Creta's and does not looks as attractive. The tail lamps detailing is quite attractive. Overall, the Mahindra XUV500 is bigger and has a bit more road presence than the Creta, but it is the Hyundai that is much better in terms of design.
Also See – Hyundai Creta – All You Need to Know!
On the inside, the Mahindra XUV500 and the Hyundai Creta both get a very smartly laid out dashboard and interiors, but the Creta's are a notch above in terms of quality and fit and finish. In terms of design also we prefer the Creta's interiors over the XUV500's. The XUV's interiors are much more spacious and offer an extra row of seats as well. But, at the end of the day, it all comes down to personal choice.
The Hyundai Creta looks much better, but it is the XUV500 that has more street presence and space.
Hyundai Creta vs Mahindra XUV500- Features Comparison
Both cars come packed to the gills with features such as automatic climate control, touchscreen infotainment with GPS navigation, 6 airbags, reverse camera, electrically adjustable and electric folding ORVMs. The top spec trim of the XUV500 gets a few more additional features such as automatic headlamps, rain sensing wipers, DVD playback, sunroof. But bear in mind that there is a fair bit of difference in prices of the top-end variants of both cars with the XUV500 being much more expensive. However, when we compare similarly priced variants the XUV500 still offers more kit than the Creta and comes with 7 seats as well.
Also See – Hyundai Creta vs Renault Duster vs Ford EcoSport
Hyundai Creta vs Mahindra XUV500- Specs Comparison
 
Hyundia Creta
Mahindra XUV500
Type
1.6 L Petrol
1.6 L Diesel
1.4 L Diesel
2.2 L Diesel
Displacement
1,591 cc
1,582 cc
1,396 cc
2,179 cc
Power
121 bhp
126 bhp
89 bhp
140 bhp
Torque
155 Nm
259 Nm
224 nm
330 Nm
Transmission
6-speed manual
6-speed manual/6-speed auto
6-speed manual
6-speed manual
Mileage
15.29 kpl
19.67/17.01 kpl
21.38 kpl
16 kpl
4WD
No
No
No
Yes
Also See – Hyundai Creta vs Mahindra Scorpio
The Mahindra XUV500 gets only one engine and transmission option. For any prospective buyer the choice will be between the 1.6 litre engine of the Creta and the 2.2 litre engine of the XUV500. Out of these two the XUV500's is more powerful and also comes with the option of 4WD. However, the Creta is more fuel efficient and comes with an optional automatic transmission as well. Also, the Creta's engine is ample for its size.
Hyundai Creta vs Mahindra XUV500- Comparison Verdict
Even though the two SUVs belong to different segments, a buyer with a budget of around 11-15 lakhs is likely to take into consideration both these models, before making a decision. If space and off-road capability are not of paramount importance, then the Hyundai Creta with its premium design, high quality interiors, city friendly dimensions, fuel efficient engines, and a vast after=sales network makes a lot of sense. Plus, the optional automatic transmission adds to its appeal as a comfortable city crossover. The Mahindra XUV500, on the other hand, comes across as a slightly better value for money proposition, what with more steps and the larger real estate it covers. Even the entry level and mid level trims are relatively well specced and it offers more space and an extra row of seats.
We feel the that in the INR 11-14 lakh range the Mahindra XUV500 turns out to be a slightly more value for money proposition than the Hyundai Creta. But if you're looking for something within INR 11 lakhs then you can safely put your money on the Hyundai Creta.

Stay tuned to CarBlogIndia for more news and features. And do let us know what you think about the Hyundai Creta vs Mahindra XUV500 comparison story.