Hyundai Grand i10 Nios is a popular offering in the segment after the Swift and WagonR. This latest incident highlights its performance in the real world.
These images show the build quality of the Hyundai Grand i10 Nios. The hatchback has a 2-star safety rating at the GNCAP. However, its performance, in this case, is quite commendable. This implies that one can't always just rely on the safety rating of a car blindly. You must ensure safe driving and follow the traffic regulations. That is the only certain method to stay safe on the roads. Here are the details of this unfortunate case.
You may also like: Hyundai Grand i10 Nios Sportz CNG – Most VFM CNG Car?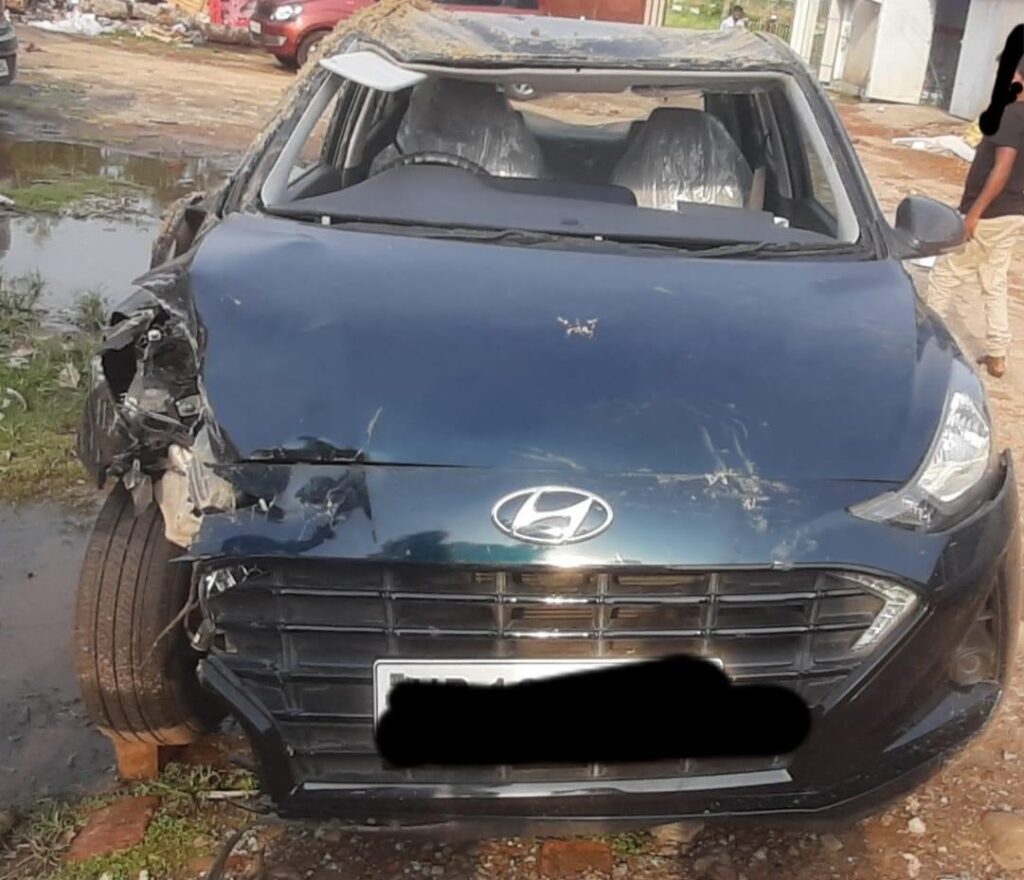 You may also like: 2022 Hyundai Venue Spied, July Launch Likely
Hyundai Grand i10 Nios Build Quality
The images have been shared by the owner of the i10 on Facebook. He mentions that he was involved in an unfortunate incident where his car hit a pole and caused severe damage. The road conditions were terrible because it was raining and the surface was muddy. This caused the vehicle to skid and lose traction, as a result of which it hit a cement pole and rolled off to the side of the road. The images clearly highlight the damage sustained by the hatchback at the front, sides and roof. Thankfully, the airbags were deployed and no one was seriously injured.
You may also like: Next-Gen Hyundai Verna Revealed? – Baby Elantra!
Now, the dealership is telling the owner that the car can be fixed and restored. The owner has zero depreciation insurance with an IDV of Rs 5 lakh. He is confused about whether to push for a total loss to buy a new car or get it repaired. He also mentions that the car is in driving condition but emits smoke but there is no damage to the engine as it was not involved in the crash, as seen from the images. The build quality of the Grand i10 Nios has to be appreciated here which managed to absorb the impact and not let the passengers get hurt.
You may also like: Watch Indian Vlogger Review Upcoming Hyundai Ioniq 5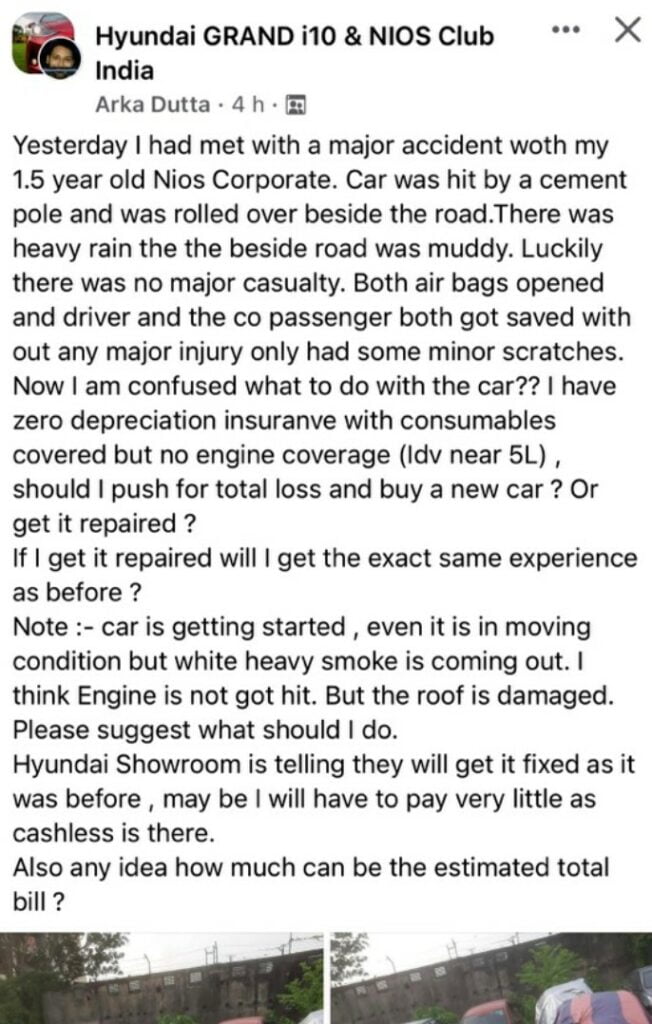 Lastly, it is a matter of choice. If the engine is not damaged, one could claim the insurance and get the car repaired. The roof and body panels are easy to be replaced. However, some people find it difficult to drive the same car after a crash like this. In this case, the ideal option is to go try for total loss and buy a new car instead.
Join our official telegram channel for free latest updates and follow us on Google News here.