Hyundai Motors launched the all-new 3rd-generation i20 on the 5th November 2020. Now, within 40 days from the launch, it has garnered an impressive 30,000 bookings, which approximately translates to one new booking every 2 minutes! The second-largest car manufacturer in India, Hyundai has already delivered 10,000 units of the i20 to the customers. Even though the i20 is one of the most popular premium hatchbacks in the country, this kind of response is still overwhelming. Also, one of the factors, that makes it a bit surprising is the fact that this i20 is priced a lot higher as compared to the outgoing model.
Also read: 85% of buyers opt for the higher trims of the Hyundai i20!
The prices for the all-new i20 start at Rs 6.8 lacs and go all the way up to Rs 11.18 lacs ex-showroom Delhi. Now, this is already in the compact SUV segment territory. One can buy a whole bunch of compact SUVs at that price point. Still, Hyundai was confident enough to price it rather boldly because it backed itself with all the new features and engine-gearbox options on offer. That has always been i20's strength.
Appealing features of the new i20?
The all-new i20 is offered with two petrol and a diesel engine option. There is a 1.2l petrol engine on offer, making 83hp and 115Nm. This engine can be combined with a 5-speed manual or a CVT. In the case of the CVT, the engine produces 88hp. Then there is an all-new 1.0l turbo-petrol engine making 120hp and 175Nm. This offers an option of either an iMT gearbox or a 7-speed DCT. Lastly, there is a 1.5l diesel, making 100hp and 240Nm mated to 6-speed manual gearbox.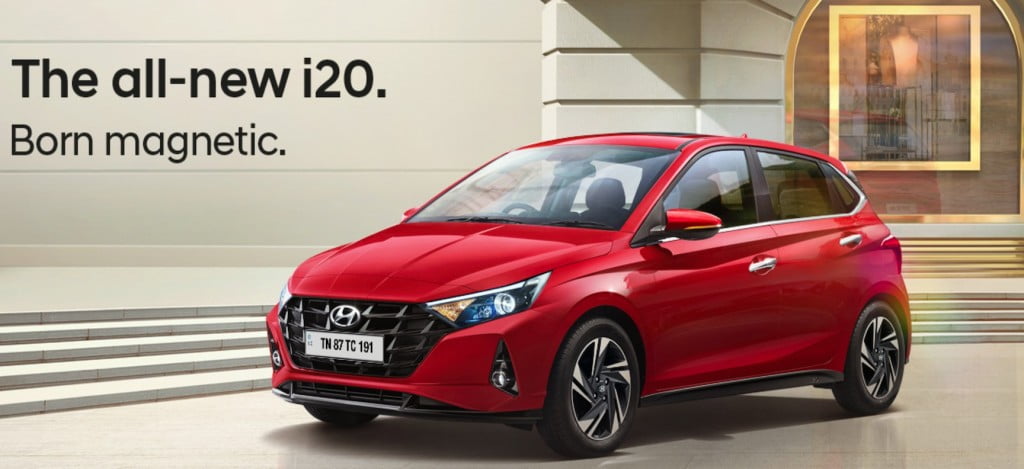 With so many engines and transmission combinations on offer, it makes it very easy for the buyers to configure their desired combination. This offers huge flexibility and the customers will not have to make any compromises. One can argue that the i20 is a bit over-priced when it comes to the segment that it is a part of, but then again, the Hyundai i20 has grown considerably longer and wider than before. It makes for a bold, sporty and authoritative road presence, which one does not really expect of a hatchback.
Also read: Hyundai i20 vs Tata Altroz – Diesel performance comparison!
With a ton of features, a fair few of them, first-in-segment, make sure that it is worth the big bucks it commands. That is why the response has been this great. People have clearly made up their minds. They are willing to shell out those extra bucks to get a whole host of new features and conveniences.

Comparison of the i20 with the competition?
Now, also a huge factor to consider, this generation of i20 has left all the competition behind with this bold pricing. The conventional competitor of the i20 has always been the Maruti Suzuki Baleno. It is one of Maruti's top-selling cars. But it does not offer the same premium feel in terms of features, comfort and conveniences. Neither does it offer any powertrain options apart from the single 1.2l petrol with either a manual or a CVT. Maruti does not have any diesel engines in its lineup. This gives the i20 a clear edge in terms of the engine options. Also, Baleno does not have many transmission options. Whereas the i20 comes with an iMT, CVT, DCT and manual. This is also a clear advantage for the i20.
Also read: Maruti Suzuki planning to bring back the diesel engines!
All-in-all, it has become very difficult for Maruti Suzuki Baleno to compete with the new i20 as it is leaps and bounds ahead of it in terms of almost everything. What the future brings to both these cars remains to be seen. Also, one can't help but think, that the Hyundai i20 has transformed itself into something more than just a hatchback. Probably, this is what actually a premium hatchback means!
Join our official telegram channel for free latest updates and follow us on Google News here.