2015 Hyundai Verna New Model Launch in India to take place on February 18, 2015. All the details and images
On this page we have collected all the details related to the new 2015 Hyundai Verna New model for India, along with latest spy shots of the upcoming car. Hyundai Motor India Ltd has just notified us that the 2015 Hyundai Verna India launch would take place on February 18, 2015 and the refreshed car will go on sale with the '4S' moniker. The new model is based on global Hyundai Solaris Model, which brings many cosmetic changes to the car. The front of the car is where most aesthetic changes have been made of the new Verna. Below are all the details you need to check out related to the launch of 2015 Hyundai Verna new model in India.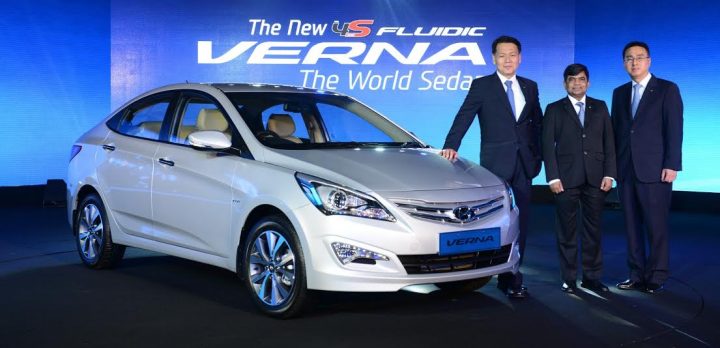 Price List
Petrol –
Base 1.4 Petrol – INR 7.73L
S 1.6 Petrol – INR 8.84 L
S (O) 1.6-litre Petrol – INR 9.38 L
SX 1.6-litre Petrol – INR 10.15 L
S (O) 1.6-litre Petrol Automatic – INR 10.11 L
Diesel –
Base 1.4 Diesel -INR 8.95 L
S 1.6-litre Diesel – INR 9.99 L
S (O) 1.6-litre Diesel – INR 10.59 L
SX 1.6-litre Diesel – INR 11.46 L
SX 1.6-litre Diesel Automatic – INR 12.19 L
2015 Hyundai Verna Images
Hyundai Verna 4S Video Review
Rivals
[box type="download" ] Also See- Hyundai Verna 4S Roat-test Review[/box]
Interior Pictures
Following are a few new model Hyundai Verna interior 4S interior pics –
Design and Styling
Hyundai showcased the new 2015 Hyundai Verna Facelift (internationally called Solaris) at the 2014 Moscow International Automobile Salon Motor Show. Called the Solaris in Russia and the Accent in some other parts of the world, the Hyundai Verna sedan has undergone an appreciable facelift at the front fascia.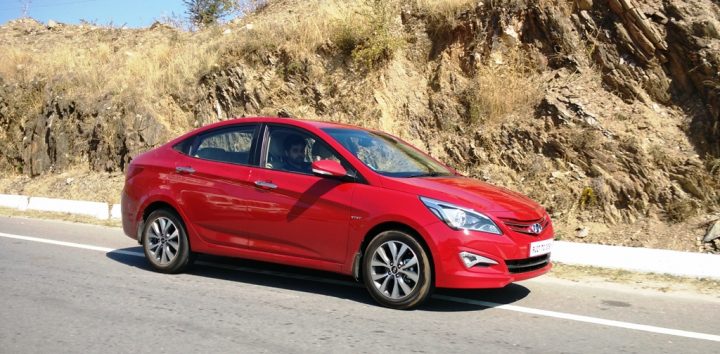 Up front, the headlamps, grille and the bumper, are new. The updated front bumper which now sports newly designed fog lamps with integrated LED daytime running lamps and wider air-intakes.  The car also features LED based tail lamps with the rear bumper getting new reflectors and a black bumper insert.
[box type="download" ] Also See- Hyundai Verna 4S Features List[/box]
Tech Specs
While the current engine options – 1.4- and 1.6-liter petrol and diesel units – will continue to power the Verna, they have become a bit more powerful and fuel efficient. Even the automatic gearbox, which is currently a 4-speed unit, has not been upgraded to the 6-speed version that can be seen in the larger Elantra.
With the rather invincible Honda City having swept the market, Verna has lost its market leadership this year. A cosmetic update aimed to ensure continued sales momentum for the next 2-3 years, before the introduction of next generation model. The diesel motors of the car are the major sales spinners for the C-Segment sedan in the Indian car market. Therefore, expect some attention to be devoted to the Verna Diesel variants when Hyundai India gives the car a mid-life makeover.
We will keep you posted with further developments, until then do let us know what you think of Hyundai Verna facelift!
Stay tuned to CarBlogIndia for more 2015 Hyundai Verna New Model launch details.