The top speed tests of these popular mid-size sedans throw up some interesting observations neatly captured in this video.
The popular mid-size sedan segment comprises of Hyundai Verna, Honda City, Skoda Slavia and Maruti Ciaz and this top speed test highlights the capabilities of their engines. Despite the onslaught from the SUVs, some of these sedans have gone on the achieve healthy monthly sales figures consistently. This video showcases how well these sedans perform in high-speed scenarios.
You may also like: Skoda Slavia Service Cost Will Leave You SURPRISED!
You may also like: 5 Features of Hyundai Verna Not Found on Skoda Slavia
Slavia, Verna, City & Ciaz – Top Speed Test
Firstly, the Hyundai Verna is put to the test. Interestingly, this test is performed during nighttime. The digital instrument cluster of the Verna indicates a top speed of 203 km/h from its 115 hp and 145 Nm-producing 1.5-litre naturally aspirated petrol engine. Thereafter, we have the Maruti Ciaz with the 1.5-litre petrol engine making 105 hp and 138 Nm of peak power and torque respectively. It is able to go up to 190 km/h. The popular driver's car, Honda City is next for the test. It has a 1.5-litre petrol engine that outputs 120 hp and 145 Nm of power and torque propelling it to the top speed of over 180 km/h. However, the driver had to brake at the end.
The most powerful member in this mid-size sedan segment is the recently launched Skoda Slavia. It comes with two powertrain options. With the smaller 1.0-litre turbo petrol unit (115 hp / 178 Nm), it achieves the top speed of 186 km/h, while with the larger 1.5-litre turbo petrol (150 hp / 250 Nm), the Slavia achieved over 202 km/h. Even at such high speeds, Slavia felt stable. This is a testament to the brilliant TSI engines from the Volkswagen family that have acclaimed a ton of awards over the years.
You may also like: 5 Features of Honda City Not Found on Skoda Slavia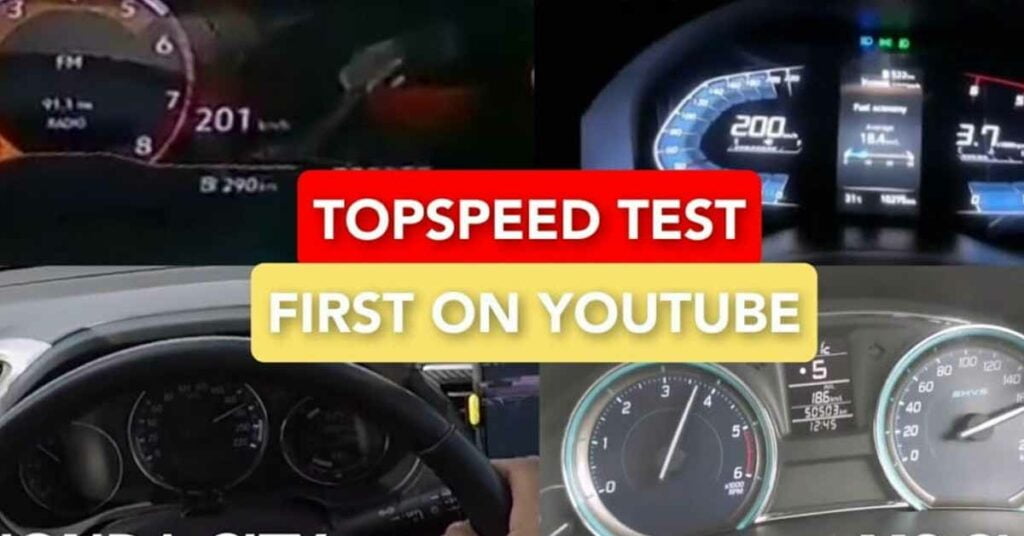 You may also like: This Skoda Octavia is More Powerful than 5200cc Lamborghini Huracan
This is a great comparison video of similar products that highlight the strengths and capabilities of each. However, we must urge our readers to not try these tests yourselves. It could be extremely dangerous, especially on the actual highways with traffic. High-speed scenarios are done under proper testing conditions and to test the stability and durability of parts. Apart from that, it is not advisable to overspeed. The speed limits must always be adhered to. Let us know your favourite among these popular sedans.
Join our official telegram channel for free latest updates and follow us on Google News here.