At Confederation of Indian Industry's 2014 Gujarat Auto Show held at Gandhi Nagar, one car that drew the attention of the audience with its innovative appeal and charm was Supernova Electric Car which is claimed to run 1000 km in a single charge of its battery. This electric prototype of sports car was introduced by Ahmedabad based Golden Arrow Wireless Pvt Ltd at the Auto Show. The company for setting up a plant for the manufacture of electric sports car has entered into an MoU (Memorandum of Understanding) with the Madhya Pradesh government, while this prototype still needs the approval of Automotive Research Association of India (ARAI), confirmed Shashi Vyas, Founder, Golden Arrow Wireless.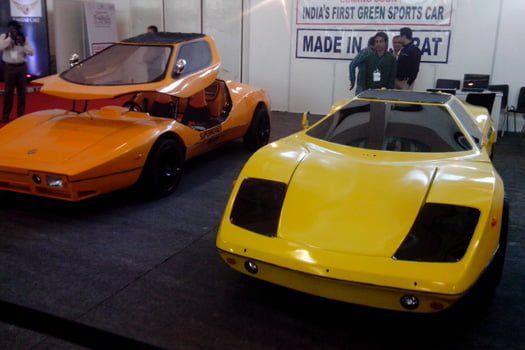 This electric or green sports car named as SNEV (Supernova Electric Vehicle) is manufactured at Aslali facility of the company located in Ahmedabad. It is available in three variants based on the battery used in the car. They are as follows-
Lead- Acid battery- It weighs 300 kg (120 volt) which requires eight hours to get charged.
Lithium ion battery- It weighs 120 kg and charges up in two hours.
Super Capacitors battery- It weighs 20 kg and takes 5 minutes to charge.
This company seems to be following Narendra Modi's 'Make in India' vision seriously with the showcase of its electric car as 'Made in Gujarat' car. Vyas who is an aerospace engineer and also the founder of the company further said that the company has already been allocated with 100 acres land for setting up plant while the company is further looking up for odds to set up a plant in Gujarat.
Supernova electric car was introduced at the Gujarat Auto Show where other automobile market leaders like Maruti, Hyundai, Honda, BMW, Tata Motors and Rolls Royce were also present . This car is still waiting for approval from ARAI which might take more time since they do not have any set rules for examining sports cars prototypes in India and this car being an electric sports car needs completely different rules, said Rashmi Urdhwareshe, Director, ARAI.
In a country like India where fuel prices rise with each day, this  car looks quite fascinating and is expected to draw huge audience in the country. This car is claimed to run around a 1000 kilometers within one charge and has a top speed of 15o km/h. It is expected to hit Gujarat roads soon. This car will be available at an impressive price tag between Rs. 15-25 lakh.
Information Source & Image Credits- Financial Express
Also Read- Tesla Electric Cars In India
Join us for FREE NEWS Updates on our Whatsapp Community or our official telegram channel.