Indian customers are now looking for safety in the vehicles, however, almost all cars manufactured in India get zero ratings in crash tests by Global NCAP. Read more to find Why Indian Cars Get Zero Star Ratings in Crash Tests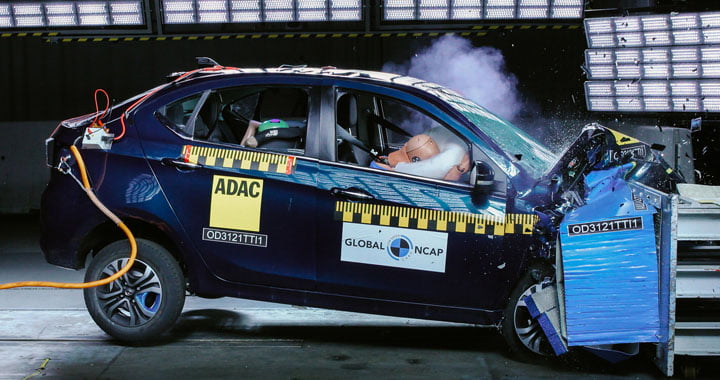 Also read: Maruti Suzuki S-Presso Scores a Shocking 0-star Safety Rating at Global NCAP Crash Tests!
While Indian customers are now looking for safety in their vehicles, the car available in the market seem to be very unsafe and insecure. In the vehicle crash tests conducted by the Global NCAP, almost all the cars manufactured in India scored 0 stars. The NCAP is the New Car Assessment Program, that started in the US. The Global NCAP acts as a bridge between the several NCAPs and aims to promote vehicle crash-testing in emerging markets like India. The crash test ratings are based on a single front offset crash test in which a car is driven at 64 kmph with 40 per cent overlap into a deformable barrier (equivalent of a crash between two cars of the same weight).
The scores are derived from the readings of the crash-test dummies, taking into account the driver and passenger injury readings from four major body regions – Head and neck/ Chest/ Knee, femur, and pelvis/ Leg and foot. Additional points are awarded for few safety features like the child restraint system, provision of three-point seat belts, Isofix, etc. On a scale of 0 to 5, the failure to protect the crash-test dummies from the impact will gets you 1-star. However, when the crash-test dummies receive a fatal impact with a brutal blow without any safety feature will fetch a 0-star rating. The zero-rating also means that there is no possibility for the drivers or passengers to survive the crash.
Also read: Hyundai Grand i10 Nios Scores a Poor 2-star Safety Rating at Global NCAP Crash Tests!
The Indian cars get zero star ratings in crash tests because they lack many basic safety features seat-belt pretensioners. Some of them just have a puny single airbag for a safety feature. Additionally, the Indian cars also lack an effective crumple zone to make sure there is minimal impact to passengers. This zone should be designed to absorb most of the impact and redirect the energy throughout the chassis. For example, the Tata Altroz scored an excellent 5-star rating despite a hatchback design and only 2 airbags. It is a foot wider and over a foot long. In short, a car with 10 airbags and a weak crumple zone will fail to protect its passengers. On the other hand, a well-designed car chassis with an effective crumple zone and only two airbags can protect you and reduce injuries.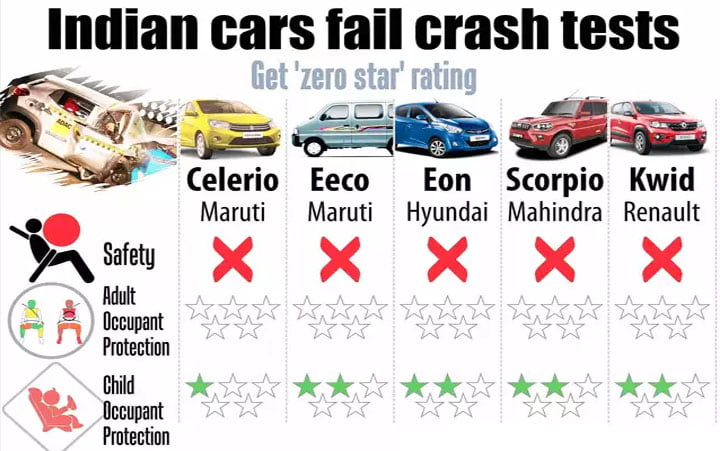 With the safety aspect of a car becoming a higher priority, the vehicle crash tests provide us a better understanding of safety and help us choose our vehicles accordingly. As more and more customers stop buying unsafe products because of lower price tags, the manufacturers will be forced to add more security features. For example, in developed countries like the US, features like ESP, Traction control and at least 6 airbags are already mandatory. At he very least, only cars with a 3-stars score and above should be running on the country roads which lack many safety needs and rules as it is.
Also read: Top 5 Most Expensive Safety Rating Car Crash Tests In The World