The Isuzu D-Max pick–up truck has secured a 5-star rating in the Euro NCAP crash test. The Euro NCAP is considered to be the toughest test to score a 5-star rating in. It is because Euro NCAP includes a wide variety of tests for side crash, front crash, adult safety, child occupant safety, pedestrian safety and a bunch of active and passive safety features tests. That is precisely why every car sold in Europe is considered extremely safe because it has to pass the Euro NCAP crash test.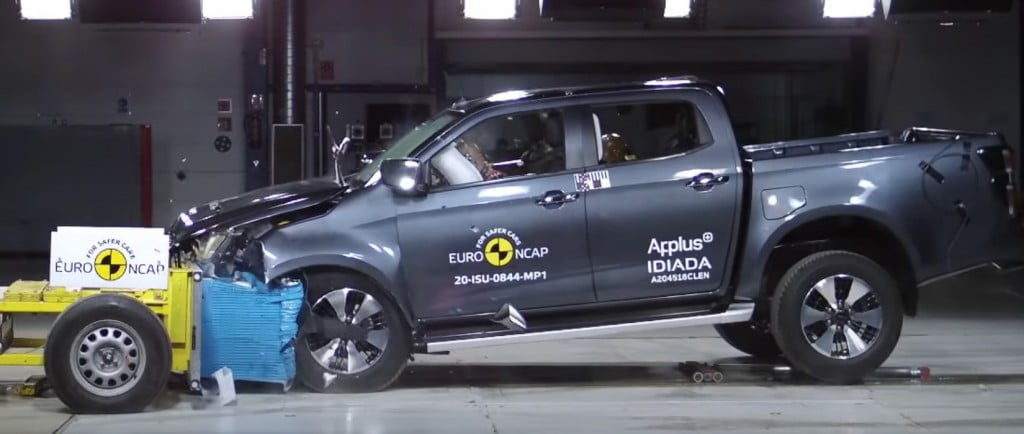 Isuzu D-Max Crash Test Parameters and Scores
There are four categories according to which the test rating is achieved: Adult Occupancy, Child Occupancy, Vulnerable Road Users and Safety Assist.
| | |
| --- | --- |
| Parameter | Score |
| Adult Occupancy | 32.2 / 84% |
| Child Occupancy | 42.2 / 86% |
| Vulnerable Road Users | 37.6 / 69% |
| Safety Assist | 13.4 / 83% |
As seen from the table, Isuzu D-Max was able to score 32.2 points or 84% in Adult Occupancy. In the full-width, rigid wall test, the protection was good for all critical body parts. This was also because of the centre airbag, which prevented the passenger-passenger collision.
D-Max secured 42.2 points or 86% in Child Occupancy. In frontal-offset and side-impact test, protection for both children dummies was good for all critical body areas. D-Max has the highest score in this part of the assessment.
In the Vulnerable Road Users segment, D-Max was able to score 37.6 points or 69%. The protection provided by the bonnet to the head of a passenger was good. The bumper provided adequate protection to the legs and pelvis of the pedestrian.
Finally, the safety assist segment of D-Max was awarded 13.4 points or 83%. This includes passive as well as active safety features. It must be noted here that Autonomous Emergency Braking is standard across all variants of D-Max, which might not be offered in the India-spec V-Cross.
Isuzu India Launch
This crash test result is relevant for Indian buyers because Isuzu is already planning to bring this as V-Cross to India next year. They have clearly mentioned it on their official website. This could be really exciting as this combines a super safe vehicle, one can go off-roading in. It has already gained a sort of cult status and is among the most popular off-roaders in the country. This will further inspire the buyers to go for the new V-Cross when it launches next year.
Also read: This modified V-Cross Pick Up Is The Truck Of Your Dreams!
Isuzu D-Max Competition
As we already know that the Isuzu V-Cross enjoys a monopoly in its segment because there is no direct competitor. However, recent news has surfaced which claims that Ford is planning to bring its iconic Ranger Raptor to our shores. The raptor will have a twin-turbo setup making 213 bhp and 500 Nm torque. It is a unique blend of performance and load-carrying capacity from a pick-up truck. It will, however, be expensive and could cost you around Rs 70 lacs and above if want to own one. This is because of heavy import duties.
Also read: Is Ford Ranger Coming to India? Spied Testing