We have some exclusive spy shots of the Ford Ranger being tested on Indian roads and now we wonder if the manufacturer is actually planning it or not.
Pickup trucks might not be working for the Indian market as good as they perform in other foreign markets. We have had a couple of them launched but they did not get a desired response. Out of all, only Isuzu D-Max V-Cross seems to be doing decent with many off-roading or lifestyle enthusiasts preferring it.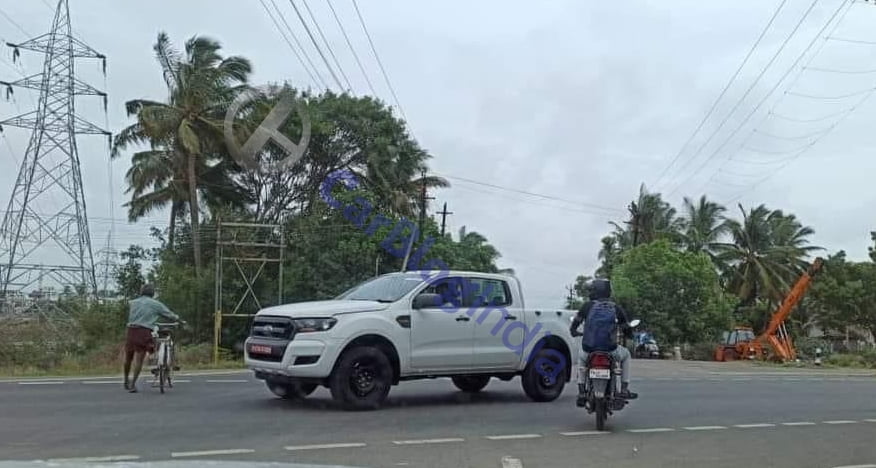 Recently, we got to know that even Toyota is planning to bring in the Hilux pickup SUV that should come in the 15-20 Lakhs range. Now, we have spied the Ford Ranger being tested with a red temporary number plate. Seeing the success of V-Cross and development of Hilux for India, is Ford also planning to bring one of the greatest pickups of the world?
Also Read: Ford Endeavour Costlier By Rs 1.2 Lakhs; Still Cheaper Than Toyota Fortuner
Ranger is originally based on the platform of Endeavour so we could see some sharing between both of them. It definitely won't be as premium as the one we see in the USA, but probably a base variant. It could be kept simple so as to fit into a proper rival for the V-Max, offering better features and an overall nice rounded package.
Ford Ranger could use Endeavour's new 2.0 Litre turbo diesel engine that produces 167 PS and 420 Nm of peak torque. The motor comes paired with a 10-speed torque converter automatic gearbox. In comparison, the V-Max, gets a 2.5 Litre diesel engine producing 134 BHP/320 Nm and a 1.9 Litre diesel engine that produces 150 BHP/350 Nm.
If and if the pickup truck comes to India, it would not go to the commercial market and just for lifestyle buyers. It could borrow some of its features from Endeavour which includes active 4WD, six airbags, traction control, Drive Modes, differential locking and more such, which will help in off-roading.
Also Read: Ford Endeavour Vs Toyota Fortuner Tug Of War – See Unexpected Result
There's another tiny possibility that the Ranger could be here just for component testing. Ford India is an export hub for many markets including Brazil. We will surely like to see this beast come to India as we. If coming to India, it could be priced around Rs 20 Lakhs, which does not look that steep.