YouTuber Jatt Prabhjot, who's pretty well known for his love for superbikes, recently met with a serious accident in Nepal while riding his new Kawasaki H2
Recently, we became the first to report the accident of Jatt Prabhjot on his Kawasaki H2. The mishap took place while the YouTuber was on a ride of Nepal on his new superbike. In this accident, the rider has suffered some serious injuries while a 79-year-old, who was hit by the H,2 succumbed to the injuries on his way to the hospital. It's said Prabhjot was overspeeding and hence, couldn't avoid the collision. While there's no CCTV footage to back this theory, a new video that surfaced recently shows him overspeeding on several instances during his ride in Nepal.
You may also read: Overspeeding on His Rs 80 Lakh Kawasaki H2, YouTuber Jatt Prabjot Kills Old Man in Nepal
You may also like: Famous YouTuber Passes Away As His Kawasaki Ninja Gets Run Over By Truck
Several Instances of Overspeeding Kawasaki H2 during Meetup
Before the accident took place, Jatt Prabhjot organised a meet-up with his fans in Nepal. A video from this event shows several followers who got together to greet the YouTuber. Subsequently, some of the fans rode with Prabhjot on their respective motorcycles. It's during this ride that the Kawasaki H2 can be seen being ridden quite aggressively. The video captures several instances of hard acceleration of the H2. Clearly, the superbike was ridden beyond the speed limit on what looks like an unmarked dual carriageway with no lanes or median. That said, the rider had the motorcycle in his control every time he opened the throttle.
You may also like: WATCH A Young YouTuber Fulfil His Dad's Dream of Owning A Car
The exact timeline of the events is not available but it looks like the accident took place only hours after this video was shot. A video that went viral showed Prabhjot lying on the ground in pain immediate after the mishap. The same video shows his totalled Kawasaki H2 lying on the side of the road. There is no visual of the 79-year-old who has allegedly passed away after being hit by the superbike. Many onlookers have come forward to claim that the YouTuber was overspeeding at the time of the crash. While there's no proof to support this claim, it's clear that he definitely rode beyond the speed limit on many occasions before the crash took place.
You may also like: This Kawasaki H2R is Actually a Bajaj Pulsar!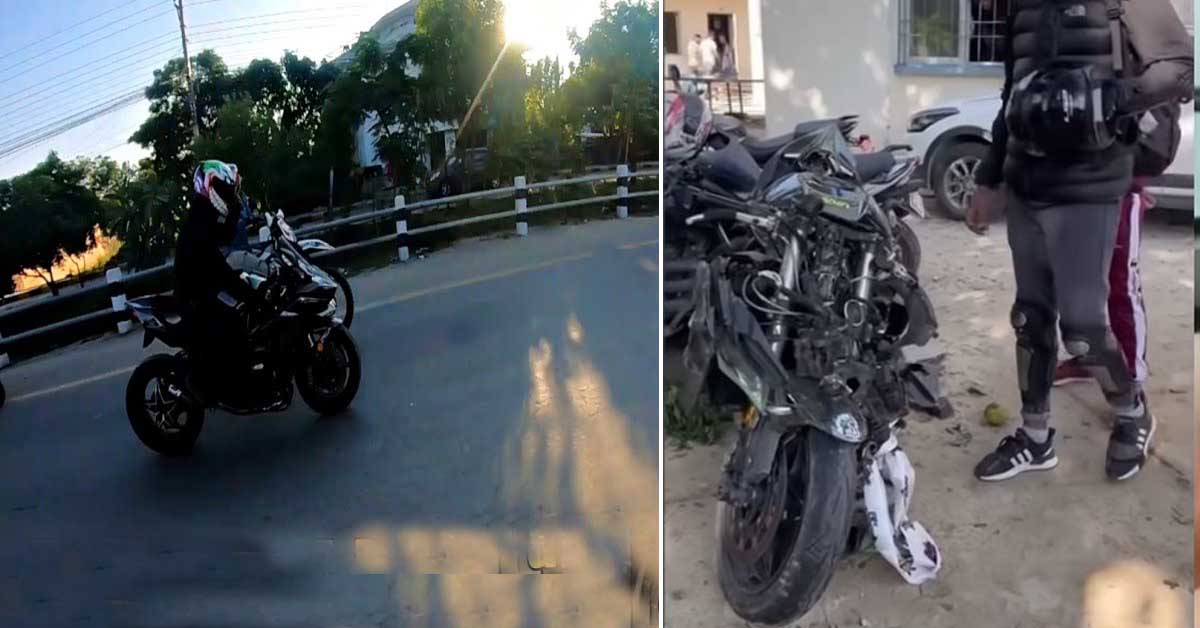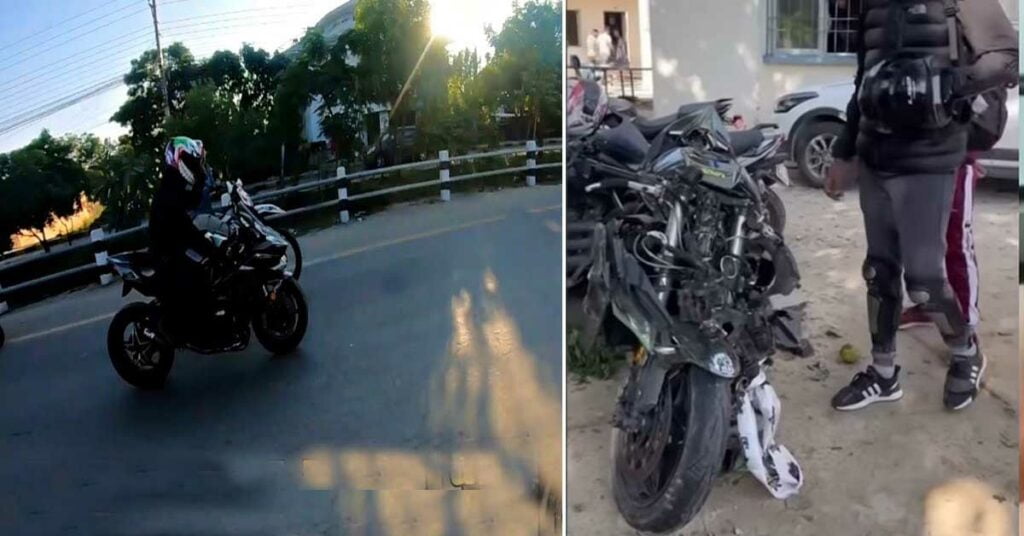 You may also like: Watch Youtuber Paras Thakral Gift Mahindra Thar To Wife
Always Ride Responsibly
It's true that machines like the Kawasaki H2 are a tad too powerful but it's only obvious that they shouldn't be ridden too hard all the time. With 231PS-147Nm on tap, the H2 is certainly capable of really high speeds. However, riding beyond the speed limit on unmarked roads with enough traffic around is clearly an invitation to trouble. One should always ride according to the road conditions, irrespective of his or her vehicle. In general, superbikes can achieve mad speeds within seconds. While this is exciting on an open expressway or on a test track, it's too dangerous to ride these machines fast on a median-less road with traffic scattered all over the place.
We offer our condolences to the family of the departed. We also wish a speedy recovery to the YouTuber. However, we urge all to please follow all traffic rules at all times, irrespective of the vehicle being used.
Disclaimer- The embedded videos/ external content is/are being used as a convenience and for informational purposes only; they do not constitute an endorsement or approval by Car Blog India of any of the products, services, and /or opinions of the corporation or organization or individual. Car Blog India bears no responsibility for the accuracy, legality, and/or content of the external site or for that of subsequent external videos/ external content. Contact the external publisher for answers to questions regarding its content.