In a weird chain of events, a Jeep Compass owner couldn't recognize that the bubbles visible on the touchscreen are actually on the screen guard and went to the dealership.
A Jeep Compass owner fell victim to an embarrassing tale when he thought that the bubbles on the screen protector of the infotainment system are actually on the screen itself. In fact, he went to the dealership to get the infotainment system replaced under warranty. What is even more hilarious is the fact that the dealership is refusing the replacement. We are not sure if the dealer is refusing it because he knows that there is no issue with the screen or for any other reason. Nevertheless, hilarity ensues on the internet after this incident as several social media users made fun of the ongoing discussion on a forum.
You may also like: Jeep Compass Pickup Concept Looks Picture Perfect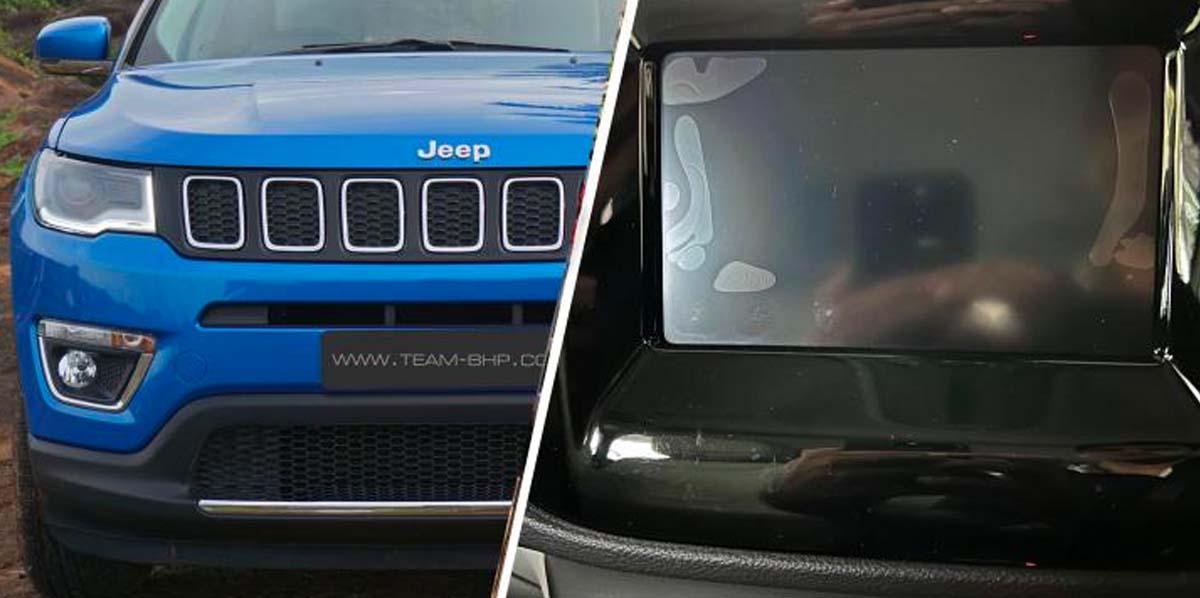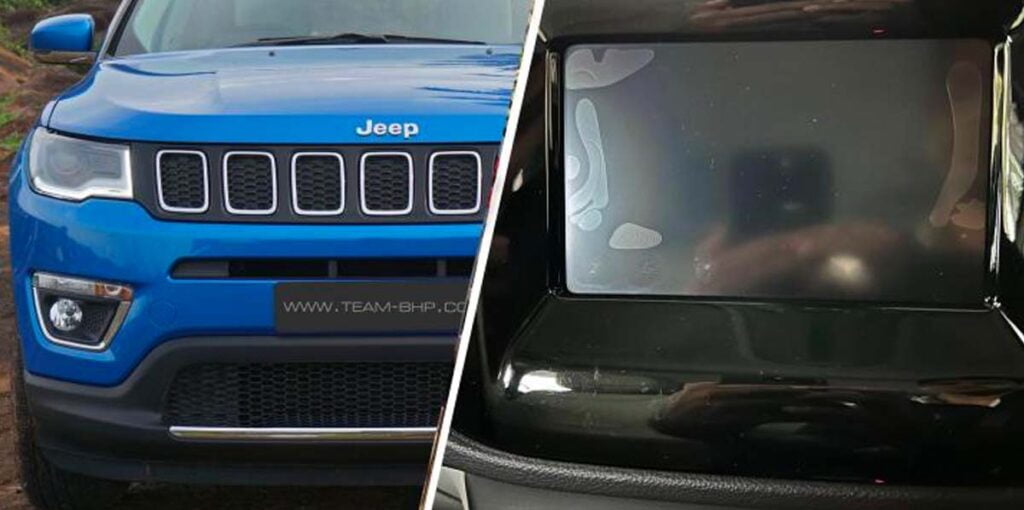 You may also like: Jeep Compass Limited 4×4 Tames Tricky Snow Terrain Like a PRO
Jeep Compass Owner Complains About Bubbles On The Screen
This discussion was trending on a Team BHP forum where the Compass owner shared his apparent plight. He expressed his frustration that the dealer was not replacing the screen on his SUV. However, one member of the forum highlighted that it could be just the screen protector on which the bubble formation is quite normal. But the owner replied to him saying that he didn't apply any screen protector on the touchscreen. Then he second-guesses himself and asks the member if it comes like that in the stock configuration. This proves that he was oblivious to the fact that the bubbles were formed only on the screen guard and not on the screen.
You may also like: Jeep Meridian vs Jeep Compass – Differences Outlined
Specs
Jeep Compass comes with both diesel and petrol powertrain options. The petrol is a 1.4-litre turbocharged unit that outputs 160 hp and 250 Nm of peak power and torque. The diesel, on the other hand, comes with a 2.0-litre mill churning out 168 hp and 350 Nm of peak power and torque respectively. Both these engines could be mated to either a 6-speed manual or a 7-speed DCT gearbox. The 4×4 drive system is available with only the diesel unit. The prices of the Compass start at Rs 18.04 lakh and go all the way up to Rs 29.59 lakh, ex-showroom.
You may also like: Baby Jeep Compass Looks Like a Perfect Tata Nexon Rival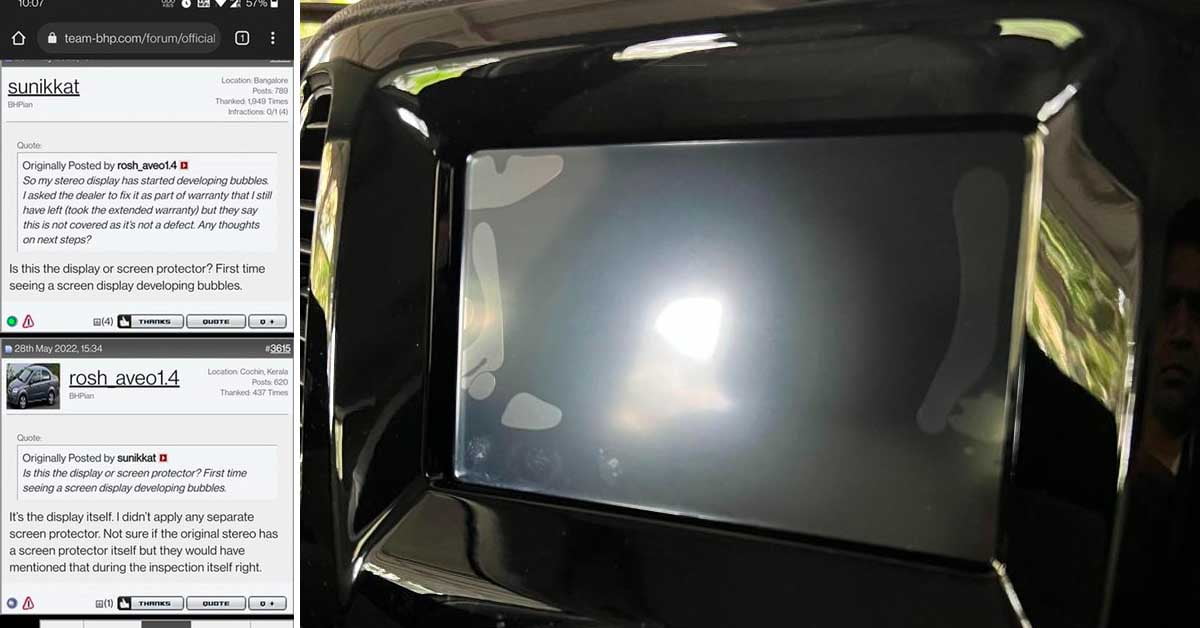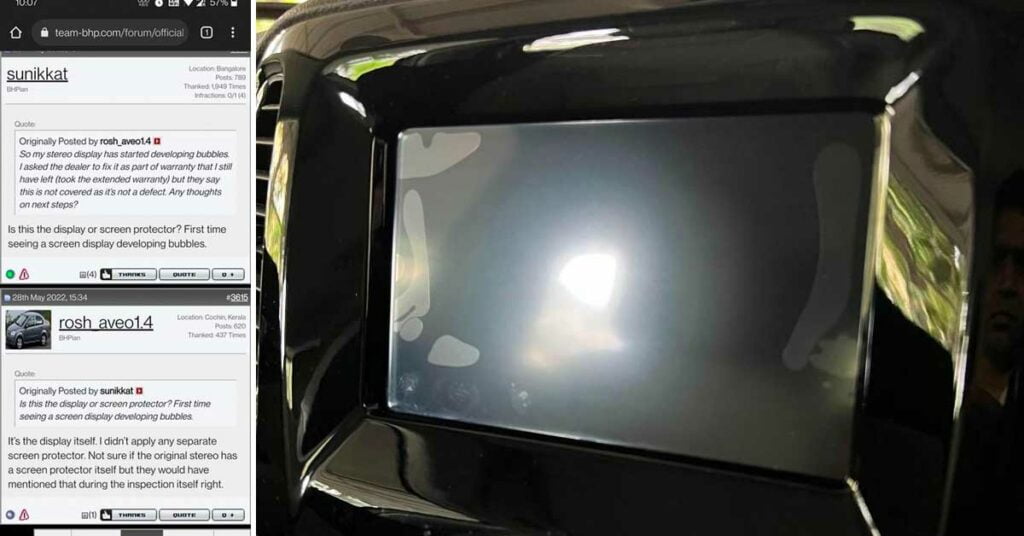 Let us know if this has happened with you or anyone you know. Such funny and confusing scenarios do play out quite often, especially in modern cars where there are so many new features and electronic components. Hence, it is always best to ask around in forums or other car owners.