A couple of months after Shahid Kapoor purchased the Mercedes Maybach S580, actor Kangana Renaut has bought S680, a higher-spec variant that costs over Rs 3.7 crore
Popular Bollywood actor Kangana Renaut has brought home a brand new Mercedes Maybach S680. With this, she has become the first Indian to own the higher-spec version of the S-Class-based luxury chariot. The Mercedes Maybach S680 costs Rs 3.77 Crore (on-road, Mumbai).
You may also read: 33 Year Old Becomes Youngest Owner of Rs 3.8 Crore Mercedes-Maybach S680 in India
You may also read: Bollywood Kids and Their Cars- Suhana's Merc GLE 43 AMG to Shanaya Kapoor's Audi Q7
You may also like: 5 Bollywood Stars with Regular Cars- Madhuri's Nexon to John's V-Cross
Mercedes Maybach S-Class
It must be noted that this is the second recent Mercedes Maybach S-Class in Bollywood after Shahid Kapoor bought the lower version of the same car in March 2022. The actors have purchased the facelifted version of the limousine that was introduced a few months ago. Shahid's Maybach is a S580 that costs Rs 2.95 Crore (on-road, Mumbai). Meanwhile, Kangana has bought the higher-spec fully-imported S680 variant that costs Rs 3.8 crore (on-road, Mumbai). A hundred-odd units have been allotted to India for this year and the car is sold out until 2023. While the saloon is based on the S-Class, it's a far more luxurious model. The limousine gets a 180mm longer wheelbase and all the increment has led to a more spacious rear section of the cabin. At almost 5.5-metre in length, the sedan is one of the longest cars on sale in the country.
You may also like: 5 Celebs Who Own Rs 2.34 Cr Mercedes Maybach GLS600- Ranveer Singh to Kriti Sanon
The Mercedes Maybach S680 comes with some great features that make this saloon one of the most luxurious cars on sale today. A highlight of the features list is the "doormen" feature that enables rear occupants to close the door using hand gestures. Even the chauffeur can operate the rear doors through a button. The rear seats can be reclined between 19-44 degree angle. The occupants even enjoy the added convenience of a retractable leg rest.
You may also like: 5 New Cars of Indian Stars- Kapil Sharma's Mercedes GLS to Madhuri's Porsche 911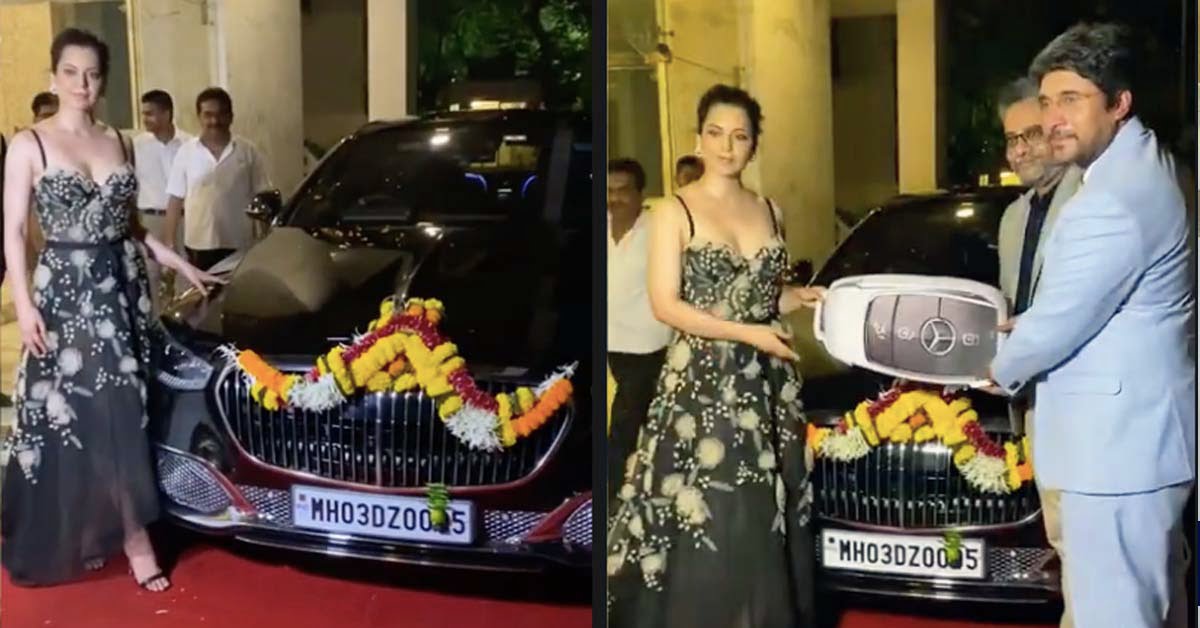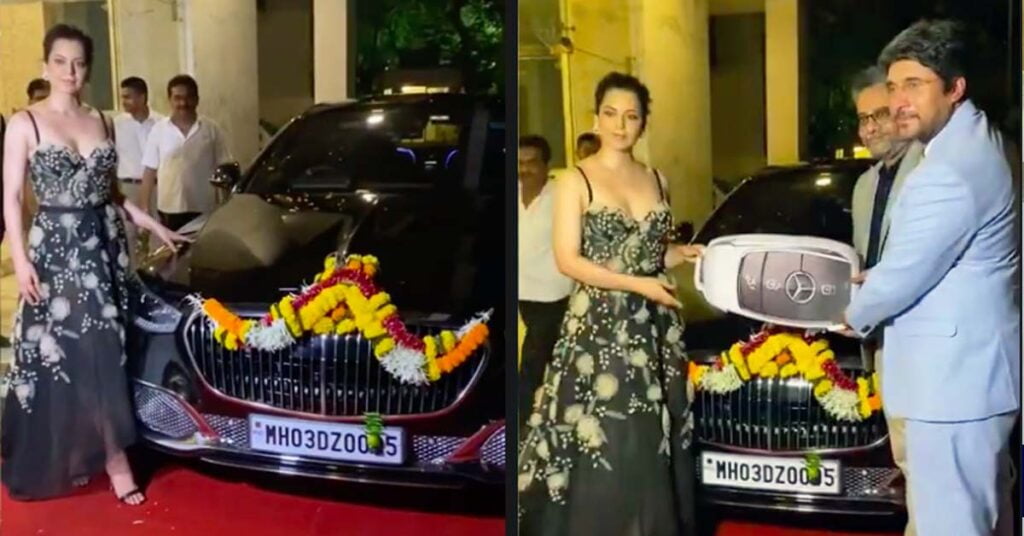 Specs
The Maybach comes kitted out with 19-inch forged alloy wheels that come draped in specially designed tires that keep the road noise to a bare minimum. The carmaker even offers an option to upgrade to 20- and 21-inch units. Other highlights of the features list include seat massager function, calf massager for rear occupants, ventilated seats, heated armrests and door panels, optional champagne chiller, and deployable trays. Powering Kangana Renaut's Mercedes Maybach S680 is a 6.0-litre V12 petrol engine that belts out a maximum power of 603.46 bhp@ 5250-5500 RPM and a peak torque of 900nm @2000-4000 RPM. The motor comes mated to a 9-speed automatic transmission that powers all four wheels. On the other hand, the Maybach S580 is powered by a 4.0-litre V8 twin-turbo petrol engine that outputs 500PS-700Nm. Even this variant comes with a 9-speed automatic transmission along with AWD.
Join us for FREE NEWS Updates on our Whatsapp Community or our official telegram channel.