A Black Kia Seltos with Ceramic Coating or a Red Kia Seltos with PPF Coating, which of the two you should choose?
The Kia Seltos doesn't have too many shortcomings but there's always more to add like a PPF or ceramic coating. Ever since it was launched, the mid-size SUV has been a regular attraction among car lovers. It still continues posting healthy sales numbers month after month. The Kia Seltos features a blingy and grand muscular build that caters to Indian sensibilities. Additionally, automobile designers keep coming up with spicy iterations of the popular car. Now, Brotomotiv has given two Kia Seltos a PPF coating and ceramic coating. Let us take a closer look and see which version is better.
Also read: Kia Seltos First Paid Service Bill Shows Rs 200 For Nitrogen Filling
As seen in this video, the BroGang first took a Red Kia Seltos gave it a full PPF (paint protection film) coating that offers a high gloss look. Instead of PVC or Polyurethane, TPU (thermoplastic polyurethane) is used. The TPU film comes with self-healing abilities. The swirl marks vanish in the hot sun or with warm water. You can choose from 120 microns to 160 microns (including a self-healing cost of 25 microns). A thinner film reduces the chances of stretch marks and can last put up to 10 years. The PPF is usually thinker than the paint itself which protects the car against damage. The pre-ceramic coated film comes with hydrophilic properties. Additional benefits include chemical and acid resistance. However, it is recommended to get PPF on a brand new car to protect factory-fit paint.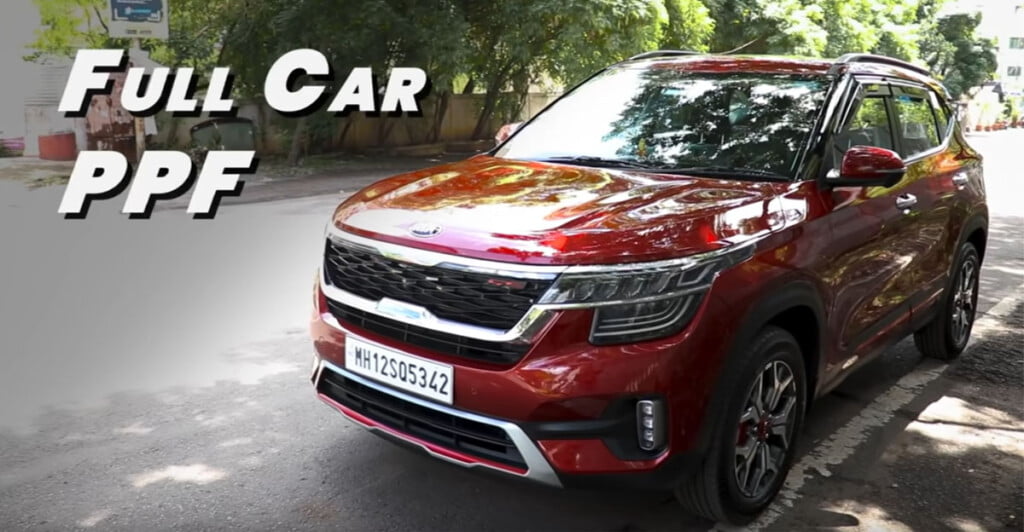 Also read: Shahrukh Khan Uses Kia Seltos to Keep Low Profile During Jail Visit!
Then, the gang added a Ceramic coating on a Black Kia Seltos unit to offer a wet and gloss look. After washing, compound polishing is done. After which Sapphie package was applied. A PPF essential kit is used on mirrors, headlights, and door handles. A ceramic coating comes with different layers at different prices. The ceramic coating fills the pores in the original paint and creates an additional layer on top. The 9H hardness of the coat is scratch-resistant. It also protects against chemical and acid resistance. The Ceramic coating is also water and dust-resistant. It is also UV resistant and protects damage from a bird dropping. The Ceramic coating is less durable than PPF but it comes at a low cost (Rs 15,000 – Rs 40,000). On the other hand, the PPF starts at Rs 70,000 and goes up to Rs 2,50,000. You can mix and match as per your budget.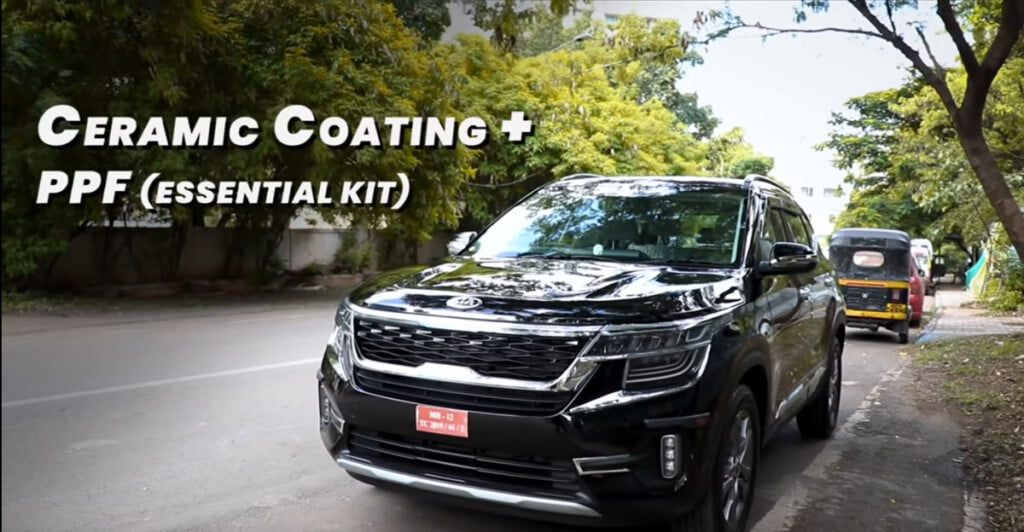 Also read: Kia Seltos and VW Vento Owner Reviews VW Taigun!
The Kia Seltos diesel comes with a 1.5-liter oil-burner engine that offers 115 PS and 250 Nm. On the other hand, the petrol model packs a 1.5-liter naturally aspirated engine (115 PS, 144 Nm) or a 1.4-liter Turbo with direct injection (140 PS, 242 Nm). All engines can be paired with either a 6-speed manual, 6-speed automatic, 7-speed DCT, or a CVT transmission option. Additional features include a 10.25-inch Digital Touchscreen Infotainment System with Apple CarPlay and Android Auto, a 7-inch Digital Colour Instrument Display, an 8-inch Head-up Display UVO Connected Car Tech, BOSE premium 8 speaker system with dynamic speed compensation, Voice Recognition, Steering Mounted Audio Control, Blind View monitor, Driving rearview monitor, Ventilated Front Seats, Wireless Smartphone Charging, Smart Pure Air purifier, Traction and Drive Modes (AT and DCT only), 8-way Driver power seat, Ambient LED mood lighting, and more.
Also read: VW Taigun vs Kia Seltos – Engines, Safety, Features And Prices Comparison!
Join us for FREE NEWS Updates on our Whatsapp Community or our official telegram channel.