We pit the recently launched Kia Seltos against the popular Tata Harrier and see how these mid-size SUVs fair on papers.
Kia Seltos has launched at an interesting price of Rs 9.69 lakh for the base petrol and Rs 9.90 lakh for the base diesel trim. The SUV comes with loaded features inside and the grille up front gets inspired from tiger-nose. So far the Seltos has managed to grab over 32,000 bookings and the numbers are increasing only. But the SUV has established players in the market which have acquired a sweet spot in the customer's fan base. And Here in this article, we take you through the Kia Seltos vs Tata Harrier comparison where we talk about engine specifications and dimensions of both the car.
The Tata Harrier has garnered swift sales in a short amount of time seeing its launch in February this year. The new-age SUV follows Impact 2.0 Design philosophy which gets split headlamp design and comes with loaded features. Well, not like its competitor Kia Seltos but it does the basic job of fulfilling buyers need.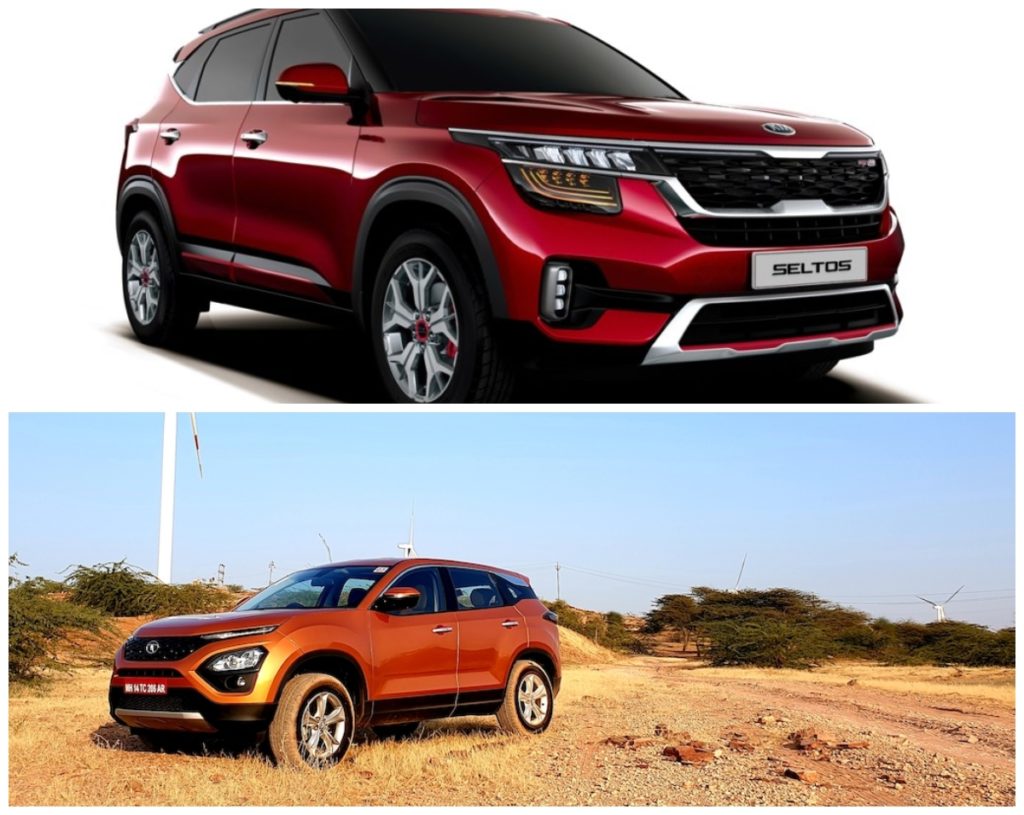 Let's take a closer look at how both these cars fare against each other and know the required details
Kia Seltos vs Tata Harrier – Engine Specification (Diesel)
Both, Kia Seltos and Tata Harrier are powered by one diesel engine. Kia Seltos takes power from a 1.5-litre turbocharged diesel engine which generates 115 bhp and 250 Nm of peak torque. One of the main advantages of buying Kia Seltos diesel is that the engine is BS6 compliant which the Harrier is still to receive.
On the other hand, Tata Harrier engine is bigger in capacity and generates a good amount of power than its competition. The 2.0L Kryptonic diesel engine churns out 140bhp with 350Nm of torque.
| | | |
| --- | --- | --- |
| Model | Kia Seltos | Tata Harrier |
| Engine (Diesel) | 1.5L, 4-cylinder diesel engine | 2.0L Turbocharged diesel engine |
| Power | 115 bhp | 140 bhp |
| Torque | 250 Nm | 350 Nm |
| Transmission | 6-speed manual transmission/ 6-speed Torque Converter AT | 6-speed manual transmission |
Also buying a Kia Seltos over the Harrier has its one more advantage. Its that it gets a 6-speed AT gearbox which its competitor lack. Tata is still working on an automatic gearbox for Tata and if reports are to be believed then it may source the six-speed torque converter unit from Hyundai.
Also Read: Kia Seltos Launched In India – Price And Complete Details
Kia Seltos vs Tata Harrier Petrol Engine Specification
Kia Seltos is available in two petrol engine options while there is no availability of petrol motor in Tata Harrier. The 1.5-litre motor produces 115 bhp and a peak torque of 144 Nm and is paired with 6-speed manual transmission. A CVT gearbox is also available for the same.
| | | |
| --- | --- | --- |
| Model | Kia Seltos | Tata Harrier |
| Engine (Petrol) | 1.5L, naturally aspirated petrol engine / 1.4L TGDi engine | NA |
| Power | 115 bhp / 140 bhp | NA |
| Torque | 144 Nm / 242 Nm | NA |
| Transmission | 6-speed manual transmission/ CVT gearbox / 7-Speed DCT | NA |
Another powerful, 1.4-litre turbo petrol motor will make its way once the Seltos is launched. The engine will make a whopping power of 140 bhp and a healthy torque of 242 Nm. Following the gist of cleaner fuel, Tata will also bring the petrol-powered Harrier but that will join the party at a later stage. It will introduce a 1.6-litre turbocharged petrol engine which is derived from the 1.2L petrol engine which does the duty on the Nexon.
Kia Seltos vs Tata Harrier – Dimensions
| | | |
| --- | --- | --- |
| Dimensions | Kia Seltos | Tata Harrier |
| Length | 4,315 mm | 4598 mm |
| Width | 1,800 mm | 1894 mm |
| Height | 1,620 mm | 1706 mm |
| Wheelbase | 2,610 mm | 2741 mm |
| Ground Clearance | 190 mm | 205 mm |
Tata Harrier will surely look big and majestic if the two SUVs stand together. The Harrier eats up the Seltos in terms of every dimension. Sure, it will pack loads of space inside the car but Kia Seltos is a no-nonsense car either.
Kia Seltos brings the modern age design and its tiger-nose grille up front. The mid-size SUV gets LED headlight setup which the Harrier lacks. Feature-wise it is the Seltos which aces the game but if you are someone looking up for the space inside then the Harrier takes advantage here.
Design
Where Tata Harrier follows the split lights set up, Kia Seltos retains its conventional design. Tata Harrier looks attractive but lacks the stealth when it comes to side profile. The tyres seem to be a bit off when compared to the overall design. However, Tata is launching a dark edition to the Harrier which follows an all-black theme to the exteriors as well as the interiors. The black shade is followed on the 16-inchers too so it gives an aesthetic presence on the road.
Coming to the Kia Seltos, it packs a rather sophisticated and good looking design. It gets sharp lines running all over the body and all LED lighting setup comprising of LED headlights, DRLs, taillights and the fog lamps. In addition, the design of the Kia Seltos looks fresh and this may add a plus point in the market.
Also Read: Tata Harrier Dark Edition Details Out; Launching Soon
Prices
Tata Harrier starts at a price point of Rs 13 lakh for the base trim and goes all the way up to Rs 16.67 lakh for the top-end trim. Kia Seltos comes at a starting price of Rs 9.69 lakh and the top model fetches around Rs 15.99 lakh. All prices mentioned above are on the basis of ex-showroom, Delhi.