Since 1948, Land Rover has been in the business of churning out some of the most capable off-roaders in the world. The British Marquee, now owned by Tata Motors, is credited with some legendary names such as the Range Rover and Defender. But when most people talk about modern Land Rovers, they talk about the styling of the Evoque or the luxurious nature of the Range Rover. While this isn't necessarily a bad thing, people could've been forgetting what Land Rovers are really about. Thankfully, however, JLR has been organizing something it calls 'Land Rover Experience' across multiple cities. This evemt serves as a gentle reminder of the off-road credentials of Land Rover products. We got behind the wheel of a Discovery Sport at the Delhi leg of the Land Rover Experience to give ourselves a refresher on what these SUVs are capable of.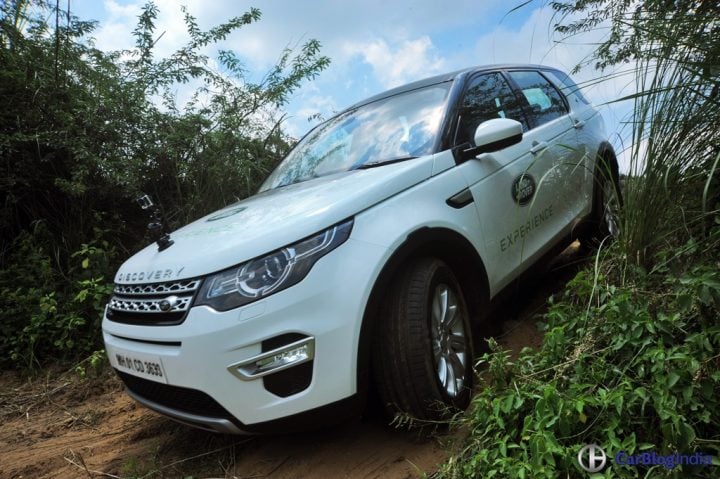 The whole point of the Land Rover Experience is to give customers and media persons a chance to sample off road capabilities Land Rover SUVs. It also gives a chance to learn how the plethora of electronics on board these mud pluggers ensure even the most challenging of terrains don't bog you down. For this exercise, Land Rover, with the help of Cougar Motorsports, charted out a trail around Damdama lake that was full of natural obstacles. A short briefing and a cuppa later, we were on our way in a white Land Rover Discovery Sport.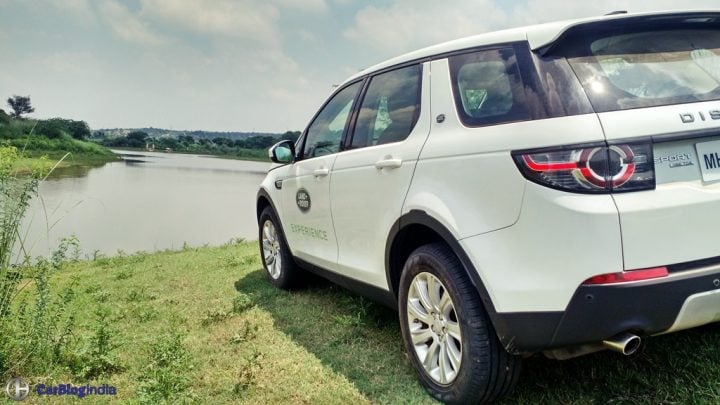 All Land Rovers come with something called 'Terrain Response System'. It consists of multiple modes including 'Rock Crawl', 'Grass, Gravel and Snow', 'Mud and Ruts', 'Sand' and, of course, the general driving mode. What this system does is alter steering, braking, and throttle response to suit the kind of terrain the car is on. It also fiddles with gear changes and the all wheel drive system to ensure the right amount of power is transmitted to each wheel. We stuck to the Mud and Ruts and Grass, Gravel and Snow modes for the most part of the course. It started off with a steep descent, which gave us a chance to sample the Hill Descent Control as well. This system ensures the car rolls down at a preset speed without any braking inputs from the driver.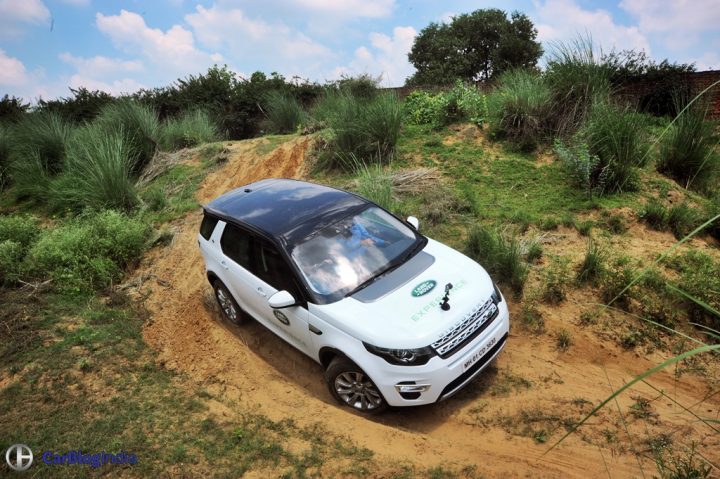 This was followed by a couple of steep inclines, which the Discovery Sport and its electronic aids made light work of. All the driver has to do is merely select the right mode and the vehicle will take you across without breaking a sweat. While negotiating sharp crests, the trick is to keep your foot on the accelerator. This helps the on board system detect exactly how much power should be sent to each wheel in order to get you through. To be quite honest, we were genuinely surprised and mighty impressed with the way these SUVs, piloted by drivers with little to no off road experience, were able to easily negotiate this off-road course.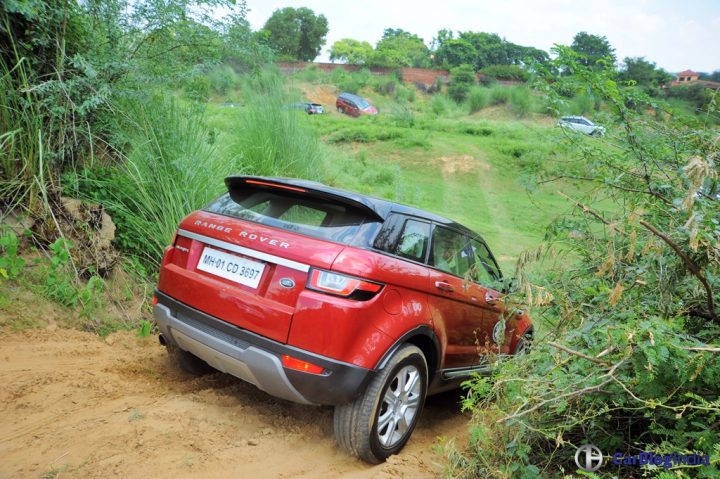 A patch of green grass on a side incline gave us a chance to try out the 'Grass, Gravel and Snow' mode. The defining characteristic if such surfaces is the slippery top with hard soil underneath. While traversing such patches, the amount of torque being transmitted needs to be controlled to prevent loss of traction. Needless to say, these Land Rover SUVs were able to negotiate this patch without too much fuss.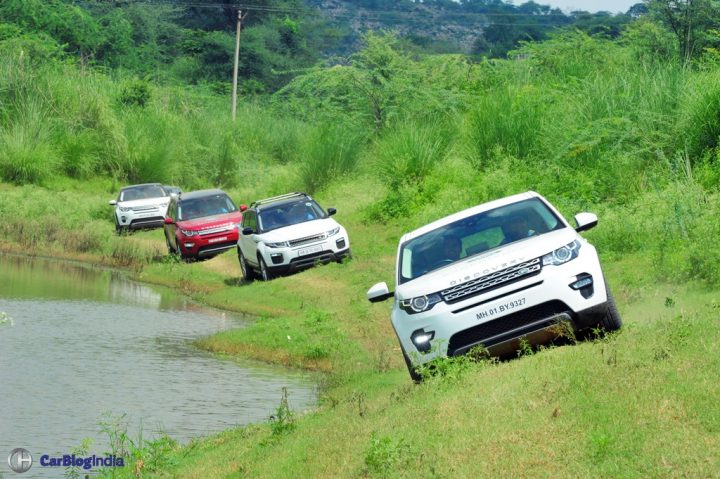 Along the course, there was a patch of axle twisters. This particular obstacle requires controlled throttle and brake inputs from the driver. The electronics take care of the rest. Axle twisters make for some heavy articulation and are one of the most challenging patches to negotiate. A couple more steep inclines, side inclines and a lot of under body scrapping later we drove back to the starting point. This whole experience proves that the Discovery Sport and Range Roer Evoque SUVs are not just pretty faces to make your neighbours jealous. These are some seriously capable off-roaders.
It is a bit sad knowing that most of these won't even get to experience a fraction of what we did at the Land Rover Experience. But then, if you spend 50 odd lakhs on a car you would be reluctant to take them out into the wild too. That's where the Land Rover Experience comes in. It gives customers a chance to get a first-hand experience of exactly how capable their beloved SUVs are.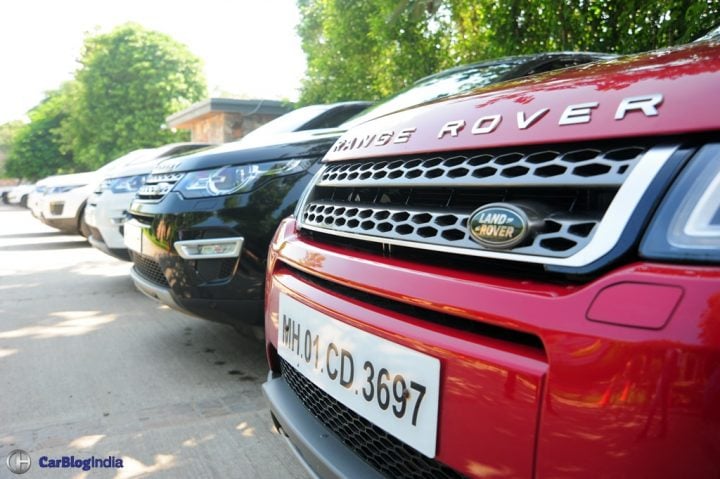 Land Rover Experience – Land Rover Discovery Sport Factfile
Specifications
| | |
| --- | --- |
| Length x Width x Height | 4600 x2173 x 1724 mm |
| Kerb Weight | -NA- |
| Wheel Type and Size | 17/18 inch alloys |
| Boot Space | -NA- |
| Engine Type/ Displacement | 2,179cc Diesel/1,999 cc Petrol |
| Power | 147 bhp or 187 bhp/236 bhp |
| Torque | 400 Nm or 420 Nm/360 Nm |
| Transmission (Gearbox) | 9-speed automatic |
| Mileage | -NA- |
| Air Conditioner Type | Dual Zone automatic climate control |
| Steering Audio Controls | Yes |
| Audio System | 6/10/11 Speaker Audio/17-speaker Meridian Audio System |
| Airbags | Dual Front + Side curtain |
| ABS | Yes |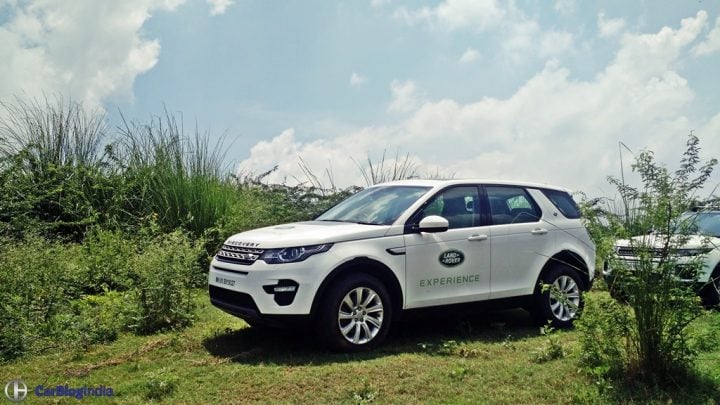 Land Rover Discovery Sport Price List
| | |
| --- | --- |
| Variant | Ex-Showroom Mumbai Price |
| Land Rover Discovery Sport HSE Petrol | Rs. 59.04 lakhs |
| Land Rover Discovery Sport S Diesel | Rs. 48.06 lakhs |
| Land Rover Discovery Sport SE Diesel | Rs. 53.18 lakhs |
| Land Rover Discovery Sport HSE Diesel | Rs. 55.61 lakhs |
| Land Rover Discovery Sport  HSE Luxury Diesel | Rs. 63.28 lakhs |
What do you think about the Land Rover Experience? Do let us know via the comments section below. Stay tuned to Car Blog India for the latest news and reviews.
Author- Dhruv Saxena.
Join our official telegram channel for free latest updates and follow us on Google News here.