Mostly, a new car always brings in a lot of joy to the owner. In some unfortunate cases, however, the vehicle even brings in a bag full of issues that end up totally ruining the ownership experience. The case in the point here is a lawyer who's been facing a lot of inconvenience from his almost new Jeep Compass and a rather questionable after-sales service.
Also See: 7-Seat Jeep Compass (Meridian) Interiors Revealed – Expected Specs & Details!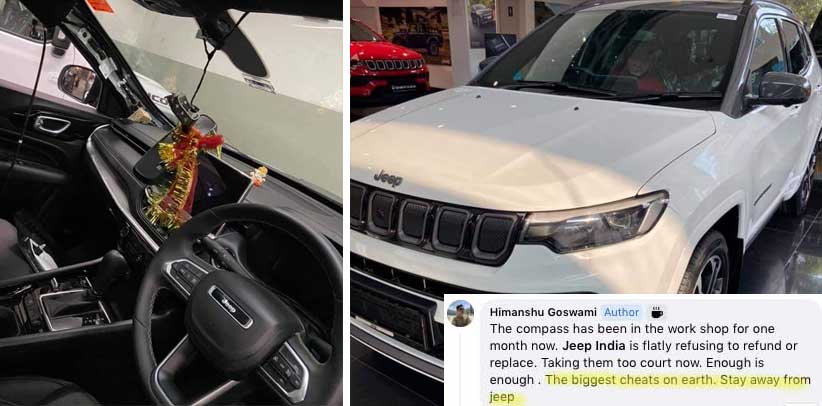 One Himanshu Goswami, an NCR-based lawyer, had purchased a 2021 Jeep Compass in early September 2021. Around a couple of weeks later, he got really bothered by the several rattles his car had developed and he approached the authorised service centre. Writing about his ordeal, Goswami said, "My model S (Jeep Compass) is just two weeks old and it's rattling like mad. The SC acknowledged it and have been able to fix it in two places but not at the B pillar. I am pushing for a full refund. Really disappointed at the build quality of Jeep India." For the next few weeks, the owner hoped the service centre would fix his vehicle but in spite of the technicians flying in from Jeep India to sort out the issue, the situation has failed to improve.
Also See: 2021 Jeep Compass Sport Owner Review – VIDEO
In the latest update, Goswami has reported that his Jeep Compass has been in the workshop for a month now and in spite of being unable to rectify the issues, the carmaker is refusing to either replace the vehicle or issue a refund. The aggrieved owner has now talked about taking the carmaker to the court as he has had enough of the harassment. He goes on to comment that Jeep India is among "the biggest cheats on earth. Stay away from Jeep."

Regular here would remember that we first reported about this issue a couple of days back, wherein we talked about how the owner has been facing too much inconvenience. In the last two days, many have reacted to our story and have revealed a similar fate at the hands of the dealerships. Furthermore, after sharing the link of our earlier report on social media, the owner has revealed his intentions of suing the carmaker. We feel pretty sad about how things have turned out for someone who has spent lakhs of hard earned money on the purchase of a premium compact SUV. We hope the carmaker takes notice of all the inconvenience that is being caused to the owner and takes steps to resolve all the issues at the earliest.
Also See: Ford Bronco vs Jeep Wrangler Drag Race: One Of Them Gets Annihilated!