Today times have changed a lot and people are looking forward for such vehicles which are fast and trendy. The two wheeler market has a scorching competition and thus every two wheeler producing major have a huge way to go. We have seen the recent beautiful and powerful scooter in the showrooms across the subcontinent. The Piaggio Vespa LX125 is the scooter which has taken a frequent hike in the two wheeler mart suddenly and thus made a huge competition. Among some of the famous brands like Hero MotoCorp, Honda, TVS and many others predictably Piaggio has taken a good and big consumer chunk from the market. Basically because of new idea, style and performance market for Piaggio has opened the doors wide and strong. The Scooter is sleek in design and has a tough body built, but then we know that market seeks competition and in today's time fashion fades very fast just because of the competing hikes.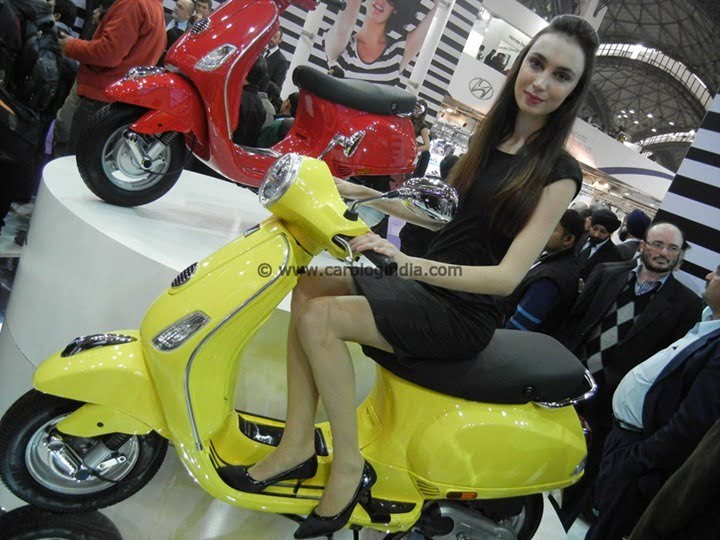 Current model of Piaggio has lot of colors and tough monocoque made up of steel, which attracts loads of consumers and that is the reason that Piaggio was able to pocket good number of consumers.
As per the recent rumor, Piaggio is soon going to revamp the scooter with a complete change in body. The company is thinking to develop a low cost Vespa LX125 with fiber body which would make the scooter go light and much faster than the present model. Predictably the Manufacturer will not redesign the sleek style but then only the materiel used for making the body will be going to change. This is to price it more aggressively at Rs. 50,000 price bracket. Somehow it depends on the body also that how much advantage a customer can get in terms of speed and elegance. The light Vespa which would be built in fiber will chase the road and eat miles faster; another advantage would be lesser fuel consummation and better mileage. Presently the scooter comprises 3 valve, 125 cc, air cooled engine churning out maximum power 10.6 Ps @ 7500 Rpm and the maximum torque of 10.6 Nm @ 6000 Rpm.
After the wide spread of this rumor among media, Piaggio has come out to officially state that it is just a rumor. As per the official statement release by the company:
"The information on Vespa unveiling a fibre body variant and reducing price to Rs 50,000/- is untrue. We are happy to respond to any queries that may arise regarding the same."