Here's a tug of war challenge between the highly dependable Mahindra Bolero and the Mahindra Scorpio. Let's see who wins!
Despite Mahindra Bolero being an old and less powerful SUV, it has many fans over the country. Due to its raw appeal and the Boxy-SUV styling, it is still loved by many off-road enthusiasts. Usually, they modify it with new alloys, colours and interiors.
On the other hand, Scorpio is also one such SUV which is still loved by many. The tall-boy SUV has been in India for over 18 years, since it was launched first in 2002. The Bolero is a much more affordable machine which debuted back in 2000.
Here's a tug of war challenge between the Scorpio and Bolero. In tug of war challenges, the ropes are attached to the frame just below the boot lip. Then both the cars have to accelerate and the one which drags the other car, is the clear winner. Another method used is one accelerates while other applies the brake. One which manages to pull is the winner.
Also Read: Is This A Mahindra Thar Or Bolero Modified Into Jeep Wrangler? Guess!
In the first couple of seconds, you can spot the clear winner over here. While the Scorpio is witnessing a heavy wheel spin and is really trying hard to win, Bolero is at ease. Then suddenly Bolero starts its game, the Scorpio is clearly dragged.
Bolero could have possibly won because of its dual-purpose off-road spec tyres. This might have helped the SUV gain traction control. Definitely, Scorpio would have been the clear winner if the challenge was done on normal roads.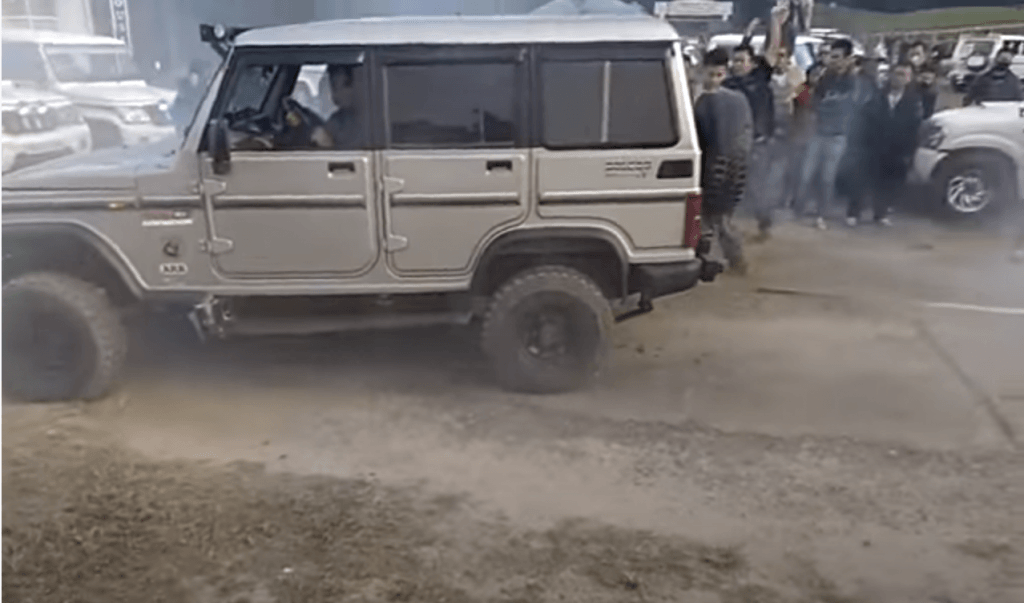 Mahindra Bolero gets a new 1.5 Litre m75 three-cylinder turbo-diesel engine that produces 76 PS and 210 Nm of peak torque. The motor comes mated to a 5-speed gearbox as standard. In comparison, Scorpio gets a much more powerful engine.
Also Read: BS6 Mahindra Scorpio Loses Four-Wheel Drive and 2.5L Diesel Engine
The tall-boy uses a 2.2 Litre four-cylinder turbo-diesel unit, that produces 140 BHP and 320 Nm of peak torque. Transmission options include a 5-speed MT and a 6-speed MT. Earlier, it came with a 2.5 litre diesel engine and 4WD, which have now been shut due to emission norms.