Mahindra Racing today achieved another milestone by confirming their participation in the 2014 FIA Formula E championship. They are the eight team in the series of the total of 10 teams which will compete in the first ever international all-electric, single-seater car racing series. Mahindra Racing was the first Indian team to have actively participated in the FIM MotoGP World Motorcycle Racing Championship in 2011, and has gone on to win the Constructor's Championship in the 125cc Italian National Motorcycle Racing Championship.
Mahindra hopes that this association with an electric racing series will improve the popularity of electric cars across the world. This would especially help the company sell and market the cars from it's electric subsidiary Mahindra REVA. Mahindra will also have the option of developing race tested electric technologies from the 2015 season onward, which could help it develop better road cars which is obviously good news. Mahindra has not announced the driver lineup for the series but their are speculations that Karun Chandok and Narain Karthikeyan could be in the reckoning.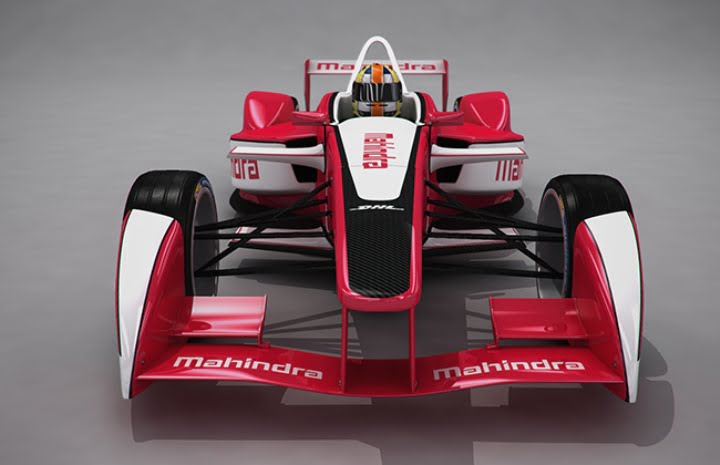 What's Formula E?
The Formula E series can be imagined as the Formula 1 championship, but for cars that solely run on electricity. The series was first conceived in 2012, the thought being that it would be an ideal platform for companies to test and showcase their electric car technological prowess. The series would serve the multiple purpose of being a showcase the technological marvels that electric cars are, help develop new technologies which could be incorporated in road-going cars of the future and be an entertaining sport.
Here are some facts about the Formula E series:
The Car
For the 2014 season the series will feature only one car the Spark-Renault SRT_01E, this has been done to keep costs in check and attract more teams to participate in the races. Later, teams will be encouraged to develop their own cars and technologies, there will be limitations on how much each team can spend to keep the costs in check though.
The Spark-Renault SRT_01E has been designed by Spark Racing Technology which is a consortium of vehicle and vehicle component makers, which include: Renault, McLaren Electronic Systems, Williams Advanced Engineering, Dallara and SPARK. SPARK is in charge of designing the car; components like the chassis, aerodynamic components, suspension etc will be handles by the company. Dallara is charge of designing and construction of the carbon-fibre and aluminium monocoque chassis which will be the backbone of the whole race car. McLaren Electronics is in charge of providing the electric motor that will power the car, the gearbox and other electronic equipment on the car. Williams Advanced Engineering will take care of the battery and related components.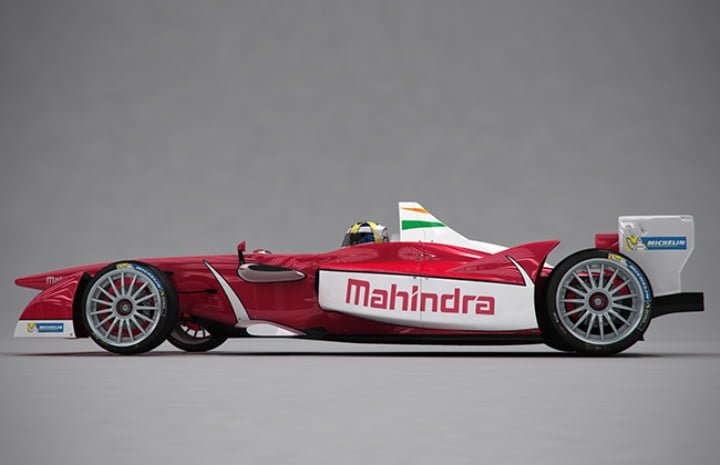 Tech-specs:
L x W in mm: 5000 x 1800
Weight: 800 Kg
Engine: 180 BHP (limited) /140NM electric engine, mid-mounted, with a push-to-pass button that increases power to 270 BHP
Transmission: 4-speed sequential
Front suspension: Double steel wishbones, pushrod operated, twin dampers and torsion bars
Rear suspension: Springs
Wheel: 18-inch, fitted with all-weather treaded tyres from Michelin
Performance:
0-100 KMPH in 3 seconds
Top speed of 220 KMPH
Will be louder than a typical road-going car
Each team will have 2 cars on the grid, and they will have to change cars in between which means that for a one-hour race each team will have 4 cars in hand. A total of 42 cars have been made by Spark for the whole series.
The Teams
8 of the 10 teams have been revealed till date, these include:
Drayson Racing:  British racing team, has competed at Le Mans 24 Hours in 2009 and 2010. Developed the Drayson B12/69 EV which has set a host of electric car records in 2013.
China Racing: As the name suggests, the team is based out of China. Has participated earlier in A1GP, Superleague Formula and FIA GT1.
Andretti Autosport: Is a almost decade old racing team from the USA and is a major player in the American racing scene. The team is currently active in the IndyCar Series, Star Mazda Championships, U. S. F2000 National Championship and has raced earlier in many other racing series.
Dragon Racing: An team from USA, has been racing in the IndyCar series since 2007.
e.dams: French racing team, part of the DAMS racing team which was formed in 2005. Has participated in a lot of racing series including the American Le Mans, FIA GT Championship, Le Mans 24 Hours, Porsche Supercup among others.
Super Auguri: Japanese team. The Super Auguri team was a former Formula 1 competitor.
Audi Sport Abt Formula E Team: German team. A collaboration between Audi's motorsport division  and Abt Sportsline, which is known for its racing team and an after market tuner of Volkswagen vehicles.
Each team will have two drivers and 4 cars. The teams are expected to introduce their own electric technologies into the cars as the series progresses. Some teams like the Drayson racing have started testing wireless recharging of the batteries on their cars.
The Races
The race or e-Prix in Formula E Championship will be held in street circuits rather than built-for-racing circuits. This will ensure more excitement and also drive home the theme of the championship being closer to people. The races will 10 races held in 2014 which include:
Beijing, China on 20th September 2014
Putrajaya, Malaysia on 18th October 2014
Hong Kong on 8th November 2014
Punta del Este, Uruguay on 13th December 2014
Buenos Aires, Argentina on 10th January 2015
Los Angeles, USA on 14th February 2015
Miami, USA on 18th April 2015
Monte Carlo, Monaco on 16th May 2015
Berlin, Germany on 30th May 2015
London, UK on 27th June 2015
The dates mentioned above may change, this is a provisional calender. There may be more host cities added in the coming seasons of the championship.
The race will be held on one particular day, unlike Formula 1 where the race is held over the weekend. Free practise, qualifying and the main race will be held on the same day, with the race expected to last about an hour or less. The tracks will be about 2.5-3 KM long.
360 Degree View: 2014 Mahindra Racing Formula E Race Car
We are excited and proud that an Indian team has entered an event which will surely contribute to the dream of pollution free, high-tech commuting. What do you think? Should races be held in India too? Which cities in India can host street races? Let us know in the comments below.
Join us for FREE NEWS Updates on our Whatsapp Community or our official telegram channel.