Mahindra is playing its cards well to avoid hurting its SUV sales despite the prices of its SUVs hovering in the same price bracket for the most part.
Even though popular SUVs like the Tata Harrier are built on a monocoque, Mahindra is using its ladder frame chassis cleverly to demarcate between its SUVs despite the overlap in the prices. It is the only carmaker in the country that produces SUVs exclusively. There are no other products in its current portfolio. In fact, this trend is set to continue with the future products planned to fall under the SUV segment only. This includes even the EVs that are slated for launch pretty soon. For now, let us understand its approach to ensure proportionate sales of the SUVs even in similar price brackets.
You may also like: Mahindra Scorpio N vs Tata Harrier Comparison
You may also like: Anand Mahindra Shares Secret of Scorpio's Low Waiting Period
Mahindra Uses Ladder Frame Chassis To Boost Sales
Mahindra is the only carmaker in the country that caters so distinctively to urban, semi-urban and rural environments. For the city dwellers, it offers products like the XUV300 and XUV700 which are based on the monocoque chassis. Even rivals like the Tata Harrier and Tata Safari are based on a monocoque. This construction allows SUVs to have car-like driving dynamics because the entire construction is done using a single cage of metal. In addition to that, these SUVs concentrate more on the creature comforts, latest technology and exterior styling. These are the priorities of most people living in big cities and using cars just to commute from homes to their offices.
You may also like: Mahindra XUV900 (Production Born Electric SUV) Conceptualised Digitally
Then comes products like the existing Scorpio. It ticks all the boxes for something living in a semi-urban city/town. It strikes a perfect balance between offering some sort of in-cabin comfort, basic modern features, and rugged build, tough structure, 4×4 capabilities for off-roading scenarios and a 7-seat configuration. This is based on the ladder frame chassis which are great for making tough SUVs that could travel through treacherous terrains. Now, the Scorpio overlaps in the pricing with the XUV700 but the target audience is totally different. Hence, these two SUVs don't eat teacher other's sales.
You may also like: Will This Become The Upcoming Mahindra Scorpio Classic?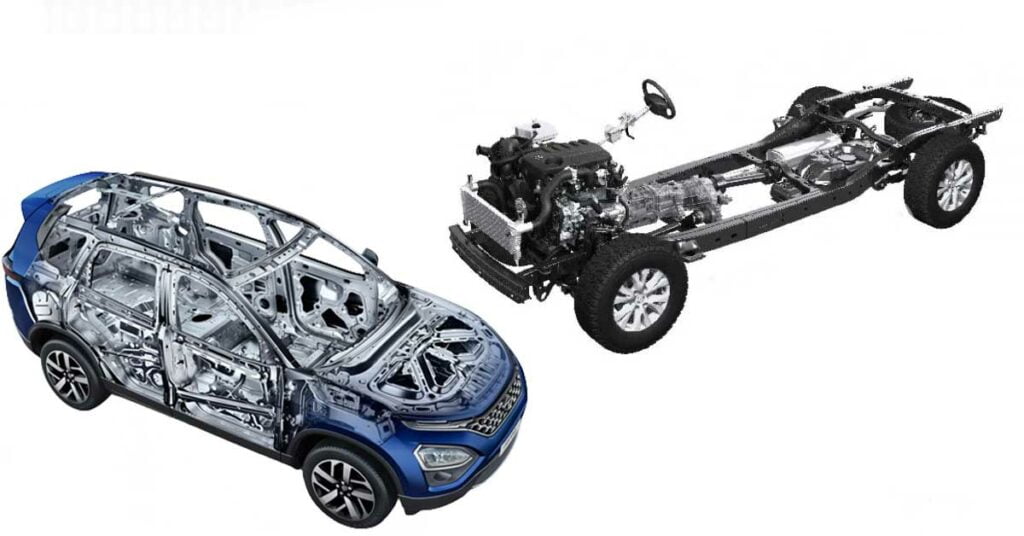 Finally, the rural environments need absolutely rugged SUVs, with high utilitarian aspects and great affordability, To achieve all that, Mahindra offers products like the Bolero Classic and Bolero Neo which solve the purpose of being tough SUVs but being within the budget of most rural car buyers. Again, it uses the ladder frame chassis in these which, by extension, are underpinning the pickup truck models based on the Bolero. These are hugely popular in remote areas of the country. It could be concluded that Mahindra is using its ladder frame chassis to ensure that it continues to cater to the varied needs of customers from various backgrounds. And this is exactly why even the upcoming Mahindra Scorpio N is based on a ladder-frame and not monocoque.
Join our official telegram channel for free latest updates and follow us on Google News here.