Mahindra is about to foray into the modern-day mass-market EVs with products like the XUV300 electric pretty soon. But somewhere down the line, the XUV900 is planned as a Born Electric towards the higher end of the spectrum.
The Mahindra XUV900 will be a Born Electric SUV that could feature the coupe characteristics according to the teasers released by Mahindra a while ago. With Tata Motors enjoying a majority share of the mass EV market at the moment with its popular Nexon EV, Mahindra is likely to introduce the electric version of its Nexon-rivalling XUV300 soon. After that, Mahindra is preparing the onslaught of electric SUVs over the next few years with the XUV900 being a prominent product in the fleet.
You may also like: Mahindra XUV900 Sketch Prepared Based on Teasers – Video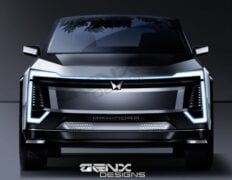 You may also like: 5 Known Details of Mahindra XUV900 (Toyota Fortuner-Rival)
Mahindra XUV900 Electric SUV Digitally Rendered
This digital render has been developed by Genxdesigns. They have conceptualized the front end of the XUV900 to make it look ultra-modern. The overall silhouette is that of a boxy modern EV and the front fascia seems to have been borrowed from the likes of international products like the Ford F-150 Lightning. There is a full-width LED strip running across the bonnet that transforms into C-shaped angular LED DRLs surrounding the LED headlamps on the sides of the bumper. The LED fog lamps are horizontal units positioned at the extreme edges of the bumper with a rugged skid plate separating them.
You may also like: Mahindra XUV900 to NOT Look Like XUV700, To Get Mercedes Influence?
The new Mahindra logo is placed on the sealed grille area at the front which lies just beneath the sloping bonnet line. The sharp ORVMs look almost too small for a vehicle of this size. To boost the muscularity quotient of the XUV900, the wheel arches are prominent coming out of the sides even in this front view. Apart from this steel grey colour, the digital artist has also used bright red colour to design the illustration. We wouldn't mind if Mahindra decides to come up with something similar to this digital iteration.
You may also like: One in Two Cars To Be Electric By 2030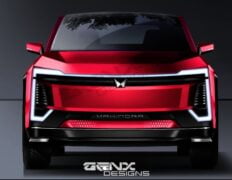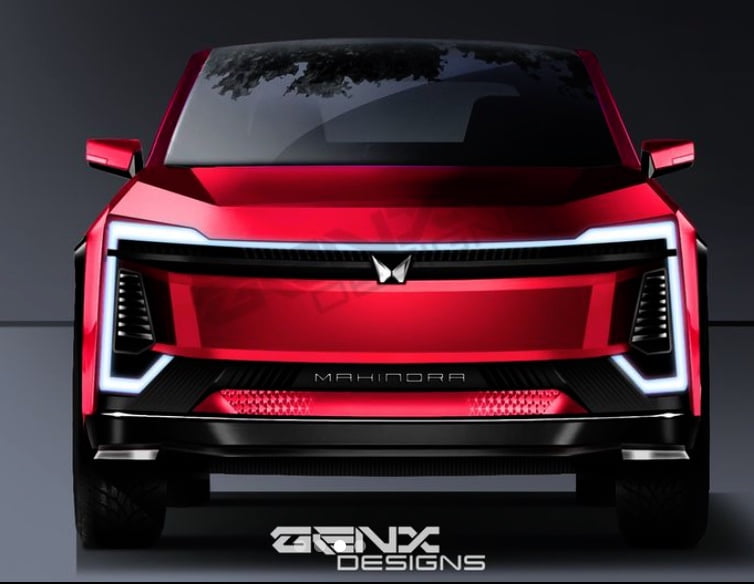 From the earlier reports, it could be concluded that the body type of the XUV900 will be coupe-shaped similar to something that was showcased at the Auto Expo 2016. To know more about the electric SUV, we will have to wait a bit longer. Once Mahindra begins rolling out the EVs, it is a matter of time before the details of the XUV900 Born Electric SUV are made public.