A Mahindra Scorpio N was recently in news due to a leakage in its sunroof from being momentarily parked under a waterfall
Mahindra Scorpio N is one of the most popular SUVs in the Indian market. However, there have been reports of some owners facing issues with their SUVs. From the looks of it, there have been a few quality blips with some units of the new SUV. Recently, an excited Scorpio N owner decided to take his SUV under a waterfall. This turned out to be a bad idea as water started leaking through the sunroof and roof-mounted speaker. Let's take a look at the incident and reason for the same to happen.
You May Also Like: Mahindra Scorpio N Takes on Tough Terrains of South Africa
Mahindra Scorpio N Leaks Water Through Sunroof and Speaker
As you can see in the visuals, the Mahindra Scorpio N is parked right under a waterfall. Even under ideal conditions, this is not a good idea. Any water leak in the car can be quite hazardous to the electricals. However, to the owner's horror, water started leaking into the cabin from the sunroof and speaker. You can see a significant leak that is drenching the cabin. The cabin lamp and roof-mounted speakers are soaked in water. This led to various issues such as sunroof malfunction as well as infotainment malfunction.
You May Also Like: Mahindra Scorpio N in -20 Degree Celsius – Will It Start?
The owner made a video of the SUV being taken under the waterfall to show exactly what transpired. It looks like safety seal around the sunroof got damaged due to the high pressure caused by the force of the waterfall. As a result, water started leaking into the cabin causing damage to the electronic components. This includes the operation of sunroof, infotainment unit in addition to the cabin being inundated in water. However, after some time, the infotainment system started functioning.
Clearly, it's the fault of the owner here. Ideally, we wouldn't expect the sunroof to have any sort of leakage. However, the visuals clearly showed water falling at a great intensity over the SUV. This, in turn, led to the seal breaking. It is worth noting here that sunroofs are not met for such shenanigans. Still, many Indian users often stand out of them or perform other antics such as the Scorpio N owner in question here.
Water Leakage Through Sunroof a Major Issue
Since this Mahindra Scorpio N is quite so drenched, it is surely going to the service center. If you face any water leak issue, it is advisable to get professional help. Since water is a leading cause of corrosion and rust, any leak can compromise your car. Hence, it is very important to properly dry any water from your car. Apart from physical damage, it also helps mold and mildew to grow in the car. This is not good for yours as well as your vehicle's health. You might also get some unpleasant odors.
You May Also Like: Tata Safari vs Mahindra Scorpio N Classic Drag Race
To avoid leakage from the sunroof, the fitting has to be accurate. Precision work has to be done with the application of water-tightness glue and a rubber seal during production. Ideally, car manufacturers inspect, identify, and fix any potential leaks before the vehicle is dispatched. Any fault in this process can lead to water leaks into a car from the roof, even in normal rain. It can cause damage to upholstery, electrical components, and other parts. There is also an increased risk of short circuits and electrical fires.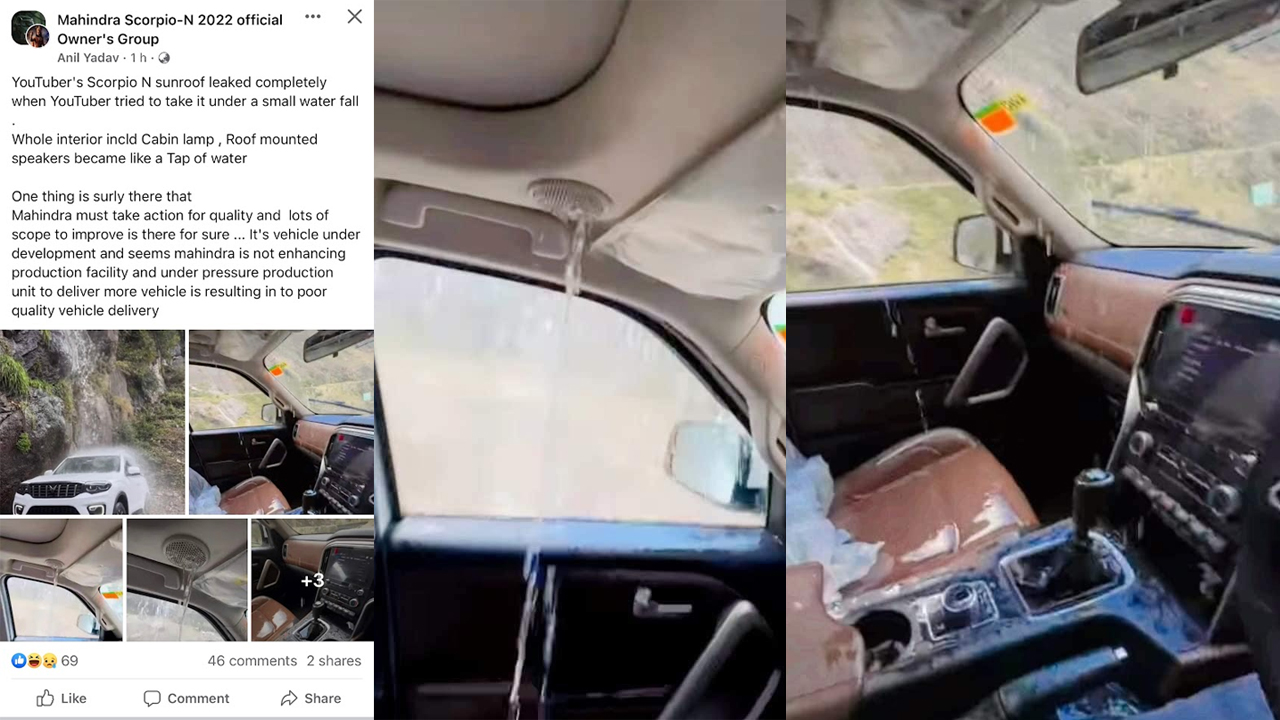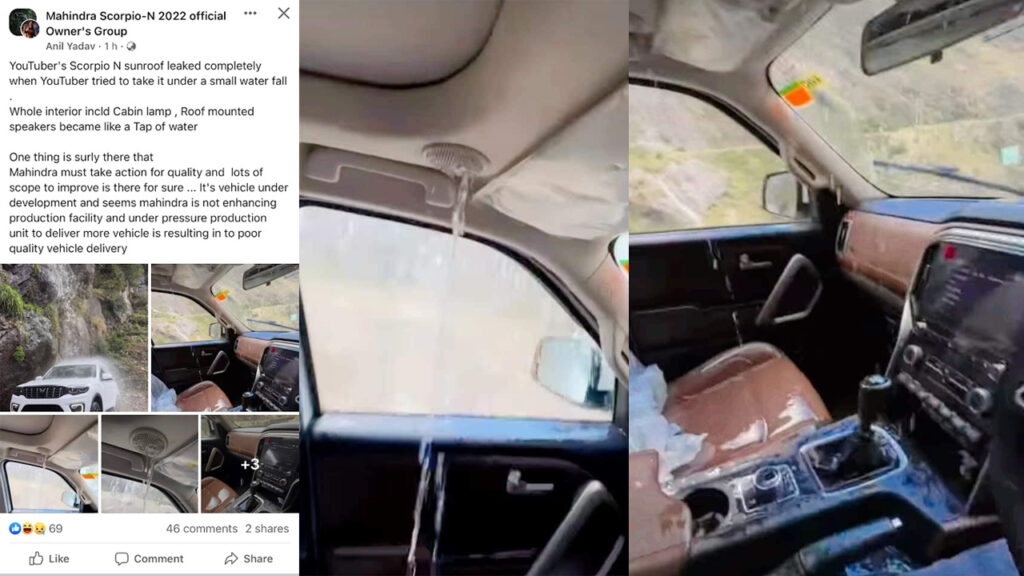 You May Also Like: South African Media Reviews Mahindra Scorpio N
Currently, the Mahindra Scorpio N is facing long waiting periods for certain variants. You can get the Z8 L automatic variant within 24-26 weeks. On the other hand, the Z6 and Z8 variants have a waiting period of 55-60 weeks. However, the Z2 and Z4 variants have the longest waiting periods – ranging from 52 to 65 weeks. The huge demand might have put pressure on the production line, resulting in all these faults. As the demand grows, Mahindra needs to ensure the quality of the new units.
Join us for FREE NEWS Updates on our Whatsapp Community or our official telegram channel.