What do you think about this Mercedes G63 AMG-inspired 6×6 concept Mahindra Thar? Read the post to know the details of this unique SUV.
These images encapsulate a 6×6 concept variant of the Mahindra Thar. Thar is unarguably the most popular lifestyle off-roader in the market. People took a huge liking to the SUV ever since it was launched last year. It has received so many bookings that the waiting period stretches to even 1 year in some cities. However, what happens when an automobile designer gives a unique spin to an already loved up SUV? Well, we are here to find out the answer to that. These renderings have been conceptualized by Bimbledesigns on Instagram.
Also read: This Full Blue Mahindra Thar is Weird & Wacky!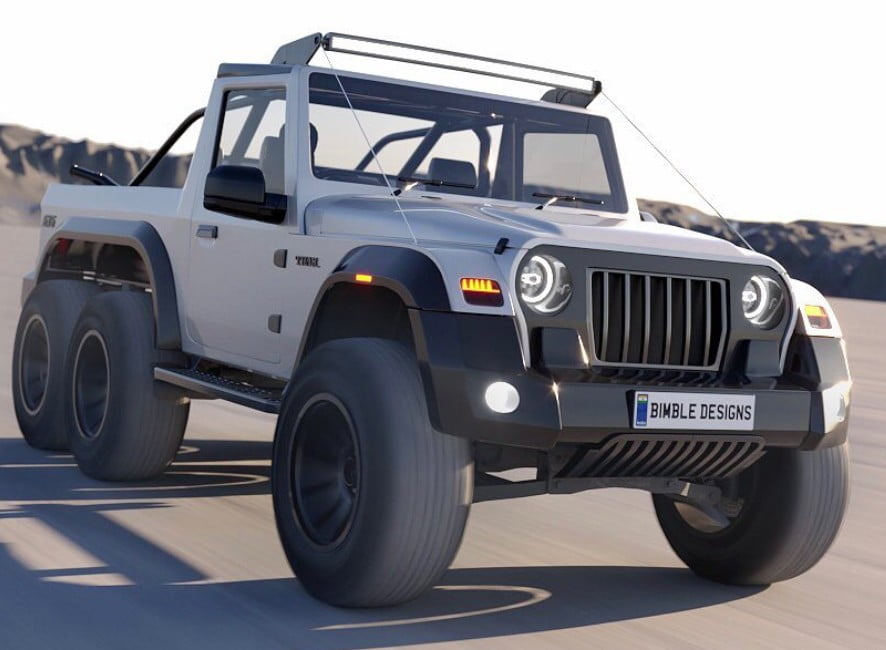 Thar 6×6 Concept Variant
The concept variant is not widely different from the stock model in the front. But that is where the resemblance ends. The front grille and LED headlamps have been redesigned a bit, the bumper and skid plates have been replaced by a much more compact unit that will aid in enhancing the approach angle of the SUV, fog lamps are neatly integrated into the bumper as well. There is a sleek LED light bar that has been mounted atop the roof and the bonnet also seems to be a bit sculpted in the middle. The LED turn indicators have been slapped on the fender along with the blacked-out wheel arches. The sides feature a usable sidestep to make the ingress and degree more comfortable.
Also read: WATCH First-Ever 2022 Force Gurkha vs New Mahindra Thar in Tug of War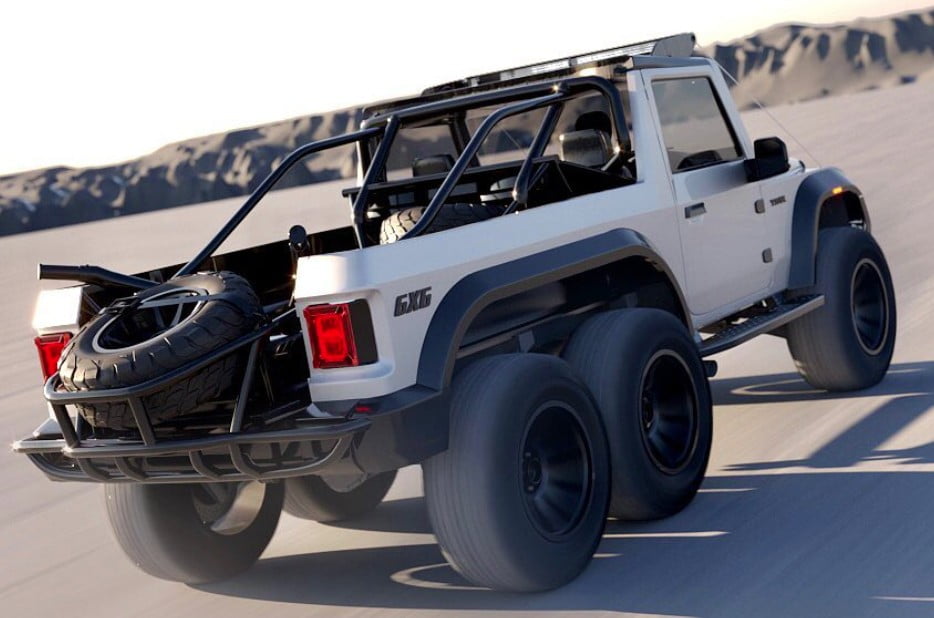 Also on the sides, one realises that this version of the Thar has a 6×6 suspension and drive system. This is incorporated by an elongated wheelbase which is evident from longer and prominent wheel arches with black cladding. The wheels themselves are chunky and ultra-high profile finished in black to complement the metallic silver paint shade. The truck has been elongated too with a spare tyre tightly positioned with luggage rods holding it in place. Another extra tyre is also located in the trunk wrapped in iron rods to ensure that it doesn't move around while off-roading. The bumper is kept short to have a great departure angle. All in all, this 6×6 concept variant of the Mahindra Thar is something out of the craziest dream.
Also read: Watch Mahindra Thar Attempt a Near Vertical Climb!