In a strange turn of events, a brand new Mahindra Thar engine started showing weird and violent vibrations within a few days of purchase.
The Mahindra Thar is one of the most preferred 4X4 SUVs for long trips in rough conditions. The new version of the lifestyle off-roading machine has been in huge demand due to its growing popularity. However, yet another instance of terrible user experience, a brand new Mahindra Thar (purchased on 30/11/2021) malfunction has left the owner with no solution. The car owner shared the whole incident on Team-Bhp.com. Let's take a look at the latest case of Mahindra Thar engine failure.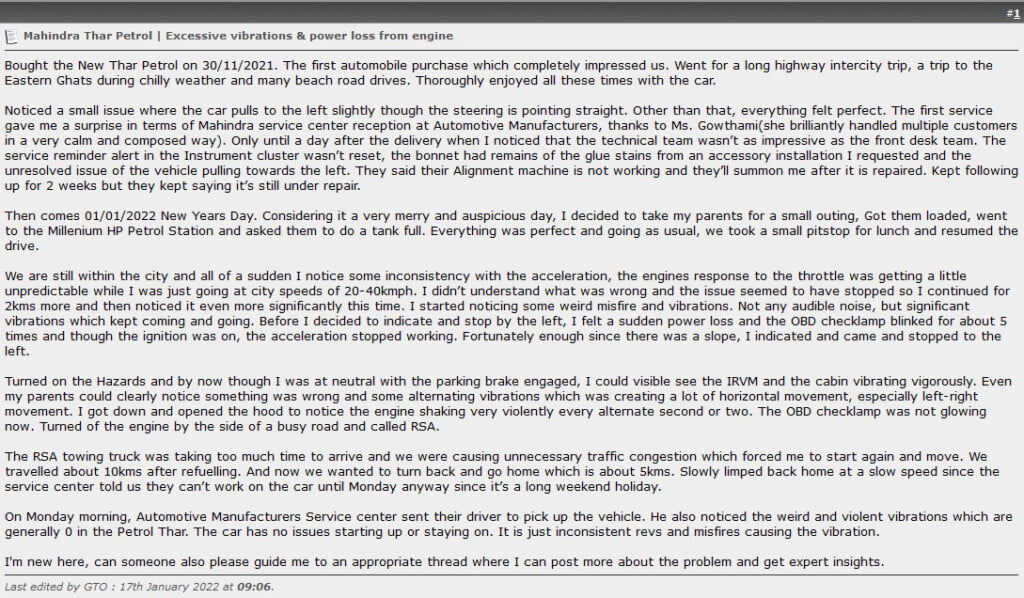 The owner took new Mahindra Thar on a drive to the Eastern Ghats during chilly weather, and many beach road drives. However, the good times came to an end when they noticed that the car is pulling slightly to the left, even when the steering was pointing straight. While initial service was impressive, the owner later discovered that the bonnet had remains of the glue stains, the service reminder alert in the Instrument cluster wasn't reset, and more importantly, the left-pulling issue was not resolved. The owner was asked to wait for two weeks as their alignment machine was not working.
Also read: Customer Flies Out of Showroom in Mahindra Thar Display Car
However, things got really bad when the owner took a family on 01/01/2022 New Years Day. The car's engine showed an unpredictable response to the throttle at speed of just 20-40kmph. Within the next two km of driving, the owner started noticing some weird misfire and vibrations. Even though the ignition was on, there was a sudden power loss, the OBD check lamp blinked about 5 times, and the acceleration stopped working. What happened next was even strange.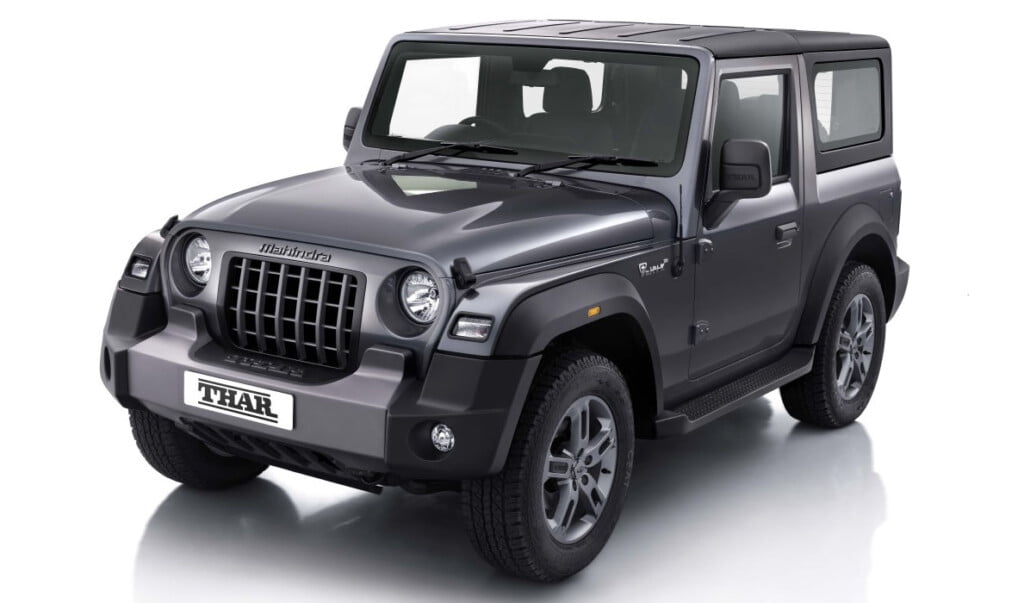 The Mahindra Thar was put in neutral with the parking brake engaged. However, the owner could see the IRVM and the cabin vibrating vigorously. Alternating vibrations were creating a lot of horizontal movement, especially left-right movement. As the owner got done and opened the boot, they could see the engine shaking very violently every alternate second or two. Now, the OBD check lamp stopped glowing. After this straight horror-movie experience, the owner somehow managed to slowly limp back home.
As of now, it is unclear why all this happened. It might be a problem with spark plugs or an air filter. While the car had no problem starting and staying on, they could notice weird and violent vibrations in the Petrol Thar. The vibration was likely caused by inconsistent revs and misfires.
Also read: Another Mahindra Thar's Engine Fails Within a Year, Owner Left Helpless
The new Mahindra Thar comes with 2 engine options – a 2.2-liter turbo-diesel and a 2-liter turbo-petrol that output 130 PS/ 320 Nm and 150 PS/320 Nm, respectively. On both, you can choose between two transmission options – a 6-speed manual and a 6-speed automatic with a low range box. Additionally, the company has added a transfer case and a mechanically locking center differential. Safety features include dual front airbags, ABS with EBD, rear parking sensors, and front seatbelt reminder. You also get cruise control, halogen headlamps with LED DRLs, electrically operated AC, steering-mounted controls, a digital MID in the instrument cluster, and a 7-inch touchscreen infotainment system. The new Mahindra Thar range is priced between Rs 12.78 lakh and Rs 15.08 lakh, ex-showroom.
Also See- Mahindra Thar Engine Fails at 11,600 km
Join our official telegram channel for free latest updates and follow us on Google News here.