The latest generation Mahindra Thar was launched in October 2020. Thar was redone from the ground up. Everything on the Thar was redesigned including the powertrain and transmission options. It was one of the most awaited off-roaders of the year. Thar is the most popular choice for off-roading enthusiasts in the country for a decade now. Dirt roads and off-roading have become synonymous with Thar. Having gained so much craze and respect in the off-roading community, Thar was almost certain to be well-received by the customers. And that is exactly what happened.
Also read: 2020 Mahindra Thar receives a 4-star safety rating at the Global NCAP!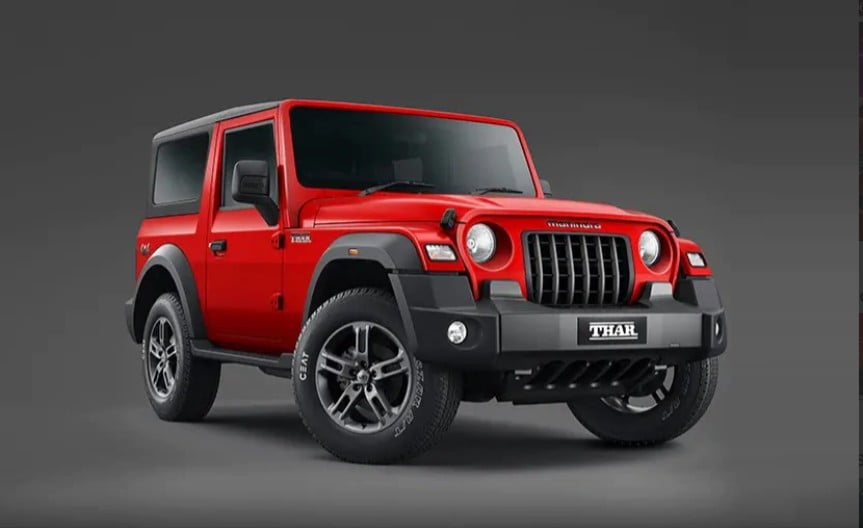 In December 2020, Thar sold over 2,650 units and received a lot more bookings. As a matter of fact, Mahindra is forced to ramp up its production of Thar to meet the customer demands and reduce the waiting period. Considering, Thar is a lifestyle off-roading machine, to sell so many units in a single month does tell you a lot about how well people have welcomed the Thar. Being a vehicle of this segment, it offers a ton of customization options as well. This enables customers to have their Thar look unique.
Mahindra Thar – Variants on Offer
Mahindra had discontinued its 6-seater AX variant from its line up, as we had reported earlier. This was done following its successful performance at the Global NCAP Safety Testing. The Thar scored an impressive 4-star safety rating. The catch, however, was that the variant that was tested was the top-trim variant with front-facing rear seats. Had Mahindra continued with the side-facing rear-seat arrangement, it had to send that model for testing which would risk the impressive 4-star rating. Hence, it made sense to remove that variant from its lineup altogether. It was also not in excessive demand either.
Also read: Watch the Mahindra Thar rescue a Land Rover Discovery stuck in mud!
Mahindra Thar – Price Hike
Mahindra had announced earlier that the Thar was launched with introductory prices and the cost will go up after December 2020. Although the price increase is across the industry, Thar has received a price hike of 1.9%. This implies that the Thar will start at Rs 12.10 lakh and go all the way up to Rs 14.15 lakh, ex-showroom. This indicates a hike of Rs 20,000 to Rs 40,000 depending on the variant. However, it must be noted that the Thar does not have any direct competitors in the market. It boasts of being the only ladder-on-frame hardcore off-roader, at least at this price point.
Also read: Check out the performance of 2020 Mahindra Thar in snow – Video!
One can consider the Isuzu V-Cross to be a like-for-like competitor because of its raw off-roading capabilities. However, it is priced considerably higher than the Thar. What might, although, be a more reasonable competitor would be the upcoming Force Gurkha. Gurkha is also a homegrown product and was showcased in the Auto Expo 2020. That will be closely comparable with the Thar. Gurkha is expected to launch anytime in 2021.
Join our official telegram channel for free latest updates and follow us on Google News here.