Launched recently, the Mahindra XUV 700 has made a lot of noise and for the right reasons. After a lot of wait, finally, we have a very handsome new SUV that is brimming with features, has powerful engines and has been launched at unbelievable prices. We're very impressed with the XUV700 but there are some who seem to be really bothered with the fact that the tailgate of the new SUV is made of 'plastic.' Here, we try to explain why you should not worry about anything.
Also Read- Mahindra XUV700 vs Hyundai Creta- Specs, Prices, Features Comparison!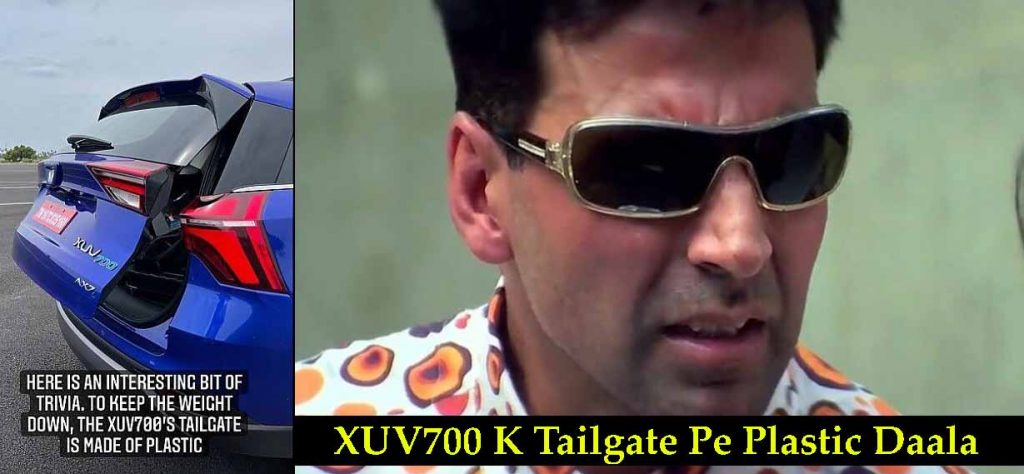 Social media went abuzz with talks of the plastic tailgate of Mahindra XUV 700 after some participants of the media drive reported about it. The tailgate of the latest SUV is actually made of a non-metallic material, which is something that one can figure out simply by knocking the hand on the surface. Replacing the metal tailgate with a plastic one is a very new concept as world over, there many carmakers who make use of this. So, basically, the XUV700 is not the only car to feature a plastic tailgate. Basically, there are two reasons for this-
An advantage of having a plastic tailgate is that it lets you use a complex styling that might not be possible to achieve through metal pressing.
It also helps with weight reduction. With most carmakers aiming to make cars lighter, the plastic tailgate helps carmaker make their cars more fuel-efficient through this weight-saving measure.
Also read: Special Gold Edition Mahindra XUV700 Imagined for Neeraj Chopra!
However, it's definitely not a cost-cutting measure as such panels are not made of regular plastic but glass-filled plastic that turns out to be costlier than metal and tooling. So, if you think that using a plastic tailgate has helped the carmaker price the vehicle competitively, it's definitely not the case. In fact, tests show that such panels are often more durable than thin sheet metal. And like we said, the XU700 is not the first car to get a plastic tailgate. There are many other models across the globe that offer something siimlar. The list includes some premium cars like the Land Rover Evoque. Other in the list are-
Volvo XC60
Volvo V90
Citroen C4
Citroen C5 Aircross
Citroen DS7 Crossback
Jaguar F Pace
Jaguar I Pace
Opel Astra TH
Toyota Highlander
Also read: Mahindra XUV700 Goes To Gold Medal Winner, Altroz Awarded To The Indian Participants!
The only disadvantage that the plastic tailgate of Mahindra XUV 700 has is that in case it gets damaged, it can't be repaired. Metal panels can be beaten back into shape through denting process but in case of such panels, there's no option but to replace them. But with owners of the new SUV benefitting from zero-depreciation insurance for many years of ownership, this shouldn't be some to be really worried about.
Stay tuned to CarBlogIndia for the latest from the world of cars and motorcycles!
Join our official telegram channel for free latest updates and follow us on Google News here.