Mahindra XUV700 is the hot mid-size SUV in our market at the moment and people who have bought the base trim to beat the crazy waiting periods are getting their SUVs modified to make them look premium.
This Mahindra XUV700 base model has been modified from the outside and inside to ooze a premium vibe like the top model does. The XUV700 is already a feature-rich SUV but the base models of every car are not meant to pamper the occupants, but to ensure the most affordable version of the car. However, with numerous aftermarket car modifiers spawning out recently, upgrading the exterior and interior of cars has become much more accessible. This base model of the XUV700 upgrading to a premium version highlights that point.
You may also like: WATCH The Only Mahindra XUV700 With 24-Inch Alloys
You may also like: Mahindra XUV700 With Modified Interior and Ceramic Coating
Mahindra XUV700 Base Model Modified
On the outside, the car customizer has done an incredible job to cover up the elements of the base trim. This includes installing body-coloured ORVMs with a dual-tome finish and massive stock diamond-cut alloy wheels that are available in the top trim. These two elements are dead giveaways of the specific variant. Additionally, the car modifiers have installed chrome-garnished full-length side stepping on the XUV to enhance the ingress and egress of the occupants. At the rear, a bumper protection guard has also been installed. It becomes challenging to decipher the original trim of this XUV700.
You may also like: Mahindra XUV700 vs Toyota Fortuner – Tug of War
Interior Modification
If you thought the modifications to the exterior are significant, check out the interior. The entire outlook has been changed to make it look a lot more premium. To achieve this, the customers wanted a dark tan theme throughout the cabin. That is why the staff decided to install dark tan leather upholstery for the seats, door panels, dashboard slab and the centre console. To complement this, they have used plenty of piano black elements including on the door grab handles, around the infotainment display and on the centre control.
You may also like: Is Not This The Best Modified Mahindra XUV700 Yet?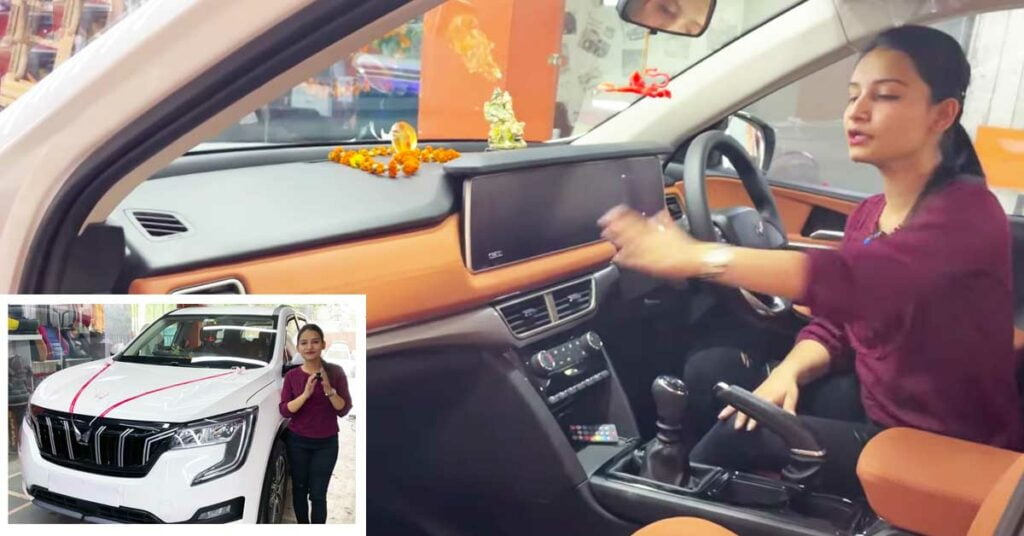 The steering wheel has been stitched in black material with black thread work and the door levers are finished in silver to give a distinct texture. The rear seat has been fitted with a centre armrest that can be folded when three people are seating. The fit and finish of the upholstery is claimed to be that of the OEM level. For the younger generation, an App-based ambient lighting system has been installed with tons of colours to choose from. The controls are available on your phone easing accessibility. Let us know how you like this modified Mahindra XUV700 base model.
Join our official telegram channel for free latest updates and follow us on Google News here.