Car detailing studios are in business with customers wanting to make their vehicles look unique. This interior modification and ceramic coating on the XUV700 indicates just that.
A Mahindra XUV700 decides to get the interior of the SUV modified along with the protective ceramic coating. The XUV700 is one of the most popular 7-seat mid-size SUVs in the country. The long waiting periods on the XUV700 is a testament to its popularity and craze. Many car owners approach the aftermarket car detailing studios to get additional equipment installed in their cars according to their demands. This XUV700 owner travelled from Srinagar to visit this car detailer in Delhi. This reflects the craze people have for their vehicles.
You may also like: Brand New Mahindra XUV700 Looks Amazing After a PPF Job
You may also like: Mahindra XUV700 vs Toyota Fortuner – Tug of War
Modified XUV700 Interior & Ceramic Coating
There are quite a few distinct modifications made to this XUV700, as per the demand of the owner. On the outside, the car looks glossy and shining due to the application of Ceramic Coating. It acts as a paint protection layer that is hydrophobic in nature. After applying this coating, the cleaning process of the car is relatively eased. Apart from that, the car detailers installed side steps on the SUV for enhanced ingress and egress for the passengers. Then there is a rear bumper guard installed which is a genuine Mahindra component.
Interior
The cabin of the Mahindra XUV700 has been completely modified to lend it a premium appearance. To begin with, you would notice the tan and black theme all over the cabin. The dashboard wears a thick wooden insert along with tan leather material on the lower part that gives it a textured look. The centre console, gearbox hosing area and door panels are designed using a combination of black and tan material. The power window area on the doors is accentuated by the use of a wooden panel. The steering wheel is wrapped in black and tan leather with golden stitching. The upholstery on the seats uses the diamond pattern to give a premium look to the cabin along with tan wrap on the side pillars.
You may also like: Is Not This The Best Modified Mahindra XUV700 Yet?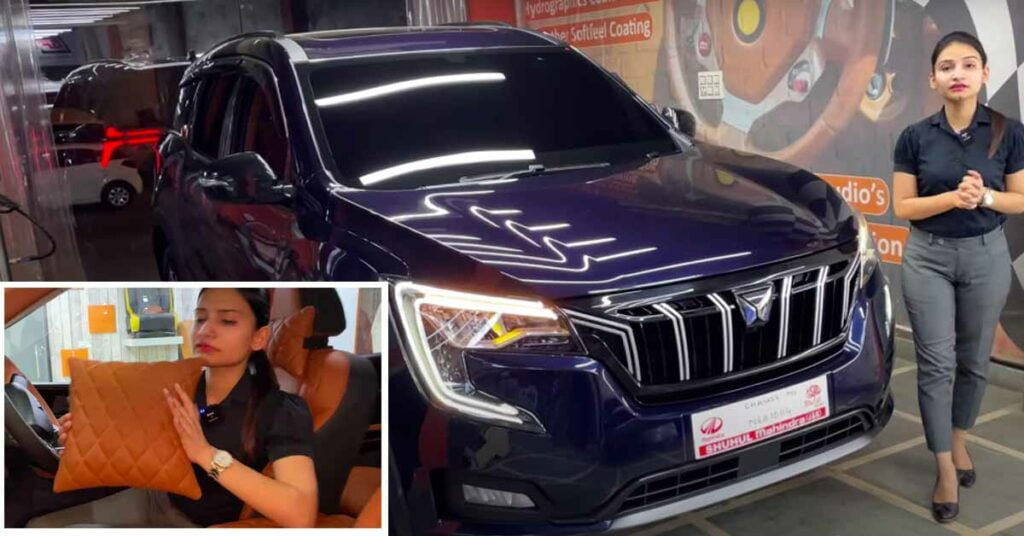 Lastly, the customer wanted to install the black wrap on all the windows for security reasons. With all the windows tainted black, the final look reminds us of those digital renderings by talented automobile designers. Let us know what you think of this modified Mahindra XUV700.
Join our official telegram channel for free latest updates and follow us on Google News here.