It seldom comes to pass that a brand new car comes with dents. However, when it does happen, here is one way to deal with it.
A brand new Mahindra XUV700 we see in the video below manages to look better than how it did after rolling off the production line on getting a PPF treatment. Interestingly, it came with a minute dent from the showroom which required a paint job before applying the PPF (Paint Protection Film). Aftermarket car body shops have been gaining popularity lately due to their unique and innovative solutions for typical problems. This case in point proves exactly that. The XUV700 owner realised the dent on the left rear door but decided to bring the car directly to the body shop to get it fixed, along with getting the PPF coating done. Let us check out how does the car look post PPF application.
You may also like: Mahindra XUV500 Crashes Head-On Into Army Truck- SEE RESULTS
You may also like: Mahindra XUV700 vs Toyota Fortuner – Tug of War
Mahindra XUV700 Paint & PPF
The XUV700 in the video comes with the most popular colour for this model, the Electric Blue. As soon as the SUV arrives at the workshop, the body shop owner recognised the slight dent on the rear door. However, it was not too intense and the paint was intact. Nevertheless, the XUV700 decided to get it fixed at the body shop itself and then get it wrapped in the PPF. The process of removing the dent is shown in-depth and the Brotomotiv team assures that the new paint job will remain unrecognisable and would merge with the normal paint seamlessly. That is visible in the visuals after the dent and paint job is finished.
Thereafter, the SUV is wrapped in the PPF coating. People generally opt for the PPF in their brand new cars so that the original paint of the car remains new even after years of usage. With proper maintenance, the PPF coating could remain intact for up to 5 years and the original paint remains new for that duration. PPF protects the car from bird chipping and pebbles on the road. It makes the vehicle relatively easy to maintain and wash. The self-healing property of the PPF ensures that minute scratches on the vehicle don't develop. It is the best method to protect your car's exterior from ageing.
You may also like: Audi Q2 vs Mahindra XUV700 Drag Race Result Will SURPRISE You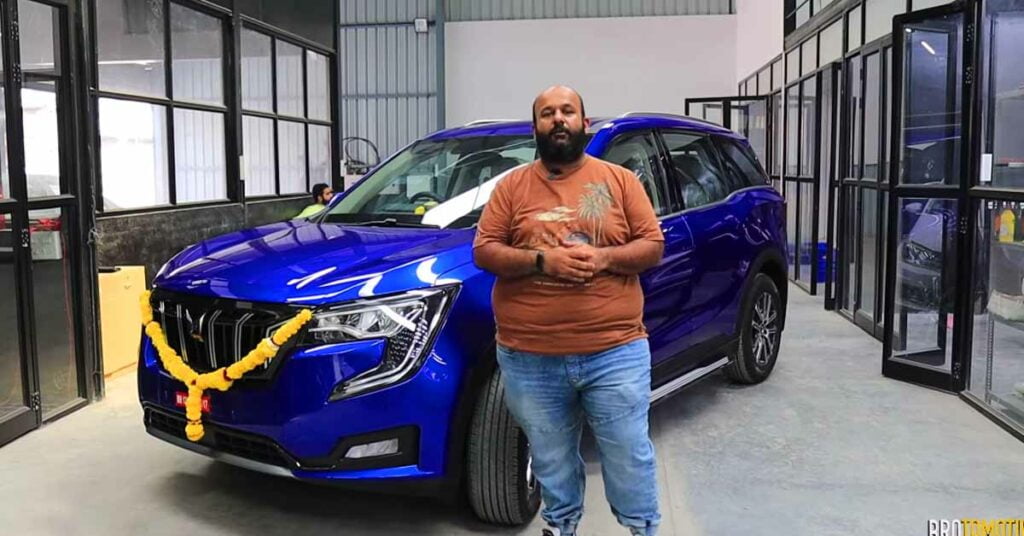 You may also like: Is Not This The Best Modified Mahindra XUV700 Yet?
Let us know how did you like this amazing job done by the body shop. Also, would you be willing to get your vehicle wrapped in a PPF to ensure long-term protection of your car, at least from the outside?
Join our official telegram channel for free latest updates and follow us on Google News here.