In a not-so-usual drag race event, an Audi Q2 is seen going up against the Mahindra XUV700. While you might think the result is obvious, there is a surprise.
If you thought a drag race between an Audi Q2 and Mahindra XUV700 is unfair, the result might surprise you. The Audi is a well-known premium luxury German compact SUV which is performance-focused. The Mahindra XUV700 is a premium mid-size SUV in the mass market segment that boasts the most powerful engine in its class. While the XUV700 may be better on paper in terms of specifications, the Audio weighs around 500 kg less. Let us see if the outcome is a foregone conclusion as many think or is there a surprise awaiting.
You may also like: Watch Tata Safari vs Mahindra XUV700 in Classic Drag Race
You may also like: Ford Endeavour 4×4 vs Toyota Fortuner Legender 4×2 Drag Race – Who Wins?
Drag Race – Audi Q2 vs Mahindra XUV700
The YouTuber has selected an empty stretch of road and the two contenders are parked side-by-side. The Audi has a 2.0-litre turbo petrol engine with 190 hp / 320 Nm. The XUV also has 2.0-litre turbo petrol with 200 hp / 380 Nm. In the first attempt, there are 3 people in both cars. The XUV700 got a better launch and was ahead for a brief duration. But very soon, the German SUV caught up and raced ahead never to be caught by the Indian SUV again. The YouTuber and his team then decided to load the Audi with more people and the XUV700 will have just the driver to counter-balance the disproportionate weight.
However, the driver of the Audi got an even better launch than the previous attempt. Once ahead, the Audi was untouchable for the rest of the race. However, this was not the interesting part, as everyone has expected this. The sophisticated engine of the Audi was just too capable despite being down of power and torque. They decided to perform a rolling acceleration test thereafter. The aim was to press the accelerator pedal completely when they reach 20 km/h. What happened next was quite unbelievable for everyone. The XUV700 went ahead and stayed ahead for the entire race.
You may also like: Tata Harrier vs Mahindra XUV700 Lock Horns in Drag Race!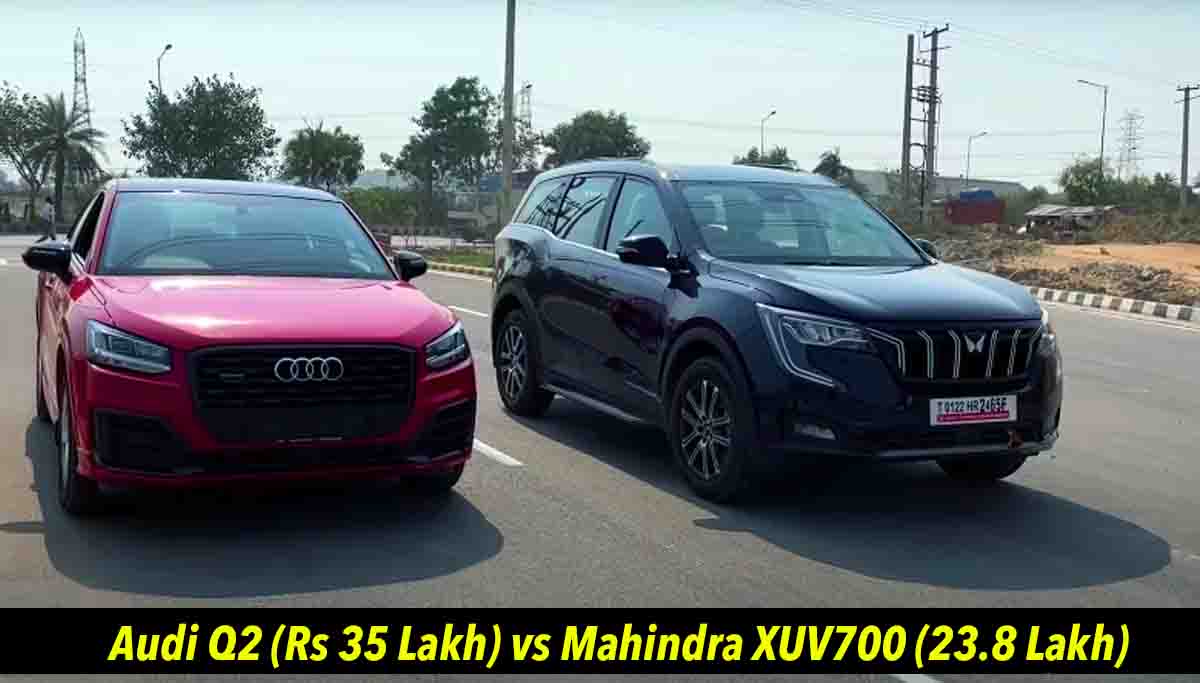 You may also like: Anand Mahindra Gifts Bolero To Man Who Built Jeep From Scrap For Son
Having performed the rolling acceleration test again, the result remained the same. The XUV700 performed exceptionally well in the race from 20 km/h and the Audi was not able to catch up at all. We urge our readers to not try something like this for your own safety and the safety of others.
Join us for FREE NEWS Updates on our Whatsapp Community or our official telegram channel.