Here are impressive images of two Mahindra XUV700 SUVs conquering the might Umling La. It is the highest motorable mountain pass in the Ladakh region of the Himalayas. The highest point is located at an altitude of 19,300 feet. To reach this point is a feat in itself. Add to that, these two SUVs are not even 4×4 or AWD. Reportedly, these two XUV700s are the regular 2WD versions. The XUV700 has created quite an impact as soon as it was launched. As a matter of fact, it received over 50,000 bookings in under 3 hours. This, as one would imagine, is quite unprecedented, especially considering the segment that XUV700 finds itself in. The top trim of the SUV costs Rs 23 lakh, ex-showroom. People are still losing their minds over it. Let us take a look at the details of this unbelievable feat.
Also read: Hyundai Creta Tests 'Build Quality' of Fibre Tailgate of Mahindra XUV700!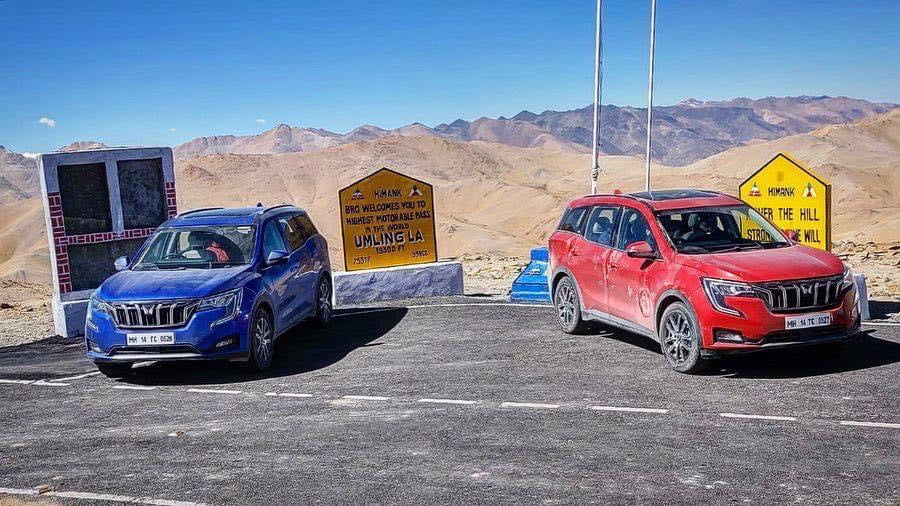 Mahindra XUV700 2WD Conquers Umling La in Ladakh
The Mahindra XUV700 comes with the most powerful engines in the segment. In both the iterations, petrol and diesel, the XUV700 has significantly more powerful engines than its competitors. This is a crucial factor that must've aided it to reach the higher reaches of the great Himalayas. The petrol is the 2.0-litre mStallion turbo petrol direct injection unit developed in-house which churns out a whopping 200 hp and 380 Nm of peak power and torque. The diesel, on the other hand, is the tried and tested mHawk unit making 185 hp (155 hp in lower variants) and 420-450 Nm of peak power and torque. Both can be had with 6-speed manual or automatic gearbox options. These are engines that ensured that the XUV700 was able to reach Umling La in Ladakh.
Also read: How About a Bug Deflector For Mahindra XUV700?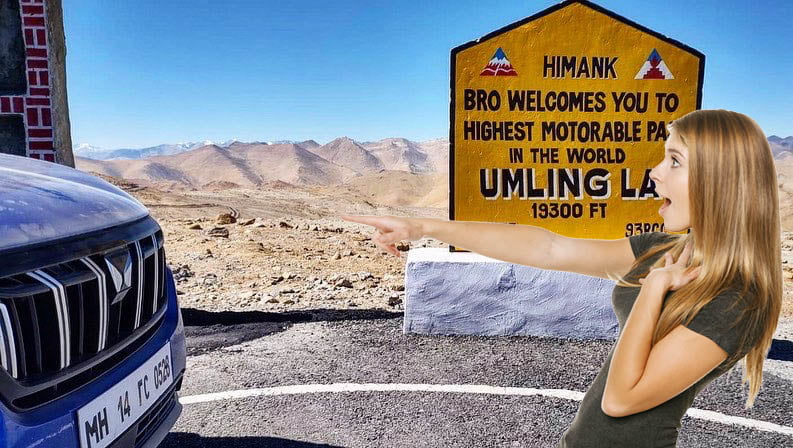 On the features front, the XUV700 is loaded with plenty of modern tech. The ADAS features are especially helpful in offering safety and convenience to the driver. The drive modes (Zip, Zap, Zoom) are helpful in ensuring that the driver could tune the car according to the driving needs. Apart from that, the XUV700 boasts of various segment-first features which have made the potential customers excited. As a result, we have witnessed this surge in bookings in a record time frame. Now, the next challenge for Mahindra will be the production with a limited semiconductor supply. It is already struggling to fulfill the pending orders for the Thar. Thar still commands a waiting period of around 1 year in many cities. We hope that this is not the case with Mahindra XUV700 too.
Also read: Pakistani Couple Reacts To Top 7 Reasons To Buy Mahindra XUV700!
Join our official telegram channel for free latest updates and follow us on Google News here.