The patriotism in humans can make them take unique decisions and this man buying an XUV700 over a Merc goes to show just how intense that could be.
In a strange turn of events, a man decided to ditch Mercedes GLA to book Mahindra XUV700 out of his love for his country. Now, the XUV700 has garnered great interest from people looking for a premium product from an Indian carmaker. That is also the reason why Mahindra received so many bookings for the SUV that it is still in process of delivering it to the customers. In fact, in some cities, some variants still command a waiting time of over 1 year.
You may also like: Mahindra XUV700 With Luxe Class Modified Interior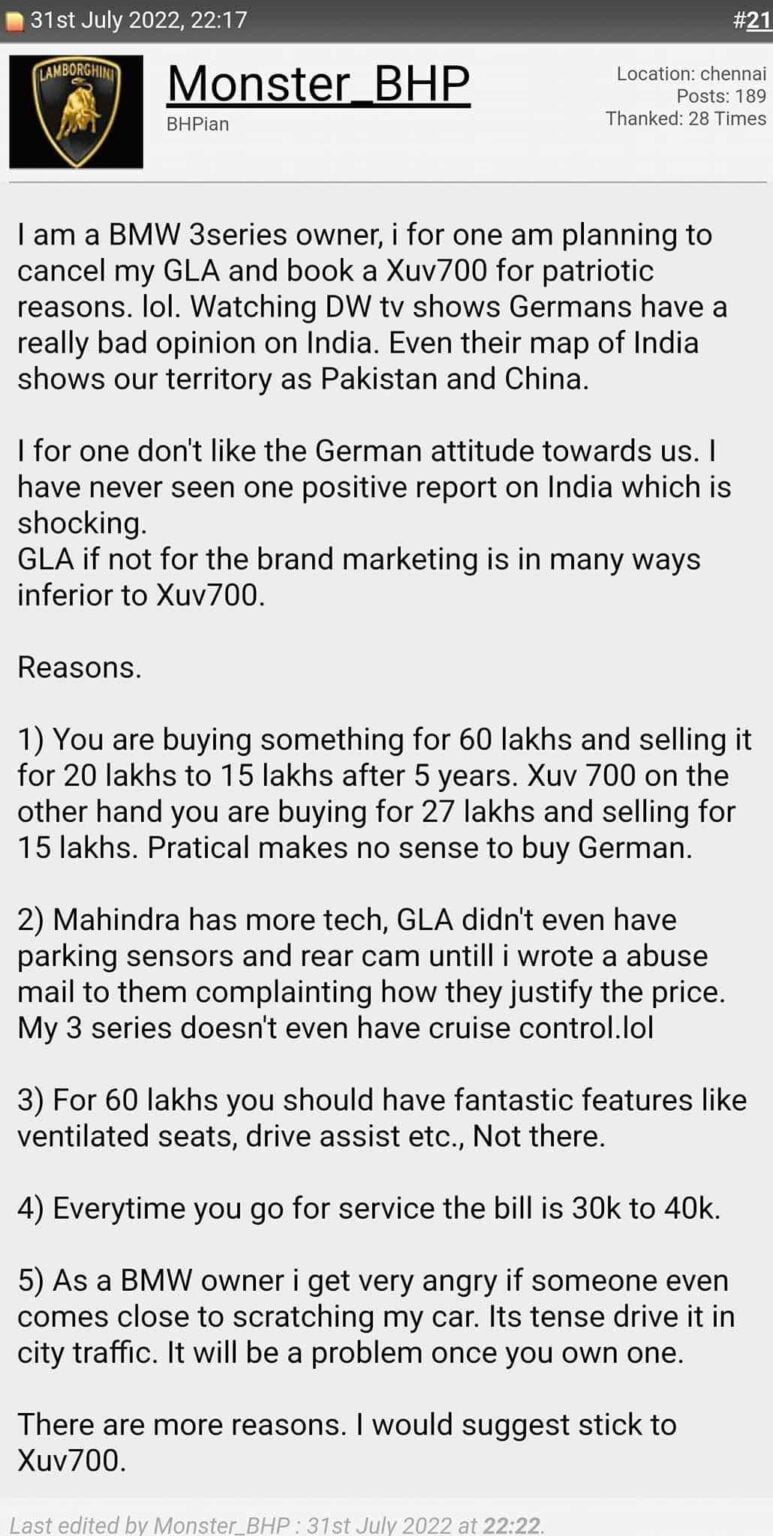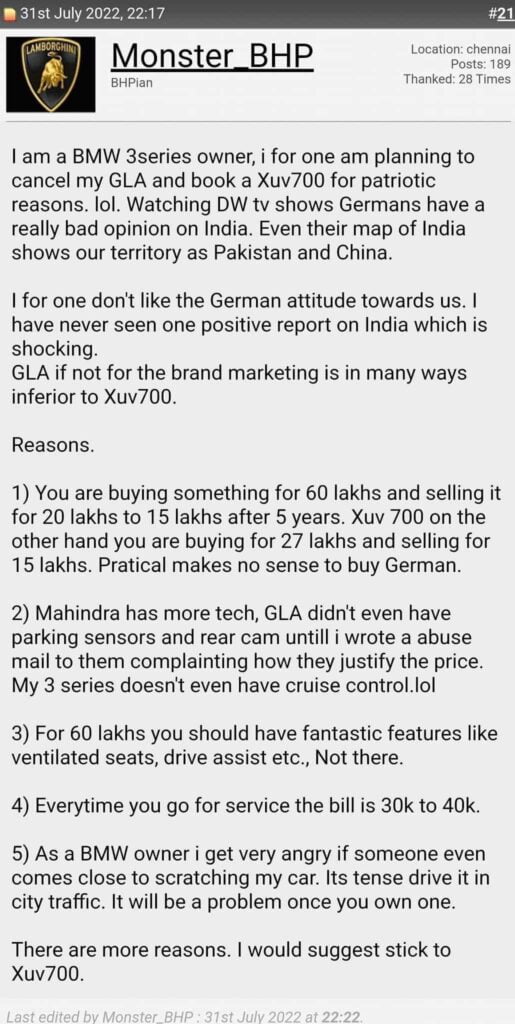 You may also like: Meet India's First-Ever Mahindra XUV700 With Functional Quad Exhaust System
Man Ditches Mercedes To Book Mahindra XUV700
The post has been shared on a Team BHP forum where this man tells the group that he decided to buy the XUV700 instead of the Mercedes GLA for a variety of reasons. Primarily, he has an issue with the German media and its portrayal of India. He mentions that he doesn't like the attitude of Germans toward India. Secondly, he believes that the GLA as a Rs 60 lakh SUV, is inferior to the XUV700 in almost every aspect. Not to mention the latter costs less than half which makes it a great value for money.
You may also like: Largest Mahindra XUV700 Meet-Up Held in Bangalore
He says that the resale value of the Merc is way less as it experiences huge depreciation in the used car market, it lacks the latest tech as his 3 series doesn't even have cruise control and the GLA doesn't have parking sensors, the service and maintenance costs are through the roof as he had to pay Rs 30,000 to Rs 40,000 every time he took his Merc to the service centre, there is a fear attached to driving a Mercedes because even a minor scratch will end up costing a fortune to get fixed, among other reasons.
You may also like: First Mahindra XUV700 with Rose Chrome Wrap – This is It
Specs
The Mahindra XUV700 comes with a 2.0-litre turbocharged petrol unit that churns out a maximum power of 200 PS and a peak torque of 380 Nm. Meanwhile, the Diesel engine is available in multiple states of tune. The lower versions get 155 PS and 360 Nm, while the higher positioned models benefit from 185 PS and 420 Nm (450 Nm in automatic variant). Both the petrol and diesel engine variants will be available with 6-speed manual and automatic transmission choices. The prices range between Rs 13.18 lakh and Rs 24.58 lakh, ex-showroom.
Join us for FREE NEWS Updates on our Whatsapp Community or our official telegram channel.