Maruti Suzuki India, the largest passenger car maker of India is recognizing the importance of online presence in the emerging online media which is very popular with the youth of the country. With easy access to Internet on 3G enabled mobile phones and internet tablet devices, social networking platforms like Facebook have become important avenues for brands to connect with users. Breaking the records, Maruti Ritz's official Facebook Page has become the highest liked Facebook Page in India for any product across automobile category with over 1 million (10 Lakh) fans. Maruti Suzuki Ritz made its debut on Social media in August 2010. The success of Ritz on social media front is attributed to the various user engagement programmes and initiatives on social media activities done by the Company. Ritz took up the Social media route to engage with its customers through dedicated pages on Facebook, Twitter and YouTube etc., to engage and effectively connect with users.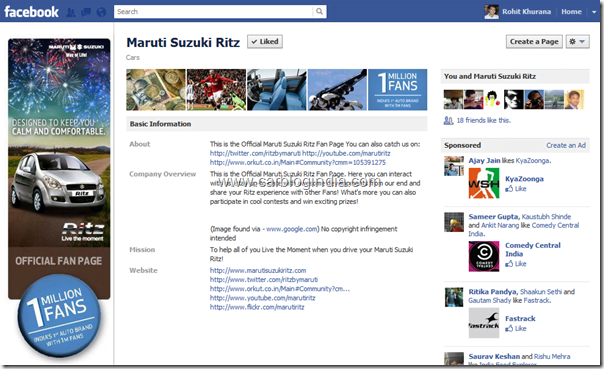 image – Maruti Ritz Official Facebook Page
Speaking on the occasion Mr. Shashank Srivastava, Chief General Manager (Marketing), Maruti Suzuki India said,
"Today India has over 100 million people using internet. As a market leader it is of prime importance for us to make our presence in the social media space. The growing digital media is cost effective and highly efficient way to build relationship with our target audience. Ritz clocking over a million fans reinforces our leadership on the social media spectrum".
Maruti Suzuki has been running various social media engagement campaigns using its official pages which include programs like "Ritz Moment of the Day", "Live the moment contest" etc. which has made the pages quite popular. You can check the official Facebook Page of Maruti Ritz here.
check out more-
Nissan India Gets 5 Lakh+ Fans On Facebook