Tata may not be amongst the best when it comes to passenger vehicles but there's a segment it dominates and the leading car maker of India, Maruti Suzuki does not. It's the commercial vehicles segment which has been dominated by Tata Ace for quite some time with the Ace having a market share of over 50 percent and the only commercial vehicle in Maruti's portfolio Omni in its Cargo form has a very small chunk of the commercial vehicle market which is expected to reach 8,30,000 units in by 2016.
Maruti Suzuki, the company which does not face any real competition when it comes to bringing in volumes. Maruti identified the need for a low cost fuel efficient car and the Alto, the world's highest selling hatchback. Now Maruti is said to be working on a LCV i.e. a light commercial vehicle which has been codenamed AP and will have a 800 cc two cylinder diesel engine. This diesel engine is said to be become an engine option on their entry level hatchbacks and Maruti is looking to fit the diesel engine in as many products as possible to offset the huge investment that will go in the Research and Development of the Engine.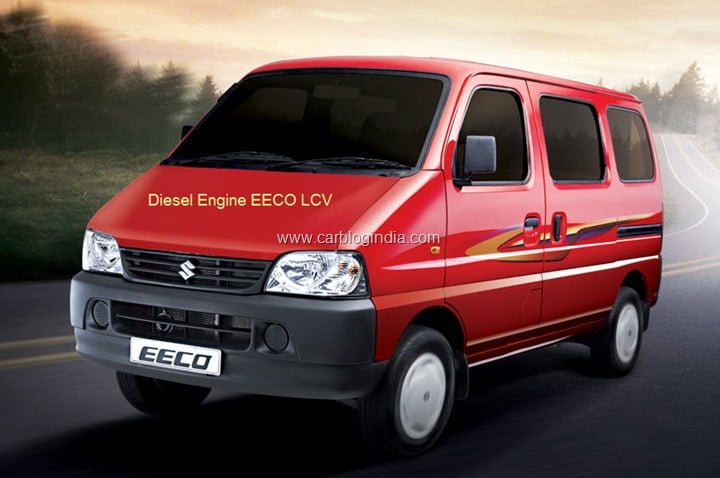 Exploring all possible markets, LCV seems to be one of the most lucrative markets after the passenger vehicle markets. Tata does not advertise their passenger cars as much as it advertises their Tata Ace. It is believed that it would come between 2015 and 2017 and will be based on their Suzuki carry pick up truck platform which is sold in South East Asia. However Maruti Suzuki has refused to comment on any future products. For the April-November period, the mini truck and the pick-up truck segment combined grew by 24% by selling 2,75,900 units. Tata Motors posted a growth of 22.9% and sold 1,57,183 units, despite the entry of Piaggio, Ashok Leyland and Mahindra.
Tata has a 57 % share in the April-November period. The reason why Maruti Suzuki is seen as a threat to the other makers is because with the company has a far wider reach than any if its competitors. And with the brand, comes a name people can trust when it comes to cheaper cost of maintenance and higher fuel efficiencies. Seeing the abuse the LCVs go through, a Maruti Suzuki product would be more than welcome in the segment. And yes , the diesel will might just come in the Alto making it an absolute VFM product. And then would remain the passenger vehicle segments above Rs. 7-8 lakhs where they'll look to dominate.
Source – ET