Scene 1
Meet Joe Average, a 30-something IT professional from Gurgaon. Joe is finally ready to buy his first car, which means he would no longer require the services of his Dad's decade-old Esteem. Also, Joe will soon become a father and hence, is in a slight hurry to buy a new car. His parents, who have been living with their son and daughter-in-law, have totally supported Joe's decision of buying a new car. However, the entire family is yet to have a consensus on which car to buy. Joe has just got to know about the Ignis, Maruti's latest micro-SUV and here are some extracts from the conversation between him and his family.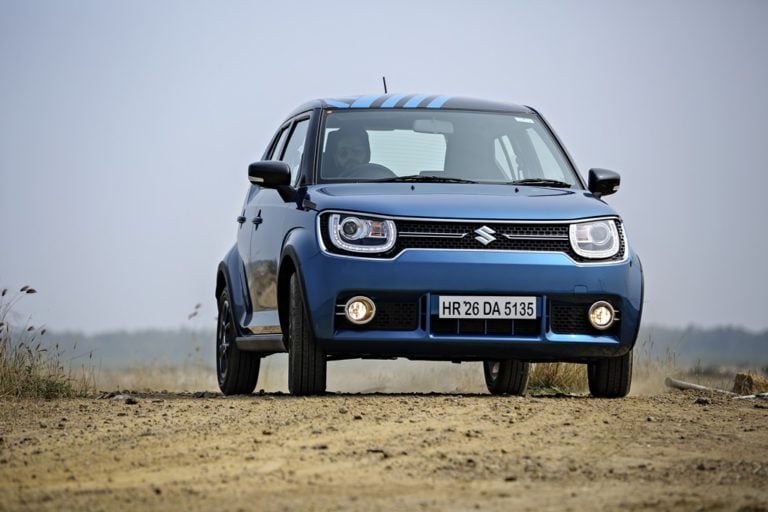 Also See – Maruti Ignis Details
Joe Average: Maruti has just launched a new compact car, the Ignis. It looked good in the pictures, is in my budget, too. I'm in a good mood to visit the showroom tomorrow and have a test drive.
Mrs. Joe: But are you sure it'd be wise to invest in a car that's just been launched? Weren't you keen on a premium hatchback?
Joe: It's a Maruti, they are the largest selling car manufacturer of our country. What can possibly go wrong? The car shares its engines with the Baleno, has almost the same features, looks good too. Besides, the high ground clearance and a more commanding driving position are some advantages you can't overlook.
Joe's Dad: Son, what's going on? It's already tough to choose between the hatchbacks we've considered. Where does this new car fit in?
Joe: Dad, I agree. I think the Baleno and the Swift already have a lot going for them, but this new car is suddenly the talk of the town. It looks funky, has many features, same tried-and-tested engines as the two Maruti hatchbacks and is yet cheaper than the Baleno. Also, you get some typical SUV traits. Sure seems like an interesting product to me.
Joe's Mom: How is it cheaper than the Baleno and yet, equally good? I loved the Baleno's ride quality and spacious cabin. Remember, we'll soon be a family of five, so space is a concern. Also, we need a comfortable car.
Mrs. Joe: Exactly! I do understand your decision to buy a Maruti car, but what is it with this fixation with the Ignis? We haven't seen even a single car on the road.
Joe: Very reason I want us all to go check out the Ignis. Who knows, we all might finally end up liking this car. And mom, it sure is slightly cheaper, but I doubt if there's any cost cutting involved. The low price could be largely due to parts sharing and clever variant distribution. Besides, who's complaining? Why pay a premium for getting the same mechanicals and features on a hatchback?
Joe's Dad: Your mom and I'd still vote for a premium hatchback like the Baleno; even a Swift makes a lot of sense. Still, now that you insist, let's go check out this new car tomorrow.
Scene 2
It's a weekend and Joe is at the nearest Nexa dealership along with the entire family. There's already a crowd gathered around the Ignis. A sales representative approaches Joe and guides the family to a vacant table. Joe's wife and mom are already impressed with the ambience of the showroom. Maruti's effort to deliver a 'premium' car buying experience thru Nexa dealerships seems to be having the desired effect on prospective customers.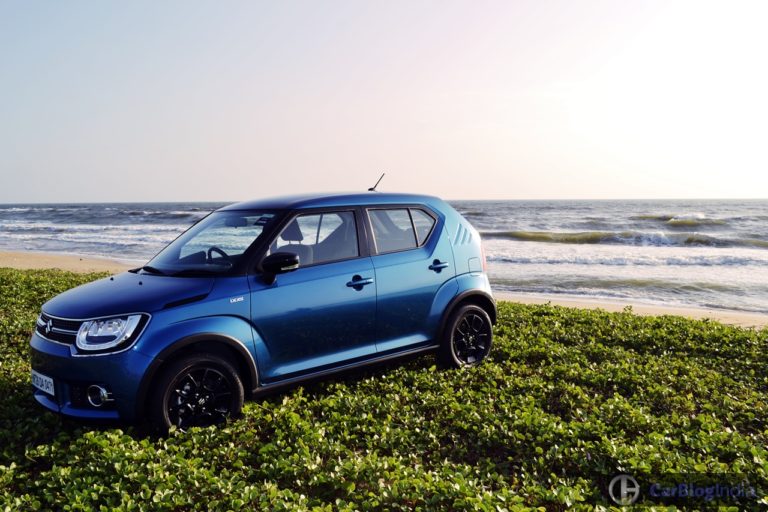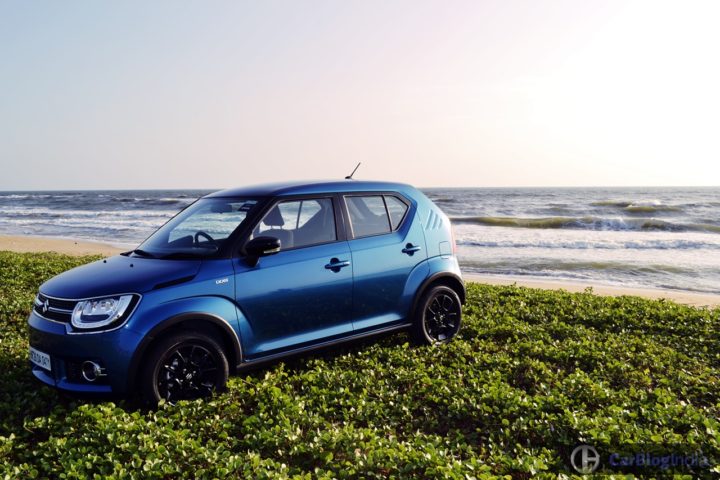 Sales Representative: How may I help you?
Joe: We are here to know more about the Ignis.
Sales Representative: Excellent! As you can see, there's already a lot of interest in this new car. The Ignis is the least priced car we have on sale at Nexa outlets. However, it's still a world-class offering. Maruti has launched this Premium Urban Compact car in both Diesel and Petrol variants. Which one of these do you want to know about?
Joe's Dad: Both, actually. With the condition of roads that we have here, a petrol car ends up being as noisy as a Diesel one. Also, we have a monthly usage of around 2,000 kms. But we would still like to also test drive the Petrol variant. It seems to have a very high fuel mileage.
Sales Representative: Yes, the Petrol model has a certified fuel economy of 20.89 KMPL. The Diesel is even better, at 26.80 KMPL. And, sir, the Ignis is currently the only hatchback that offers an AMT automatic on both Petrol and Diesel models.
Joe: Wow, that's nice. But what about the features? ABS and airbags are a must. Also, I think I'll want a manual due to its sporty nature.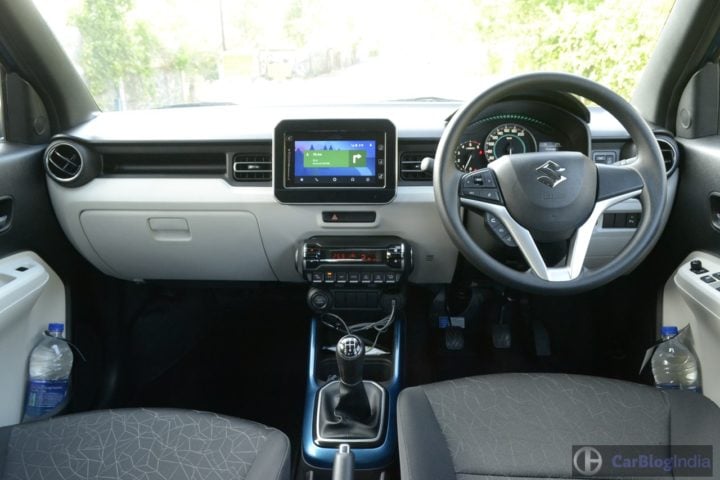 Sales Representative: The Ignis has dual front airbags and ABS across all its trims. You also get Projector Headlamps with DRLs, Smartplay Touchscreen Infotainment and Automatic Climate Control on the Alpha trim.
Mrs Joe: Nice, but we live in a crowded locality. Does it have a rear parking camera? I think I saw this feature on the Baleno.
Sales Representative: Yes, the Smartplay on the Ignis is a slightly updated version of what you get on the Baleno. So, yes, you do get a rear parking camera with sensors. What's more, unlike the Baleno's unit, which offers only Apple Car Play, the one on the Ignis also lets you connect your Android phone thru Android Auto app. So you no longer need an iPhone to make full use of the SmartPlay.
Joe: Superb. Can we go have a closer look at the car?
(The family walks to the Ignis that has been displayed inside the showroom)
Mrs. Joe: I like the stylish DRLs. Are these available on all trims?
Sales Representative: These are reserved for the Alpha trim. The lower trims get a halogen setup and miss out on the DRLs.
Joe: I see. I'm guessing the entry-level models would have black bumpers and door handles. I've never been too fond of the non-painted, black bumpers on Dad's Esteem LX.
Sales Representative: Body-colored bumpers and door handles are standard across all trims. You also get Full Wheel Covers and Turn Indicators on ORVMs if you choose the Delta spec or above.
Joe's Dad: I like the stance of this car. Definitely looks macho and sporty. What do you think, Joe?
Joe: Yes, this car looks very stylish. It's only the size of a hatchback, but look at those large wheels! Also, I like the detailing on the hood and the C-pillar.
Joe's Mom: Yes, the car does look good when viewed front on. However, do have a look at the rear. Don't you think it's slightly old-fashioned?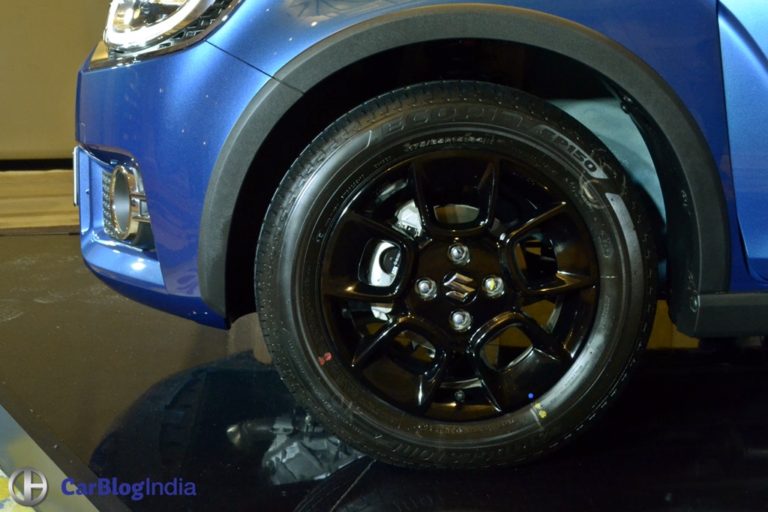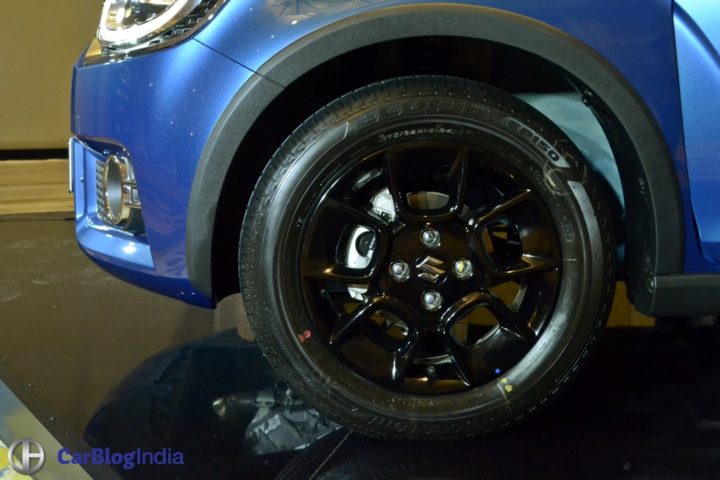 Sales Representative: Actually, the designers have taken some styling cues from some Suzuki models of the past. Even for bits like the stylish headlamps and the clamshell bonnet, the designers have taken inspiration from older Suzuki cars. I think you'll be able to have a better look at the rear-end once we are out with the car for a test drive. Also, bits like black-painted mags, blacked-out pillars and black-painted ORVM caps enhance the sportiness.
Joe's Mom: Ok, but we want a low-maintenance colour for our next car. There's just too much dust around everywhere in Gurgaon. What all colours are available?
Sales Representative: Ma'am, the Ignis is available in 6 shades. There are shades of silver and grey if you want a really easy-to-maintain colour. We also have two really attractive shades of blue. Your choices include- Pearl Arctic White, Silky Silver, Glistening Grey, Uptown Red, Tinsel Blue, and Urban Blue.
Joe: But mom, I'm too young to be driving around in a dull-looking car. I need something stylish and eye-catching. Though, I must add that you do have a valid point.
Sales Representative: Sir, let me help you out here. Maruti is offering dual paint shades and roof wraps for your Ignis. So, basically, you can customize the car to look even more stylish. Of course, the choice of colours is yours, but you can definitely play a lot of mix-and-match.
I think you should now have a test drive. It seems you all are happy about the design and features of the Ignis. Come, let's go for a test drive of both Petrol and Diesel models to help you make your decision.
Scene 3
Joe's family, along with the sales representative, walks over to the parking bay. They decide to start with the Petrol model. Joe gets into the driving seat, while the sales representative occupies the front passenger seat. Joe finds it easy to adjust the seat and the height-adjustable steering to the desired driving position. Joe's dad is quick to notice the high quality of plastics and the decent fit and finish. Joe turns on the ignition.
Joe: I like how 'noise-less' the engine is but will want to drive this car on both traffic-infested streets and the expressway.
Sales Representative: Most definitely. You may start driving towards the expressway and first experience this car in city conditions.
(Joe slots into the first gear and is quick to note the light clutch action)
Sales Representative: This car is powered by a 1.2-litre engine that outputs 83 PS and 113 Nm. In terms of power-torque, the Petrol Ignis stands at par with most models in this price range.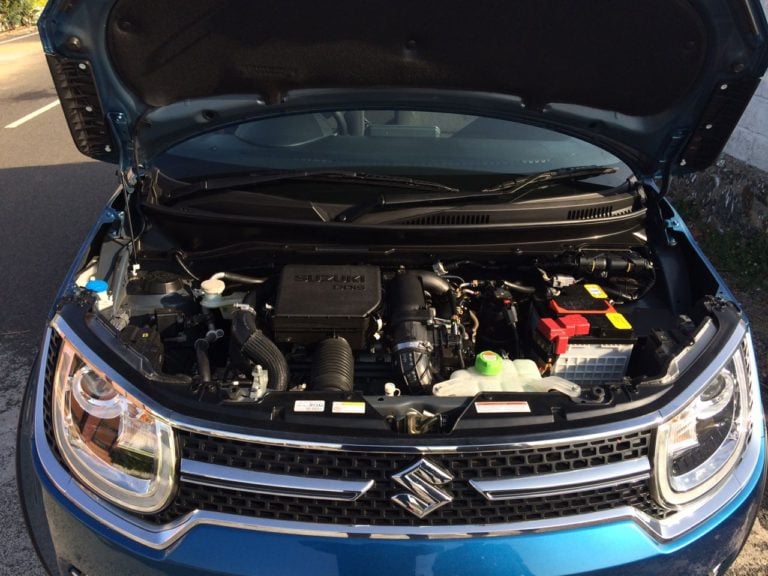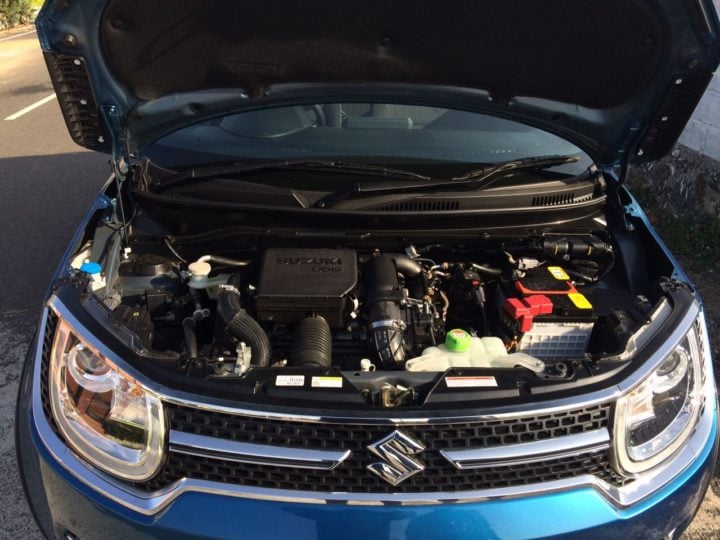 Joe: I see. I have experienced this engine on the Baleno and the Swift before. I must say, this car feels sprightlier than the other two Marutis. Also, I do like the refinement on offer. It's easy to trod along at city speeds and there's sufficient torque. We're approaching the highway; let's check out if it's fun to push this car.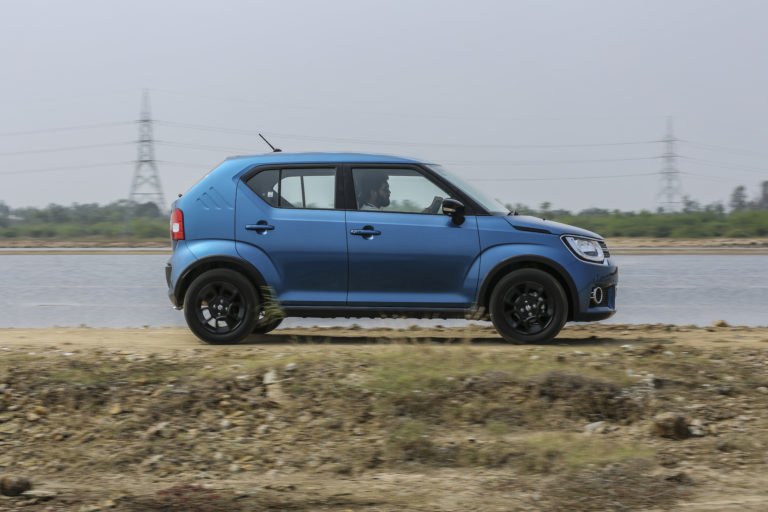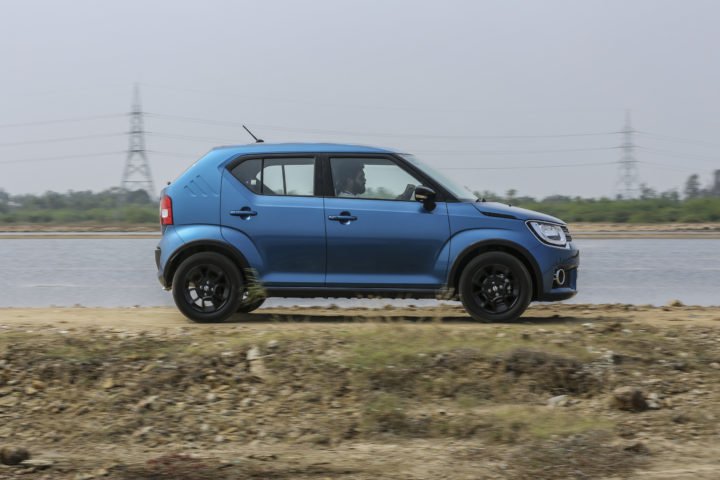 Sales Representative: The K12M engine for the Ignis is a lightweight unit that features many plastic parts to keep the weight in check. As you just noticed, the flat torque curve especially comes in handy while negotiating the stop-go city traffic conditions. The low weight, along with bits like Variable Valve Timing, helps this engine achieve a high fuel economy and decent performance. I am sure you'll love the way this car will perform on the highway.
(Meanwhile, it has got dark and Joe switches on the headlamps)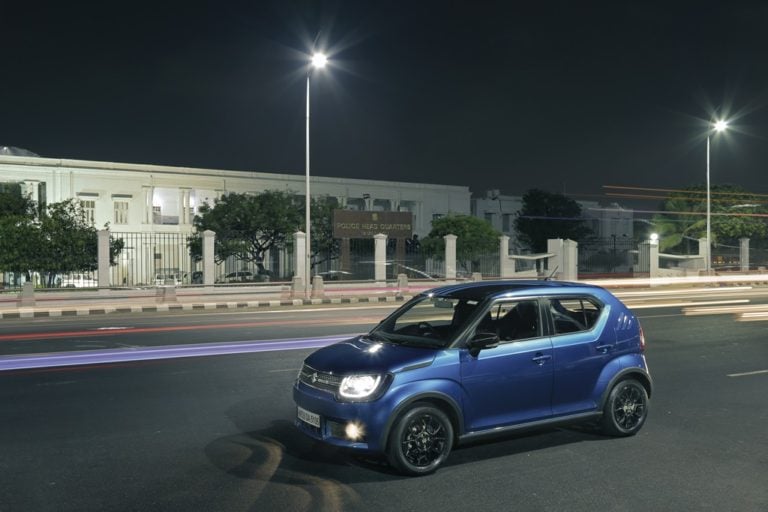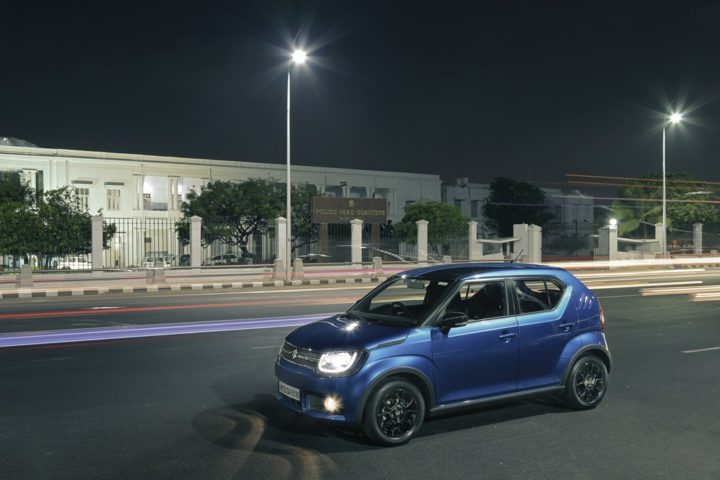 Joe: I like the throw and intensity of the headlights.
Sales Representative: The Ignis comes with LED projector headlamps. Rest assured, it can light up the darkest of the streets.
Mrs. Joe: The rear seat is pretty comfortable. It's not superbly roomy, but there's ample space for two adults and a small child.
Sales Representative: By the way, this car comes with ISOFIX child seat anchors and even automatic door locks. I'm sure you'll love these features once you become parents.
Joe's Dad: Hmmm. . . .I like the overall ambiance of the car. The soundbar-like auto aircon controls, the tab-like infotainment, it all does radiate a lot of freshness. Also, the ride didn't get uncomfortable while passing over the speed humps/ But now that we are on the expressway, the car doesn't feel too stable at these speeds.
Joe: Yes, the ride seems to get a bit wallowy once I cross 120 KMPH. It's not too bad, but there's a definite lack of confidence and some noticeable body roll. But I must say, the steering is pretty good. Not lifeless, as I've experienced on some of the Hyundais that I've driven. Also, it's just the right size. But maybe a leather cover on at least the top model should have been provided. And by the way, I just noticed there's no Gear-Shift Indicator and Auto-Up feature on the driver's power window.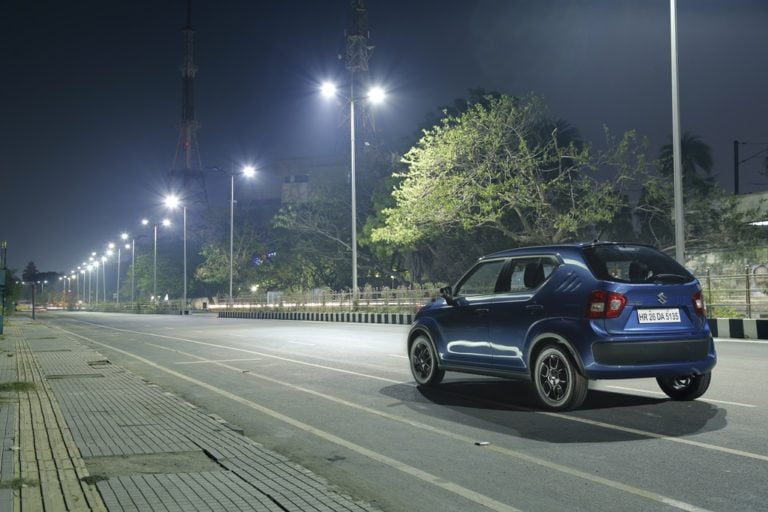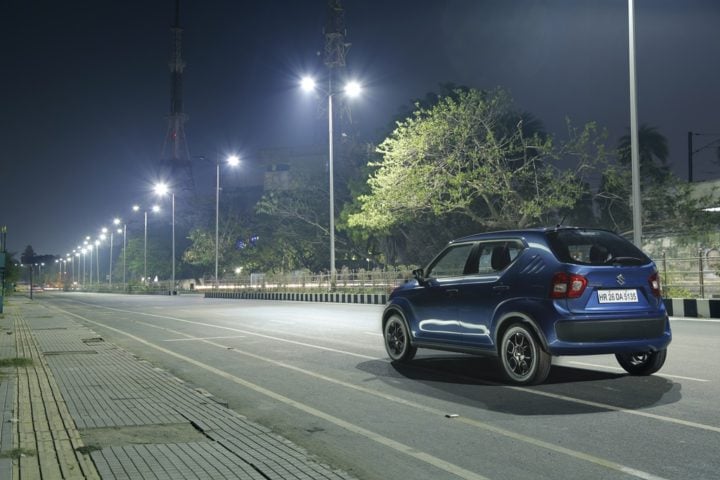 Joe's Dad: There's also a lot of wind blast at high speeds. But this could be owing to the SUV-ish profile. And I am happy to hear you don't want to drive insanely fast.
Sales Representative: I assure you, this car is as safe as any other out there. You get ABS and airbags on all trims. Also, the car has been crash tested to meet European safety standards. And frankly, do you really plan to drive so fast, so often? This car has a ground clearance of 180 mm; you can't really expect it to stick to road like glue. As for the features, as you know, this car is cheaper than models like the Baleno. No surprise, then, that some of these less important features have been omitted to keep prices under check. But you do get a lot of important features, like the SmartPlay and Auto AirCon.
Joe: Ok, I do agree with you on this. I'm happy that this car is quick to gain speed and reaches high speeds effortlessly. Anyway, I don't drive too fast and the car feels planted till I start going much over the speed limit. Let's go back and drive the Diesel model now.
(With this, the family heads back to the Nexa outlet and soon, is seated in a Diesel-powered Ignis)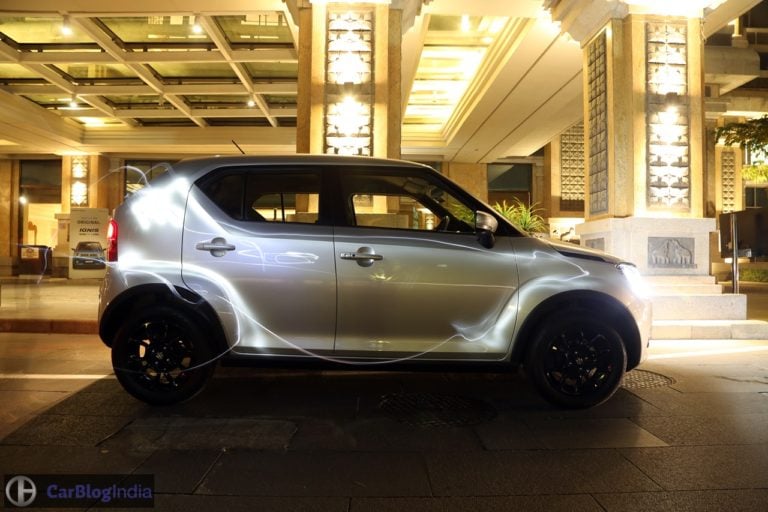 Joe's Mom: Okay, there's a lot of engine sound coming in.
Joe's Dad: I'm not surprised. Diesel engines are always noisier by nature.
Joe: But I like the torque spread. Look how easy it is to crawl in second gear and build speeds effortlessly. It's kind of easy to reach speeds of around 140 KMPH. Moreover, Diesels do work out to be cheap to run, especially with my kind of running.
Sales Representative: Sir,  for your kind of usage, I would say there shouldn't be much of a difference with overall cost of ownership. Rest, you can do the mathematics and buy accordingly. But one thing that I can assure you of is the complete peace of mind. Both the cars have trusted mechanicals and are very easy to maintain.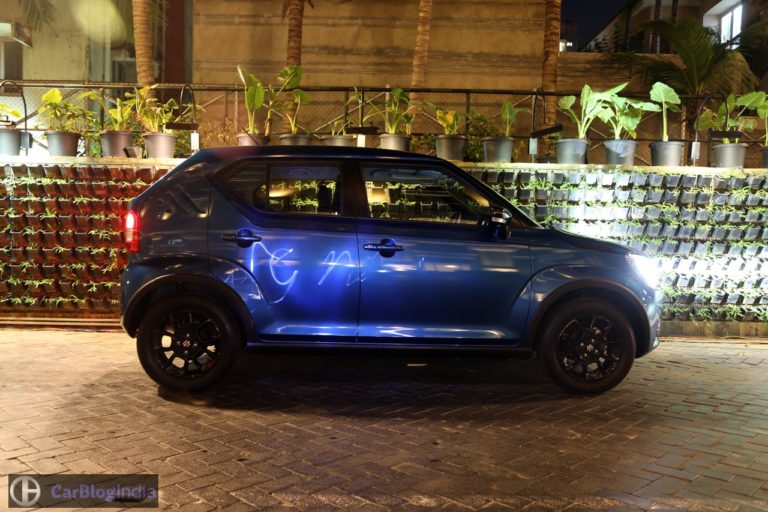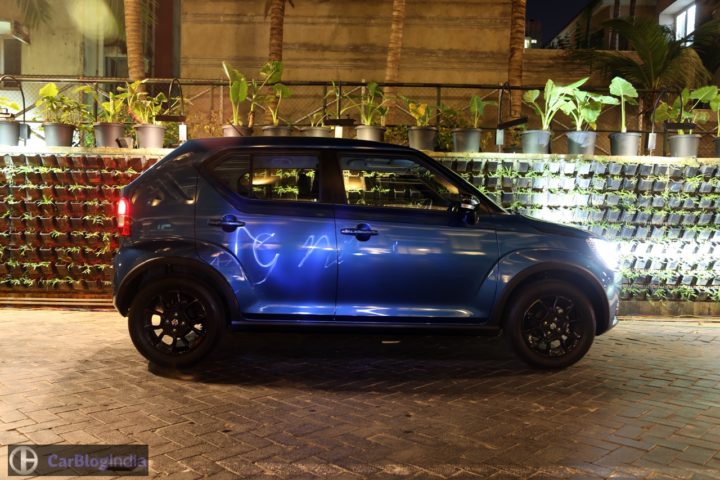 Scene 4
Joe Average and his family is back to the showroom. They all are pretty happy with the Ignis. The sales guy approaches them and asks Joe for his feedback. 
Joe: Okay, I like this car. And I can see, my family finds it pretty desirable, too. It's not perfect, I understand. For example, it's not fun at high speeds and it also misses out on some small features like a gearshift indicator. But right now, I can't think of any other car that offers the practicality of a hatchback, style of a SUV and comes with a price tag that isn't too high for someone like me, who is from the middle income group.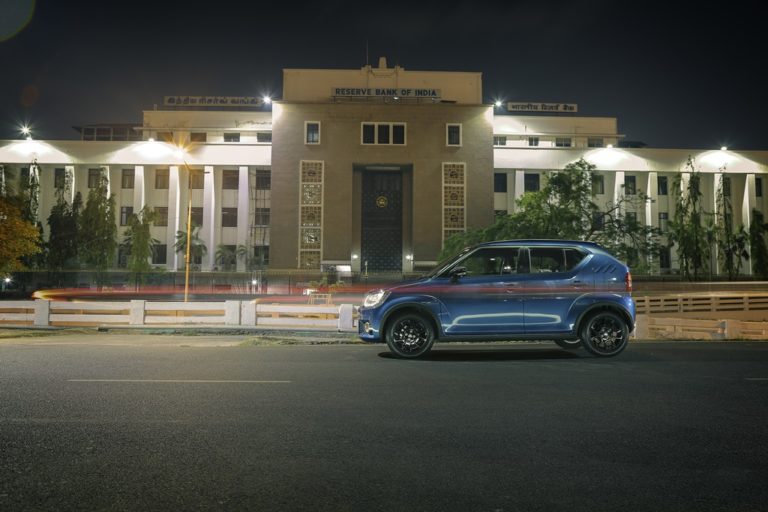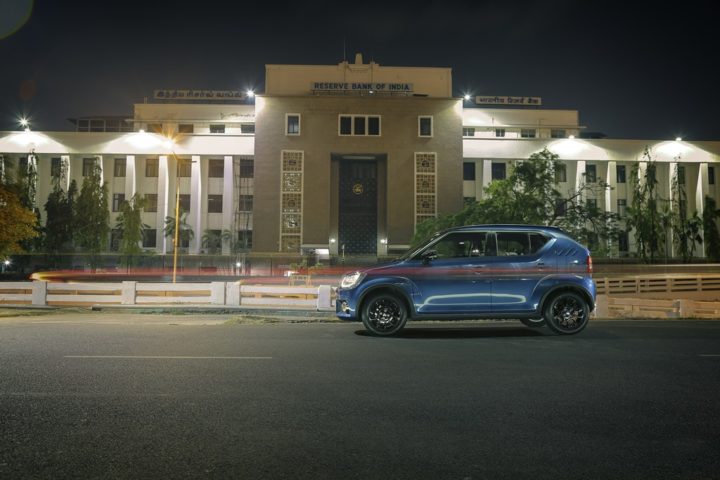 Sales Representative: As you all have already noticed, the Ignis has a lot going for it. True, there a couple of things that you might not be too happy about. But sir, let me assure you, it's a really good package. You get a lot of style and a world-class product, along with all the attributes of a similarly priced hatchback. Also, you get Maruti's unbeatable after-sales service and support. I'm sure the Ignis is all the car that you need.
(Joe finally signs on the dotted lines and drives home in a brand new Ignis.)
So, what do you think of this Maruti Suzuki Ignis test drive review? Stay tuned to Car Blog India for a detailed Maruti Suzuki Ignis test drive review in our old format.
Join us for FREE NEWS Updates on our Whatsapp Community or our official telegram channel.