Here is arguably the coolest widebody concept of the Maruti Vitara Brezza. There are various automobile designers that come up with innovative concept models of popular cars. Bimbledesigns is one of them. We have seen some really unique concepts from them. But they might have outdone themselves this time around with this rendering. Maruti Vitara Brezza is one of the most popular compact SUVs in the segment. This car segment is extremely competitive in our market. Almost all the major carmakers have their products in this segment. The reason is the massive growth this segment has seen and still has the potential for. SUVs, in general, are becoming the default choice of many buyers, be it first-time or otherwise. Let us stick to this rendering to dissect the details of this Brezza.
Also read: Watch Maruti Vitara Brezza Conquer World's Most Dangerous Road!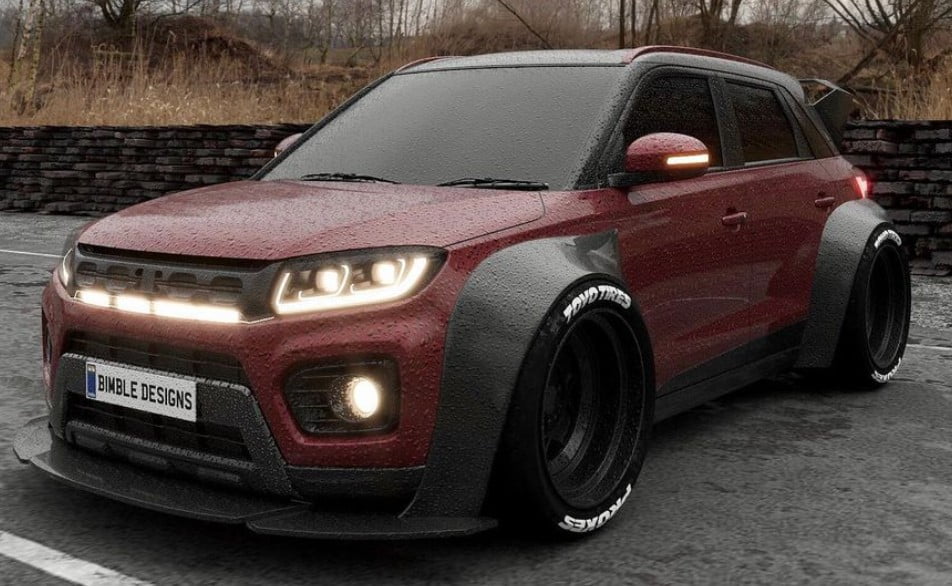 Maruti Brezza Wide Body Concept
The front of the compact SUV is dominated by LED lights. There are warm white LED DRLs integrated into the headlight cluster. Also, the projector headlamps have a detailed thin LED housing around them. Another area where the LED strip is looking great is on the front grille. This is quite unique because the LED strip is fragmented and it goes really well with the black grille. The wide body concept is clear even from the frontal appearance. If we see below the bumper, we find massive splitters to keep the small pebbles from hitting the bumper. The side profile is also overwhelmed by the wide body kit with pronounced wheel arches stretching way out of the width of the body. The wheels are painted black and have an ultra-low profile. The black side skirting is stretched across the entire length of the side door.
Also read: Kia Seltos Has a Tough Time Beating Maruti Vitara Brezza in Tug of War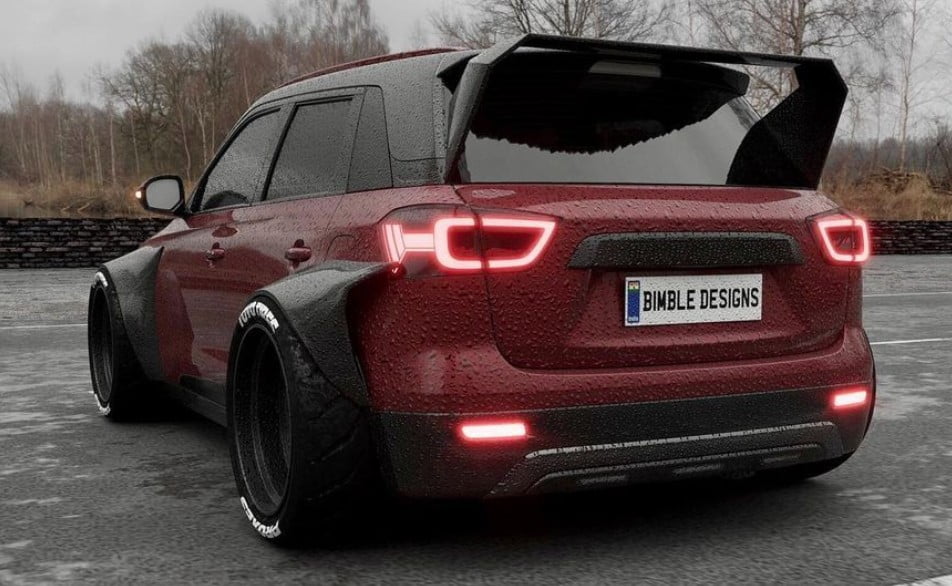 The rear of the Brezza also looks quite distinct. The LED taillamp unit is a bit more accentuated compared to the regular version. In fact, the LED design has been extended to the sides as well. The A, B and C-pillar are finished in a glossy black material which contrasts the red colour really well. The thing to notice at the rear is a massive spoiler/diffuser. It is extended well out of the body of the SUV. The reflectors are also LED and compliment the skid plate on the bumper. All in all, this wide body concept of the Maruti Vitara Brezza looks unique and attractive even though one can't call it practical.
Also read: 2022 Maruti Vitara Brezza to Offer Diesel Engine Option