In a unique display of art, an outdoors BBQ was constructed based on the Maruti WagonR design theme. Check out the details here!
We bet you must not have heard about the BBQ based on the Maruti WagonR for outdoors. Well, this post will acquaint you with such a creative art form. The post has been shared on Facebook. This is sort of a testament to the kind of popularity that Maruti products enjoy in our market. WagonR is one of the highest-selling vehicles in India for a long time. No wonder people are using it to develop other products to gain a strong footing. Check out the details of this unique product here.
You may also like: Maruti WagonR Remastered As Low-riding Track Tool
You may also like: Genuine Accessories for 2022 Maruti Baleno Detailed with Prices
Maruti WagonR BBQ For Outdoors
A certain Anand Kashyap has shared these images on the Let's Barter India page on Facebook. He mentions that this WagonR-themed BBQ is designed for outdoor use. People looking to have lunches in their backyard in summers would find this ideal if they are car enthusiasts. One could seldom get hold of such customised products done with so much attention to detail. The silhouette of the WagonR has been designed in such a way that one could not confuse it for any other vehicle. The theme of the car is the black and yellow taxi that is popular in cities like Mumbai and Kolkata. The headlights and taxi light signal also switch ON to provide a utilitarian aspect if you are planning to barbeque at night time.
The images clearly show the grille being installed under the bonnet of the mock car. The provision of an electric connection to this BBQ helps to light up the headlamps and enable grilling. This ingenious idea could be a great collection item for all the automobile lovers out there. People have the tendency to collect items related to their passion in any shape or form. Maruti Suzuki lovers would love to have an item that is not a mere mantelpiece but a form of art that has utilisation.
You may also like: 2022 Maruti Brezza EXCLUSIVE Launch Details Inside!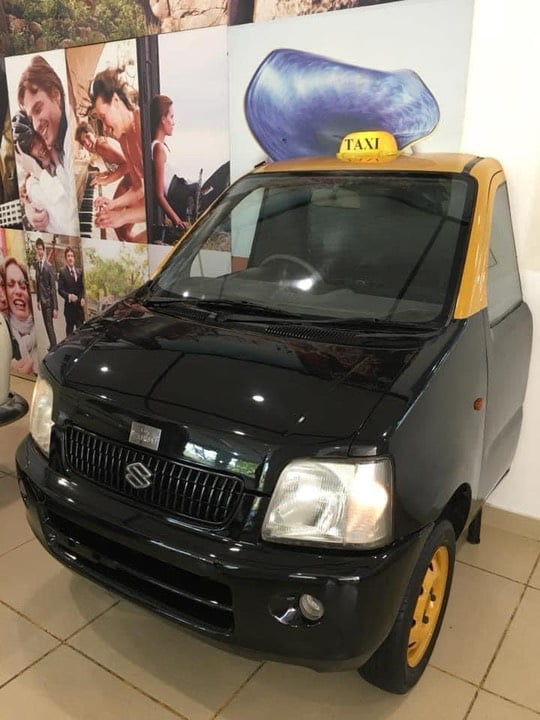 You may also like: Bajaj Pulsar 220 with XXXL Front Suspension is Totally Bonkers – VIDEO
The artist of this product is taking requests from genuine potential buyers who would like to own this innovative artefact.
Join our official telegram channel for free latest updates and follow us on Google News here.