It's said that the after-sales experience often makes it or breaks it for any carmaker in India. This is something that we've already seen happening to carmakers like Skoda and Ford. In fact, it's really not uncommon to come across accounts of poor after-sales support by car owners. It is, however, imperative to mention here that there have been carmakers who have been going out of their way to support their customers. One such carmaker seems to be MG Motor India, who recently provided an MG Hector owner with exemplary support.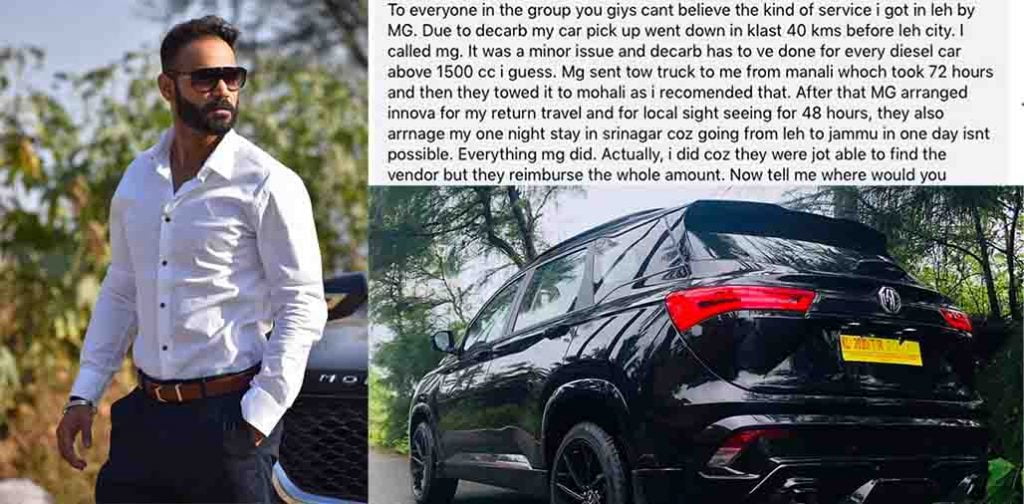 Also read: First-Ever MG Hector With Gold Wrap – THIS IS IT!
As reported by the owner of MG Hector himself, his car faced some power loss just 40 km from Leh city. On facing the issue, he called MG's online assistance hotline and it looked like his car needed decarbonisation. It must be noted here that machines face higher wear and tear at such high altitudes and hence, even a small problem is magnified to a large extent. To the owner's surprise, MG sent a tow truck for the vehicle from Manali. It took the truck 72 hours to reach the SUV. The carmaker even arranged a taxi to facilitate sightseeing for Hector's owner.
Also read: First-Ever MG Hector With Gold Wrap – THIS IS IT!
Finally, the company even arranged for a day's stay in Srinagar as he couldn't have travelled from Leh to Jammu in one day. The owner then goes on to clarify that while he paid for all the expenses, he was reimbursed for the same by the car manufacturer. This is actually a terrific support from the carmaker to the owner of the MG Hector. It's really things like these that help a company benefit from a faster growth through word of mouth promotion. Frankly, even we are pleasantly surprised with the way MG assured its customer doesn't face any issue during his road trip.
Also read: Hyundai Alcazar vs MG Hector Plus – Specs, Features, Prices, Safety Comparison!
After tasting success with the MG Hector, the carmaker released the ZS EV and the Gloster in the market. Next, it even came up with the Hector+, a 6/7-seater version of the donor model that even came with a few cosmetic changes. Next, the carmaker will introduce the MG Astor, which is basically the ICE version of the ZS EV that's already sold here. The company will also debut its AI technology with the upcoming Hyundai Creta and Kia Seltos rival.
Also read: MG Launched Range Topping Savvy Variant Of The Gloster – New Features!