Yet another impressive instance of an aftermarket bike modifier achieving something truly unfathomable with an 865-cc version of the Royal Enfield.
You will be forgiven to think that an 865-cc modified version of the Royal Enfield is not possible. That is why we have evidence in the form of a video that showcases a unique customized Royal Enfield. Royal Enfield products are quite popular among Indian bike lovers, especially those looking for a retro-themed highway cruiser with an imposing road presence. The modifications made to this motorcycle have accentuated the road presence element of the Royal Enfield to another level. Here are the details of this unique bike.
You may also like: WATCH Royal Enfield Classic 350 with Custom Foldable Seat
You may also like: Canada-Bound RE Riverlander Custom Pays Homage to Punjab
Modified 865-cc Royal Enfield
The video has been uploaded by a famous YouTuber who also reviews this version of the bike. She interviews the owner of the modification company (Ricochet Motorcycles), Debashish that designed this motorcycle. He explains how they were able to increase the volumetric capacity of the engine from 650-cc to 865-cc. Interestingly, they have used an extended sleeve for the piston to move increasing the volume of the cylinders. To complement that, the performance tyres with aluminium rims have been installed on the bike. Additionally, the brakes are also upgraded to match the specifications of this powerful engine. The entire front panel including the carbon fibre mudguard, handlebars and the key lock structure is designed using custom materials to achieve weight reduction.
You may also like: Doesn't This Royal Enfield Scram Look Better Than Original?
To enhance the riding characteristics, the suspension system has been borrowed from a Benelli and the springs have been designed in-house to match the suspension. The brake comprises of a 4-piston twin calliper setup for an enhanced bite and reduced stopping distance. The custom handmade exhaust pipe is made up of stainless steel. The fuel tank and the body features a black chrome paint job. The tail end has an integrated taillight with LED indicators along with a custom made cowl to accentuate the aesthetics with a custom stitched seat.
You may also like: Foreigners Build a Tasty Custom RE Interceptor 650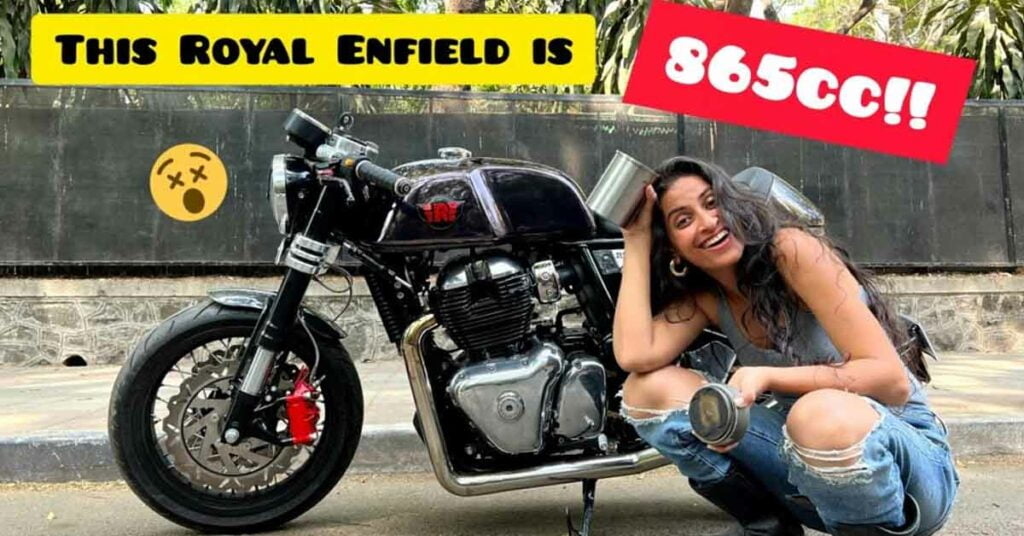 The bike also has a bigger sprocket with extra teeth and an upgraded drag chain to sustain high power driving. This sprocket, the owner claims, leads to a 25% increase in initial acceleration. He also shares that they have spent around Rs 4.50 lakh on this project which took around 4 months to complete. Let us know how did you like this modified 865-cc version of the Royal Enfield.
Join our official telegram channel for free latest updates and follow us on Google News here.