The season of drag race events involving cars from different segments continues on YouTube and this is a great addition to that saga.
This is a great drag race competition between a modified Toyota Fortuner and a Ford Mustang. Now, the YouTuber mentions that it is not fair to perform a drag race between these two cars with varying DNAs. On one hand, the Fortuner is a 7-seat off-road-focused SUV that is a popular choice for people looking for an imposing SUV. On the other hand, the Mustang is an iconic muscle car that is designed for enthusiastic and spirited driving. In this case, the Fortuner is modified which can make a difference in the final result.
You may also like: Top 5 Famous Ford Mustang Owners in India – Vijay Devarakonda to Saif Ali Khan
You may also like: Check Out This Hindustan Contessa Modified Into A 1969 Ford Mustang For KGF Chapter 2
Toyota Fortuner vs Ford Mustang Drag Race
The video has been posted by a popular YouTuber. He shows a heavily modified Fortuner parked just ahead of the red and fiery Mustang. To make the race more reasonable, the Fortuner will start the event ahead of the Mustang. Also, Mustang starts a little later compared to the big SUV. In the actual race, the Mustang is able to overtake the Fortuner after a few seconds. In the second round too, the results remained unaltered with the musical car thrashing the SUV convincingly. The YouTuber mentions that they were waiting for an Audi owner to conduct a more logical race with the Mustang.
You may also like: How About This Amazing Ford EcoSport and Mustang Mashup?
Specs Comparison
The Toyota Fortuner comes powered by a 2.7-litre petrol unit (164 bhp / 245 Nm) and a 2.8-litre turbo-diesel engine (201 bhp / 420 Nm). It is paired with 6-speed manual and automatic transmission options. With the automatic transmission, the torque produced is a massive 500 Nm with the diesel mill. There is plenty of off-roading equipment on offer to make it immensely capable in terrains without tarmac roads. The prices of the SUV range from Rs 32.40 lakh to Rs 49.57 lakh, ex-showroom.
You may also like: This Bagged Toyota Fortuner is Unbelievably Low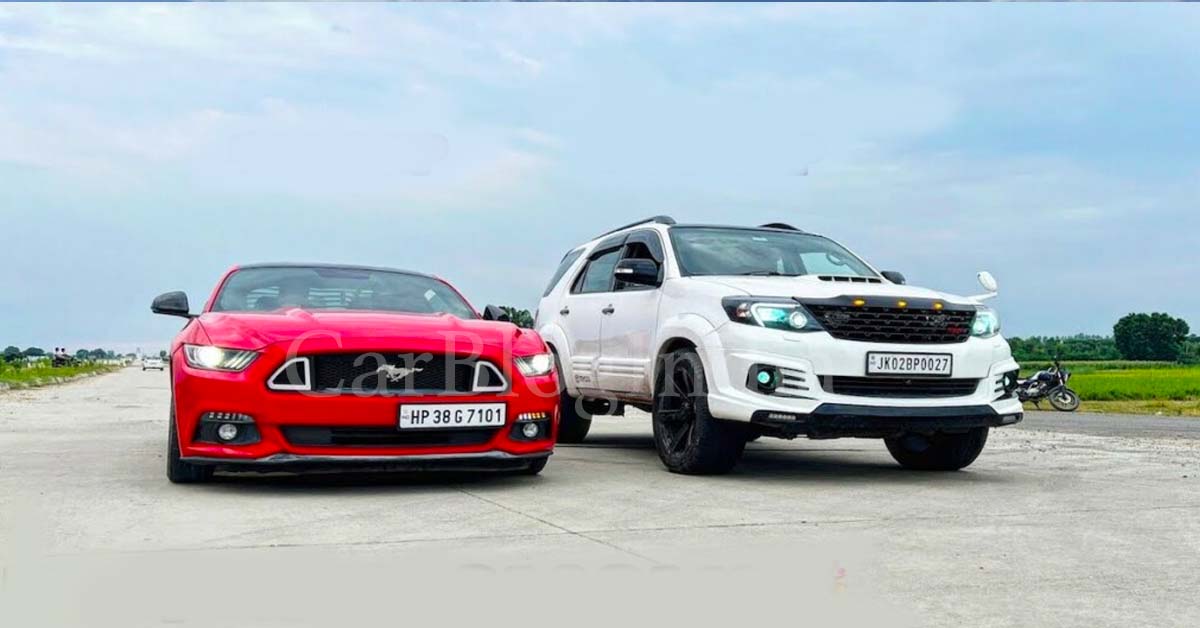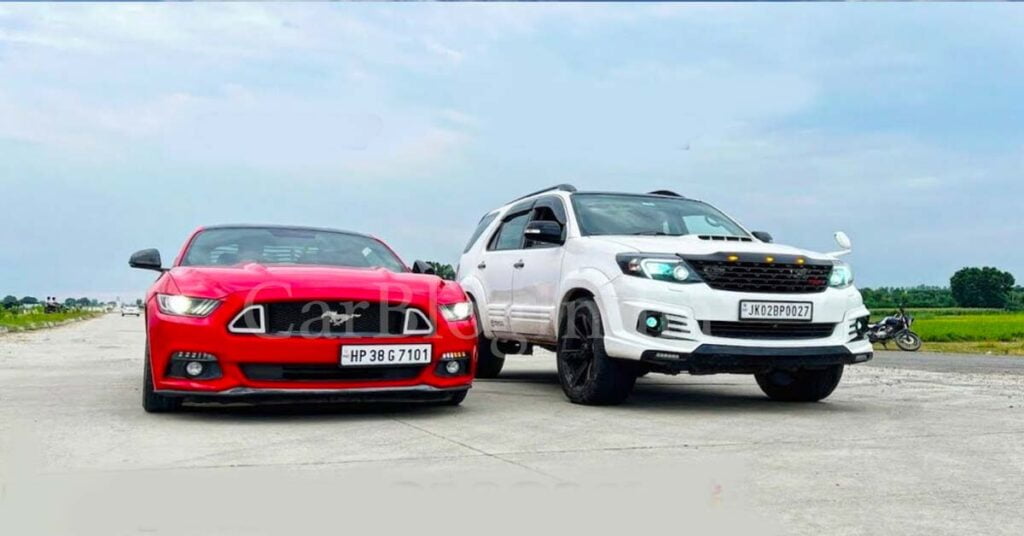 On the other hand, the Mustang comes powered by a 5.0-litre V8 petrol engine that develops a mammoth 401 hp and 515 Nm of peak power and torque. There is a 6-speed automatic transmission with paddle shifters for an engaging driving experience. The single fully-loaded trim will set you back by around Rs 86 lakh, ex-showroom.
Disclaimer- The embedded videos/ external content is/are being used as a convenience and for informational purposes only; they do not constitute an endorsement or approval by Car Blog India of any of the products, services, and /or opinions of the corporation or organization or individual. Car Blog India bears no responsibility for the accuracy, legality, and/or content of the external site or for that of subsequent external videos/ external content. Contact the external publisher for answers to questions regarding its content.