Here is a shocking piece of news from Bangalore where a month-old Honda City catches fire while being in the parking spot. Now, it is not every day you get to hear about such incidents, especially in this day and age where safety equipment and standards have increased considerably compared to even a decade ago. The City is one of the most popular cars from Honda and also the highest-selling product from Honda after the Amaze. That is what had shocked and shattered the owner too. He, together with his wife, had done a ton of research before deciding on buying the Honda City. But after facing this issue within 1700 km of running, they are emotionally drained. Let us take a look at the details of this entire episode.
Also read: Here's The Best Modified Example of Latest Honda City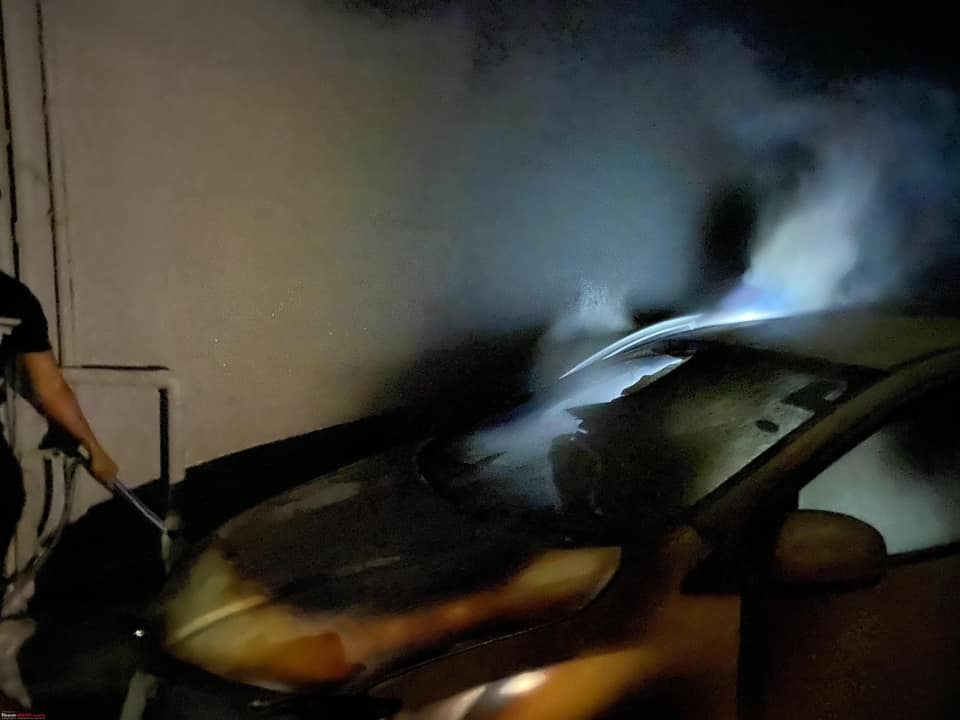 Honda City Catches Fire
According to the owner, he and his wife went for a trip to Chikmagalur from Bangalore which is around 280 km. The car was purchased just over 1 month ago from the day when the couple decided to go for this weekend trip on 6th November 2021. The owner had also taken the sedan for the first service. This ensure that the car was in the best shape for the trip. Having completed a couple of day trips in Chikmagalur, the couple was terrified and heartbroken to see what followed next. At around 10:30 PM, they heard a loud commotion from the parking lot of the hotel they were staying in. They went down to see what was going on only to find out that their Honda City was aflame. The hotel staff and other people were trying vigorously to put out the fire using fire extinguishers and water.
Also read: Honda City Owner Boosts Ground Clearance- Here's Why You Should Avoid!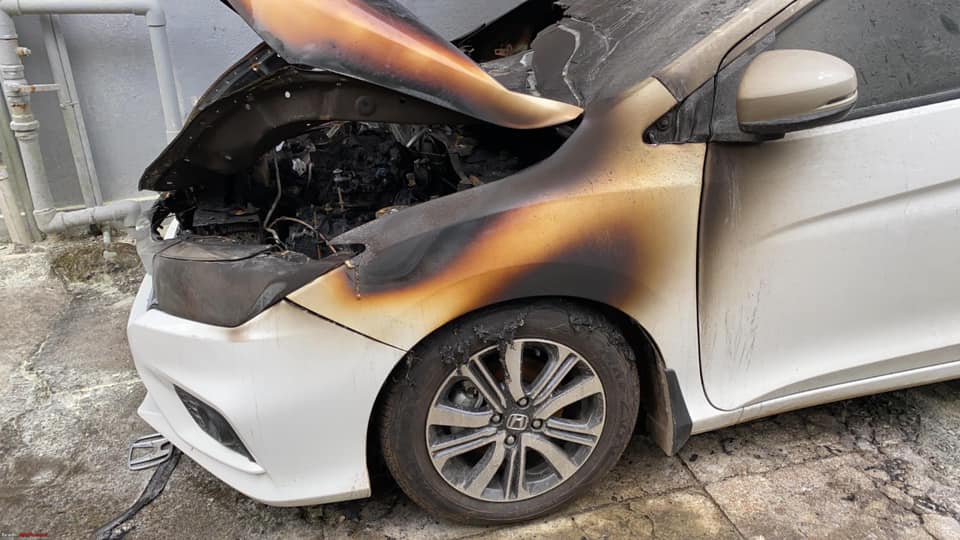 As one would imagine, this sent chills down the spines of the owner, whose vacation has just turned into a nightmare. They have done the insurance and RSA of the vehicle as was suggested by the car dealer. However, the owner had to still cough up around Rs 50,000 to get the car transported from Chikmagalur to Bangalore. Now, they are terrified by this incident and rightly so. First and foremost, they wrote to Honda demanding an explanation about how something like this could happen to a car that is barely a month old. Secondly, what kind of RSA services would charge that amount of money to transport a car despite the RSA and insurance. This matter needs to be promoted to get a response from the carmaker.
Also read: Hyundai Verna vs Honda City- Engines, Specs, Features, Prices, Safety Comparison!
Join our official telegram channel for free latest updates and follow us on Google News here.