Launched last year, the Mahindra Thar has been a huge hit in the SUV market, with the latest generation model selling in much higher numbers than the previous version. Thanks to the huge demand for the SUV, there's actually a huge backlog of orders, which has, in turn, led to a huge waiting period ranging up to 1 year for select variants. Now, this is something that has bothered many, including the rich and influential. No wonder then, that, recently, BJP MP and actor Sunny Deol has to write to the showroom to quicken the delivery of the new Thar The said letter, which was issued on the MP's official letterhead, recently went viral and has bought some flak to Deol.
Also Read: New Thar Climbs a Hill as Rs 1.1 Cr Land Rover FAILS – VIDEO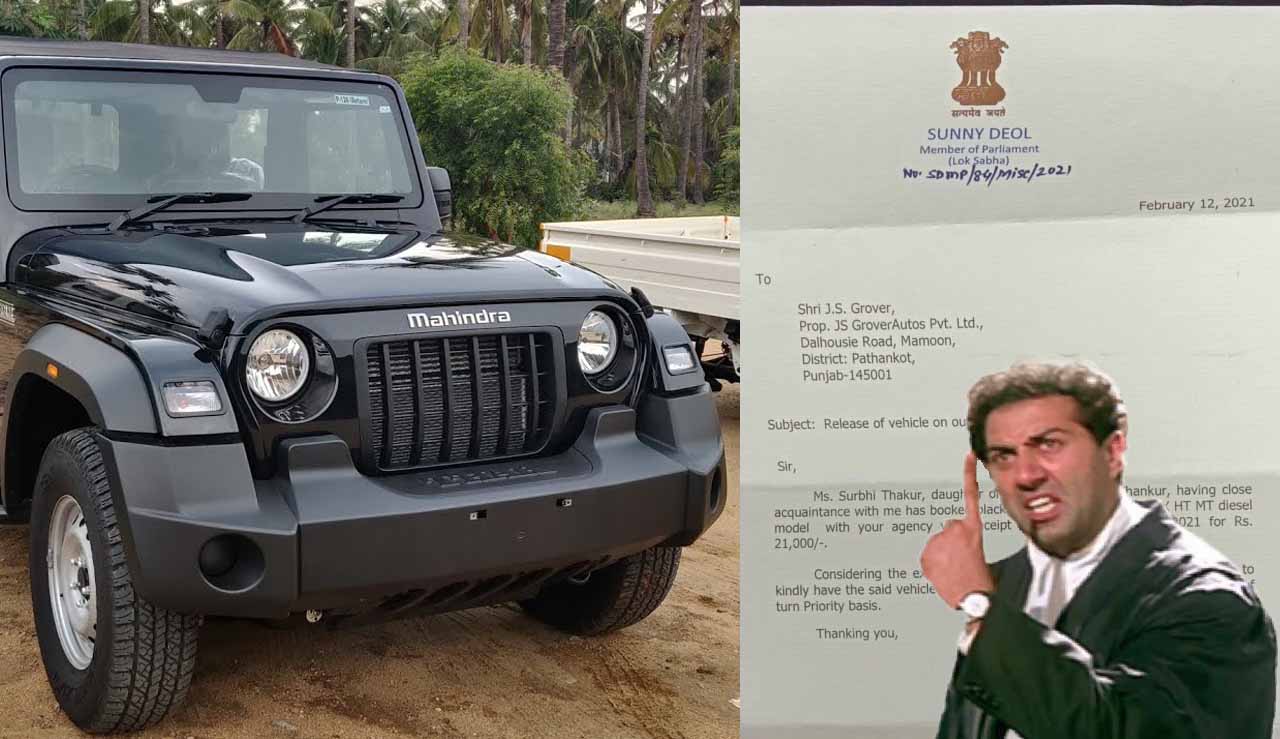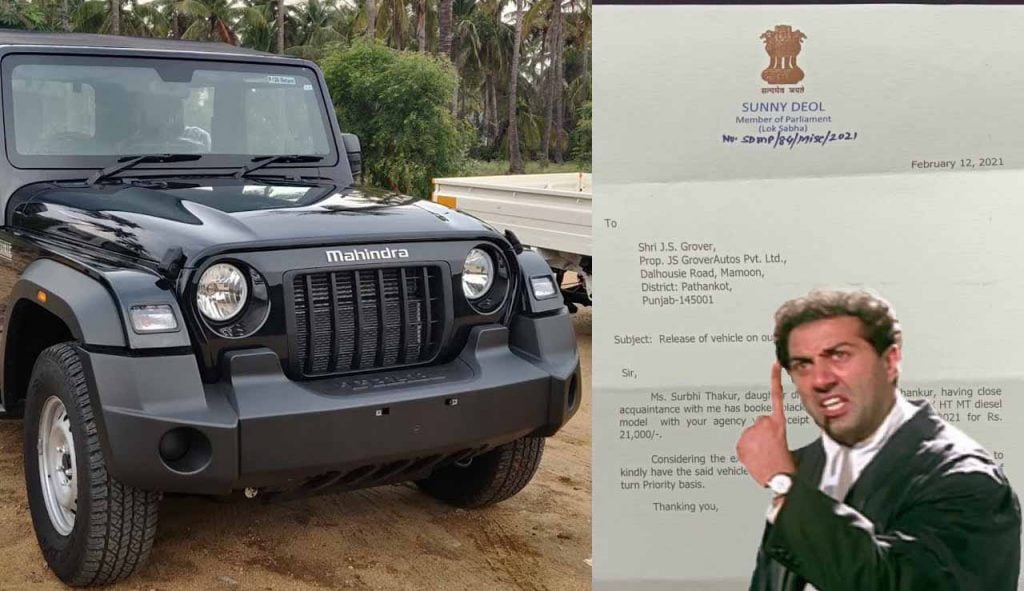 Sunny Deol's letter (SDMP/84/MISC/2021) to the authorised dealership can be seen in the picture above. It was written back in February and in the document, the actor-turned-politician wrote,"In his letter, he wrote, "Ms Surbhi Thakur, daughter of Shri Dinesh Singh Thakur, having close acquaintance with me has booked black coloured Mahindra Thar LX HT MT diesel model with your agency vide receipt No. 16687 dated 20.01.2021 for Rs. 21,900/-". In order to further create a sense of urgency, he wrote, "Considering the exigency for use of the vehicle, I would request you to kindly have the said vehicle delivered to her against the above booking on out of turn Priority basis."
Also Read: Problems With Thar Petrol- Ownership Experience Review
This letter of Sunny Deol, who is currently a Member of Parliament from Gurdaspur, has been addressed to JS Grover of JS Grover Autos Ltd, Pathankot. Meanwhile, Dinesh Singh Thakur is currently a Member of Legislative Assembly from Sujanpur. Soon after this letter went viral, several Congress leaders and social media users have accused Deol of wrongly using his influence by creating a pressure on the dealer through his official power.
Also read: DC's Thar COSTLIER Than Jeep Wrangler – Will You Buy It?
The second-get Mahindra Thar has been on sale in two engine options – 2.0-litre turbo-petrol and 2.2-litre turbo-diesel. Transmission options include a 6-speed manual and automatic options.
Also read: How About This Modified Dual Tone Red Black Thar?
Stay tuned to CarBlogIndia for the latest from the world of cars and motorcycles!
Join us for FREE NEWS Updates on our Whatsapp Community or our official telegram channel.