The new 2018 Hyundai Santro will be showcased at the 2018 Auto Expo.
The South Korean automaker is getting aggressive about new product launches as we near the 2018 Auto Expo. The company aims at launching several new vehicles while updating the current lineup. In the past months, we have spotted various upcoming Hyundai vehicles performing pre-launch testing. Hyundai's most popular model the i20 is also due for a facelift and will be showcased at the upcoming expo alongside other new models. Spotted testing in Delhi, the new Santro, codenamed AH2, is expected to launch sometime in the second half of 2018. Read on for more info on the new 2018 Hyundai Santro launch date and price.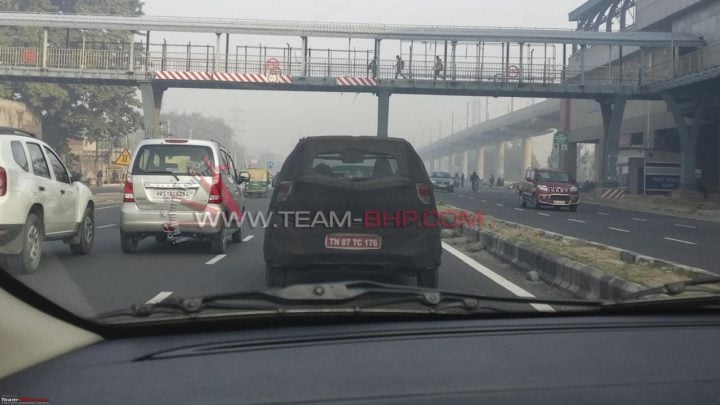 The upcoming budget offering from Hyundai, codenamed AH2, is supposed to be the successor of the Santro. Launched back in 1997, the Hyundai Santro has been the most successful model by the automaker in India. The upcoming Hyundai Santro is expected to feature contemporary design. The upcoming hatchback will also grow in size resulting in more interior space and luggage capacity. Hyundai is yet to announce the name of the upcoming hatchback but our sources claim it would be named Santro only.
Also Read – Upcoming Hyundai Cars in India | Hyundai at Auto Expo 2018
The phased out Hyundai Santro was launched in India back in 1998. The Santro being the most successful model from the automaker clocked over 30,000 units annually. Even when it was phased out in 2015, the Santro was clocking more units per month than the latest models like the Eon and the i10. It was a tough decision for the company but that paved way for the new upcoming Santro. Hyundai decided in favour of discontinuation of the Santro because it was not aligning with other products from the automaker and even missed out on the fluidic design theme.
New 2018 Hyundai Santro Specifications
| | |
| --- | --- |
| City | 17 KMPL |
| Highway | 21 KMPL |
| Overall | 19 KMPL |
Hyundai's plant in Chennai produced the first unit of the engine that'll go into the new Santro in October this year. Since the new Santro is a budget offering, a diesel option is highly unlikely. In, addition to a 5-speed manual transmission, Hyundai will offer an automated manual transmission. This will be a segment first for any manufacturer in India.
New 2018 Hyundai Santro Launch Price
| | |
| --- | --- |
| Minimum Price | Rs 4 Lakh |
| Maximum Price | Rs 5 Lakh |
| 2017 Hyundai Santro Sportz | INR 4.58 Lakhs |
| 2017 Hyundai Santro Asta | INR 4.91 Lakhs |
The upcoming 2018 Hyundai Santro is expected to be launched sometime during the second half of 2018, preferably the festival season of Diwali. We expect the company to price the upcoming budget hatchback between INR 4 lakh to 5 lakh with the AMT model costing a little above INR 5 lakh.
Stay tuned for more updates on the new 2018 Hyundai Santro launch, price, details.
Source – Teambhp