Check out this video where you can see the 2020 Mahindra Thar going off-roading with the Hero Xpulse 200. Both are the most affordable off-roaders.
Mahindra Thar is now the most affordable off-roading machine anyone can buy in India. In the two-wheeler segment, Hero Xpulse 200 is the cheapest and also the most humble off-roader. Here is a video where both of them have been pitted against each other to compare their capabilities.
Both are obvious choices for beginners as well as experienced people. Thar and Xpulse first go through the braking test, which Xpulse manages to win with a shorter distance. However, the biker reduced his speed in between making Thar the automatic winner. Although, the latter stopped far ahead of the bike.
Also Read: 2020 Mahindra Thar Diesel Automatic Taken Dune Bashing – Video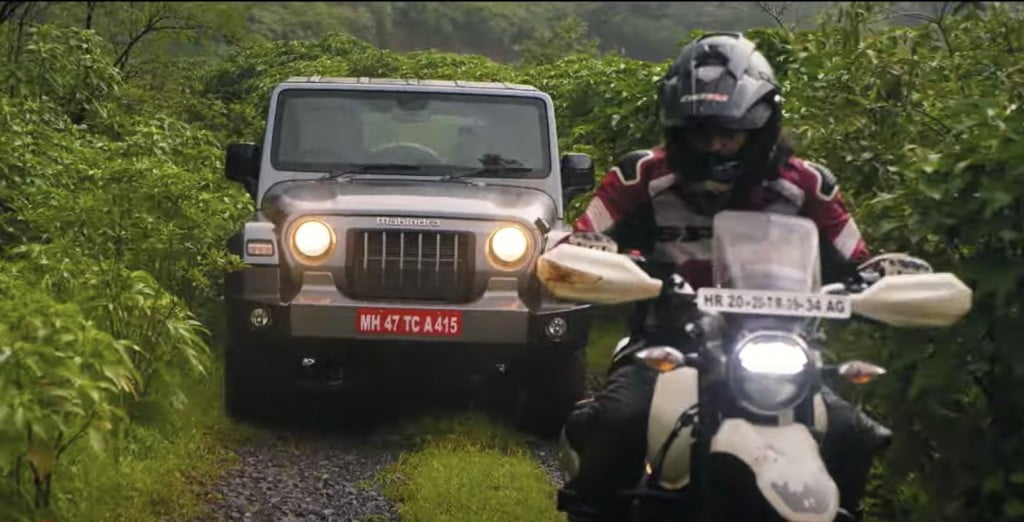 The second one is hill climb with slushy roads and green-slippery grass. Again Xpulse leaves the first and due to its compact dimensions, it can take some shortcuts and steep slopes as well. For the Thar, it is bigger and to avoid scraping its belly, the Thar had to go slowly and take the longer routes. However, even then, it recorded a lower time for the obstacle.
The last test was a steep hill climb with split ditches and sharp rocks. The Xpulse fell down a couple of times and even it was difficult for Thar to properly align wheels for clearing the ditches. The end result came with Thar being better as an off-roading machine for a beginner or a learner or a newbie.
Off-roading with a motorcycle requires additional skill as you have to learn the proper balancing and maintain your grip all time. So, for a beginner, a car is better off. However, if a car gets stuck while off-roading, it will take a lot of time to come out. Whereas, you yourself can take out a stuck bike.